LumaStream, one of the early leaders in low-voltage lighting for the home, filed Chapter 11 bankruptcy protection on Feb. 5, 2020, in the Middle District of Florida, Tampa Division. The company eliminated most of its staff for the reorganization, paring the headcount from 20 to six, according to court documents.
"We intend to move through this process as quickly as possible," wrote LumaStream CEO George Gordon in a letter to industry partners. "We believe we are well positioned for a quick and successful restructuring in Chapter 11, and we intend to emerge a stronger and more competitive company."
He noted in the same letter that while LumaStream won't accept new orders at this time, the company is "working with our customers to meet all obligations on open orders."
He adds that LumaStream, based in St. Petersburg, Fla., will provide remote support to customers with new and existing installations. In the meantime, the firm is "developing a revised strategy to further simplify the LumaStream sales and integration process."
As word of the reorganization spreads, LumaStream is eliciting more interest from potential investors than ever before, especially among dealers and other channel partners, according to company founder and chairman Eric Higgs.
"Interestingly enough, our customers look like they might finance LumaStream's future," he tells CE Pro. "That is an incredibly strong statement to the lighting industry."
LumaStream's Challenge
In virtually all homes, lights are powered the old-fashioned way: via line-voltage ("high-voltage") AC power delivered over standard electrical wiring (Romex).
This is the case even though the world has moved to LED fixtures that require just a fraction of the power coursing through the AC lines. In fact, LEDs can be powered over Ethernet or the equivalent, and many of them are … at least in commercial settings, where low-voltage lighting has become increasingly popular over the past several years. More buildings these days are wired with Cat 5 or other low-voltage cabling, and lit with DC power – a safer, more energy-efficient, and potentially less expensive scheme than the standard Romex/AC power paradigm.
While low-voltage lighting might be taking off in the commercial sector, though, it's barely getting started in the home. Few vendors have dared to invest in the residential market, where lighting is often an afterthought, and the sales and distribution channels can be staid and confusing (and confused).
Over the past three years or so, companies like LumaStream, Colorbeam and Lumencache have made residential plays, targeting the home-technology channel of low-voltage integrators. (Many others have come and gone over the years.) CE Pro named the category a Top 5 Home Tech Trend for 2019.
Even assuming DC-powered lighting systems will become the norm in homes of the future — a likely outcome — it is still a slow and expensive slog for pioneers like LumaStream.
In his letter to partners, CEO Gordon noted the challenge of "radically" changing the 140-year-old lighting industry with a low-voltage power scheme. On top of that, LumaStream was taking another giant leap with a "disruptive distribution channel that recognized the value of the AV integrator as a leader in lighting installation."
He says, "Financing this mammoth undertaking has been a struggle."
Growing popularity for LumaStream products demands increased investments in R&D, inventory, operational functions and customer support … all while vendors and investors clamor for their own share.
"With accelerating adoption and a growing customer base, LumaStream has decided to seek protection from large creditors in order to recapitalize, possibly through an acquisition by a strategic industry player, and come back stronger than ever," Higgs tells CE Pro in an email. "Our primary concern through this process will be to look after our base of customers."
LumaStream Finances and Outlook
LumaStream has raised some $24 million in financing since 2010. The company boasts "thousands" of commercial and residential installations, including six years' worth of installations in Tesla showrooms.
Revenues for 2019 were roughly $3 million, according to LumaStream's Chapter 11 filing. Gross revenues for 2020 through Feb. 5 were approximately $234,000.
LumaStream execs have intimated over the past year that the company requires more capital. The owners have made no secret of their quest for a buyer or strategic partner.
"They would not be buying us based on financials," Higgs told Florida's Business Observer in late December, 2019. "They'd be buying us based on the future strategic value they can create leveraging their distribution and resources."
The Observer noted these three "major goals" for LumaStream in 2020: "increase the capital-raise goal to up to $15 million; continue the search for a buyer and strategic partner; and find new revenue streams for its patented technology."
Higgs also mentioned a desire to reward shareholders: "We have a lot of investors," he told the paper, "and they need to get some liquidity."
One of those investors is former LumaStream chairman of the board John Glasscock, who sued the company last year for a $3 million lump sum he was owed, plus interest, plus additional notes payable.
Glasscock obtained a $3.9 million final judgment, which was the precipitating event for the bankruptcy petition, according to court documents. The documents also noted that LumaStream was "marketing" itself to finance the Glasscock settlement (among other debts), but a "prospective purchase" fell through.
Ultimately, "The Debtor filed its bankruptcy to allow it to conduct an orderly sale process."
In addition to the Glasscock debt, LumaStream owes $2.5 million to eCraftsmen Corp. for the acquisition of its Power Vector division in 2011. Power Vector provides the drivers for LumaStream's LED fixtures.
Higgs founded LumaStream in 2010 after developing an LED-based system to illuminate an outdoor sculpture installation. Power Vector rounded out the solution for the start-up.
LumaStream notes in court documents: "By combining LumaStream's driverless fixtures with a remote driver from Power Vector, the company established their unique competitive advantage in the market by powering and controlling LED fixtures exclusively from power supplies that could be mounted as far as 200 feet away."
What is LumaStream Worth?
LumaStream estimates the net book value of its assets (including accounts receivable, inventory, office equipment and security deposits; excluding intellectual property) is about $9.3 million. The company notes, however, that "a significant portion consists of intercompany receivables which are offset with intercompany liabilities."
The debtor owns 23 patents that it says were recently appraised at a value of $74 million.
Higgs says LumaStream's "competitive differentiator is the intelligent drivers for AC to DC low-voltage power conversion distributed over a multi-channel topology."
Company patents, he says, protect LumaStream's inventions related to "the digital power conversion methods and long distance power distribution, utilizing Class 2 wiring, allow[ing] for deep, flicker-free dimming over 200 feet in each direction from our remote drivers."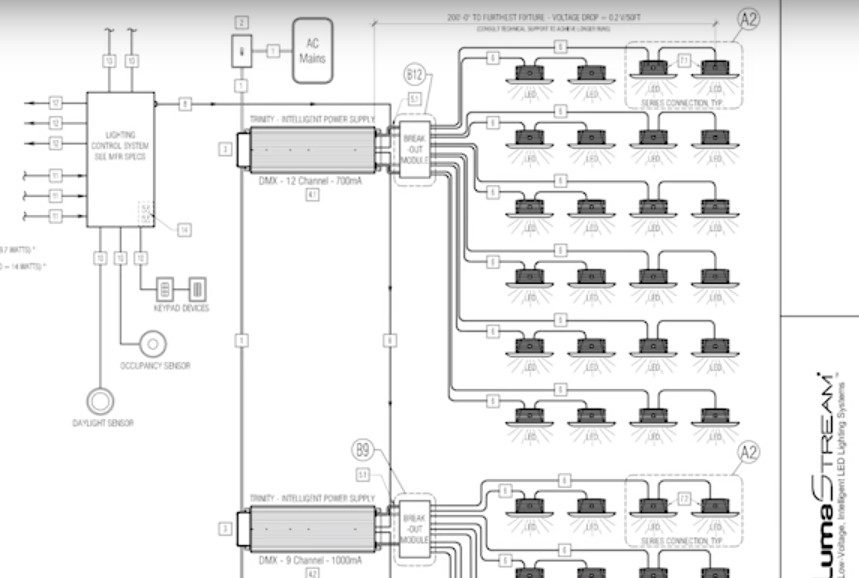 One of LumaStream's newer patents, "Network connected low voltage lighting system," describes the integration of the company's low-voltage lighting architecture with IoT-related data communications, notably embedding sensors in LED fixtures that gather and disseminate information.
"It expands our business model into the world of big data and the value of that," Higgs told the Tampa Bay Journal in 2018. "We believe it's extremely valuable — it's very broad in the industry. This opens a whole new application of technology."
He added, "We have lots of patents, but this moves us not only to power control but also with big data — it's one of the largest things going on and it's one of the biggest things, which moves us into a whole other world of value creation."
Damn the Residential Low-Voltage Lighting Business?
Home builders, consumers and installers today are a little jittery about whole-house DC-powered lighting – mostly because it's new and different. Will LumaStream's reorganization slow the momentum of this new category in the home-technology channel?
On the contrary, the event seems to have energized LumaStream's base.
"We have received more investment interest in the past three days than ever before," Higgs tells CE Pro. "Our next step is managing this process in a way that we can continue to support our stakeholders and maximize growth."
Dealers and other industry partners have rallied around LumaStream, according to sales and marketing VP Tom Richards.
He tells CE Pro: "LumaStream views Chapter 11 as an intermediary step to enable rapid growth of low-voltage lighting in the AV market. One of the positive outcomes that LumaStream has experienced since declaring Chapter 11 is the overwhelming support of their AV dealer partners."
Dealers have reached out over the past three days, he says, describing LumaStream as "bullet-proof," "genius" and "amazing."
"At least 30% have asked if they could invest," Richards adds. "DC power and a remote LED driver is an idea that is here to stay."
post
If you enjoyed this article and want to receive more valuable industry content like this, click here to sign up for our digital newsletters!