Bill Simpkins of IGS Homeworks in Houston was stepping into unchartered territory when he was asked by the design team to illuminate a lavish staircase.
"The design team brief said the client wanted a wooden-clad, floating, glass-polished stairway with the treads lighted without a trace. They asked me if I could do it. I said, 'I've never done it before, but I'm going to give it go,'" says Simpkins, president of IGS.
The result is a striking masterpiece that is at the centerpiece of a $400,000 tech project using Colorbeam LED lighting.
"It turned out really impressive," says Simpkins. "The wiring for each tread is inside the staircase. The wire runs down the steel structure, which is wooden-clad with cedar or some other exotic wood. The floating staircase has three turns in three separate sections with two landings."
Each of the three separate riser sections has its wiring run in its own channel. IGS ran an individual wire run down to each section and then each of the 30 total treads had tape lighting that was linked to main wire run. This way, each of the three sections is independent from one another. The entire thing is controlled by a Crestron system. The full project was about $1 million and includes motorized shades, multiroom AV, a gold simulator, video surveillance, dedicated home theater and more.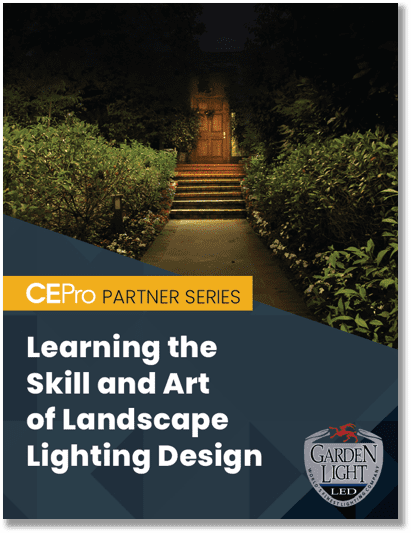 Experts recommend landscape lighting design as an entry point for integrators into the revenue opportunity of home lighting. Check out our new resource for tips and best practices. Download "
Learning the Skill and Art of Landscape Lighting Design
" today!.
"My original idea was to wire every other tread and have the tape lighting mimic walking up or walking down the stairs. That was my original plan, but it became just too difficult," remarks Simpkins.
$1M Project in Total
The staircase is just one element of the overall project, which was a contemporary style, 14,000-square-foot home with approximately 9,000 square feet of living space.
Simpkins says the home's modern contemporary design fit nicely with the Colorbeam product range.
"The client has an interest in wellness, and tunable white fits that particular requirement. The added option to dress up their house for events using the color-changing feature was an added bonus," he says.
IGS Homeworks, which is an HTA-certified dealer, was established in six years ago in Texas, but the company works on projects across the U.S. and internationally, including current projects in Costa Rica and the Bahamas. In all, IGS employs 12 staff, but used an additional eight independent contractors on this project, which is much larger than its normal project size range between $50,000 and $250,000.
This particular project was done by a luxury homebuilder that IGS has worked with previously on a number of occasions.
Early Adopters of Colorbeam
The company was an early adopter of low-voltage lighting, having installed Colorbeam systems since 2018.
"Lighting gets us involved in the design process early, which gives us the opportunity to broaden our scope and increase overall project revenue. It's differentiated us from the competition and clients love this additional element of control within their home," notes Simpkins.
The staircase was not the only challenge IGS had to overcome on the project. Defining the lighting scenes early on in the process was critical for a project of this scale. It required significant planning and logistics, and also flexibility as the home build progressed, according to Simpkins. Just the rough-in portion of the project was $80,000 alone.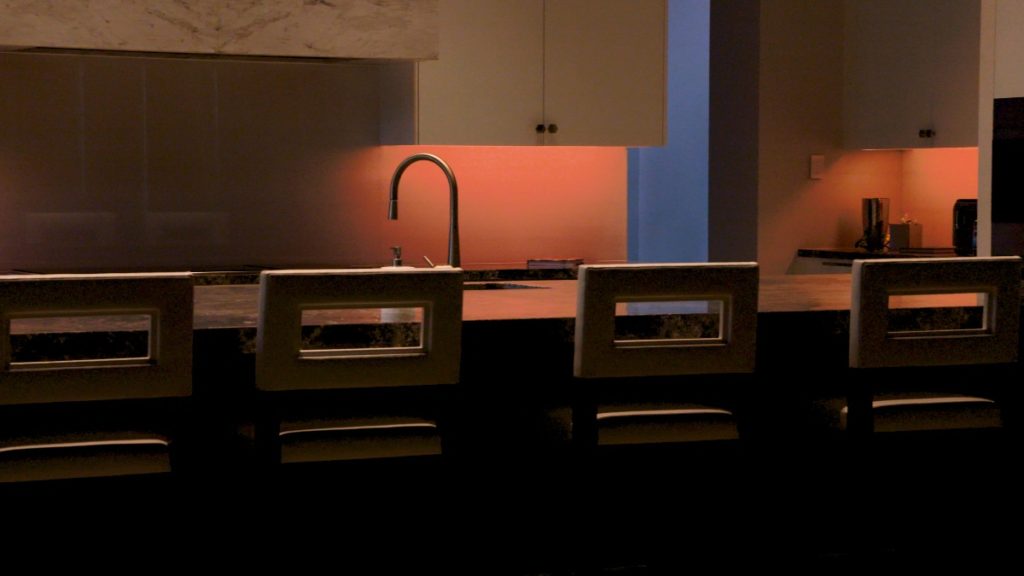 "This was a big job; it's quite complex. It is not just a matter of stringing all the light fixtures together in a series and switching on the power. You've really got to understand the product. You've got to understand that different fixtures and different wattages, which require different channels in the DMX and different drivers. You feed all that into the system and you've got to know what you are doing otherwise you'll get yourself in a world of trouble," comments Simpkins.
Fortunately, Simpkins has the background for a project like this. He cut his teeth as a designer for the entertainment industry doing concerts, set design, and lighting and audio rigs before moving into the commercial AV world years ago.
"Lighting has always been a passion for me, so I am never afraid to take it on," he says. "I worked with Colorbeam to help me with the fixture selection so I could create the effect I wanted, then we figured out from an engineering standpoint how to make everything work."
---
Colorbeam Lighting Equipment List
190 Bianca 24W Bi-white fixtures
12 V Bianca 2x9W Bi-white fixtures
3 dual outdoor RGB floodlights
3 Roma steplights
885 feet of linear RGBW tape light
15 Tega Soffit lights
72 12-channel DMX drivers
44 four-channel DMX drivers
120 96W DIN Rail power supplies
4 ColorBeam DMX gateways
Complete Equipment List
80 Crestron Horizon keypads
5 Crestron TSW760 touchscreens
1 Crestron Pro 3 processor.
12 Zones of Crestron NVX Video over IP.
28 Zones of Crestron Sonnex multiroom audio with Sonance loudspeakers
128 loads of Crestron controlled line voltage lighting
3 zones of Coastal Source 3-way Bollard landscape audio
50 Crestron motorized shades
7.2.4 Sonance Reference Series speakers
Arcam-powered Dolby Atmos Home Theater
Sony 4K Laser projector
160-inch SI Black Diamond Screen
Salamander Theater seating
Visualint Surveillance system
Full Swing golf simulator
2 Nexus 21 TV Lifts
Sony TVs throughout the home
Seura TV Mirror in master bathroom
Cellgate Gate Entry System