When Colorbeam first launched five years ago to bring LED lighting to the custom installation channel, little did the company know it would be opening the floodgates for the category to blossom.
"We are bringing what we believe is certainly the revolution of lighting to the CEDIA channel," says Mike Teolis, president and co-founder of Colorbeam. "What makes us different is obviously the fact that our products are entirely a low voltage lighting infrastructure, which lends well with the CEDIA channel to capture the entire revenue stream from lighting, not solely from the control side of things."
Teolis comes from the integrator side of the business so that insight was helpful in designing the product and building the support functions behind the product.
"We actually developed the first generation of what eventually became Colorbeam lighting for ourselves as integrators," he recalls. The origins of the product were due to several factors. First, Teolis believed low-voltage lighting was the future. Secondly, as an integrator he needed an LED solution that was compatible with third-party control systems.
"We had all of the headaches of the control side, but none of the revenue associated with the fixtures," he quips. So by engineering a solution on its own, the Colorbeam team had a fully compatible LED lighting option and the fixture revenue that comes with it.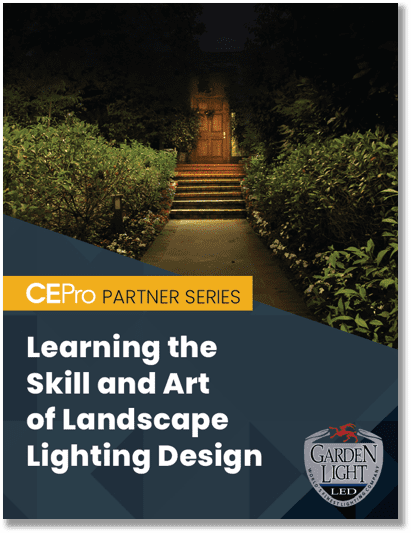 Experts recommend landscape lighting design as an entry point for integrators into the revenue opportunity of home lighting. Check out our new resource for tips and best practices. Download "
Learning the Skill and Art of Landscape Lighting Design
" today!.
As more integrators get into LED lighting, one common area of expertise they lack is in lighting design. That's why Colorbeam offers a full lighting design service to assist integrators.
"We have a full lighting design service behind Colorbeam in support of our dealers so we don't have that concerns about missed specifications. We work hand in hand with our integrators and partners in designing the solution. What we are spending a lot of time and effort these days on an enhanced education curriculum so dealers can really get a good handle on the installation process. We're there to support them from the design perspective," he notes.
From an installation and commissioning standpoint, Colorbeam also recognizes that LED lighting is often new technology for an integrator. So new dealers must earn a certification from Colorbeam and the company is focusing heavily on tech support via remote webinars in the era of COVID-19.
"We want them extremely well versed and educated on the installation process of Colorbeam," he notes. The company takes it one step further by holding the dealers hands through their first project.
"At any level throughout the first project we want that first project with Colorbeam to be a great experience. It leads to many more projects. We're really going to make sure that there's no stumbling blocks," says Teolis.