Leviton has announced several new additions to its Decora Smart lineup to help integrators facilitate smart home capabilities for a broader range of households including retrofits. The company is launching its Decora Smart No-Neutral Switch, No-Neutral Dimmer and Wi-Fi Bridge; Decora Smart Wi-Fi 2nd Gen Motion Sensing Dimmer; and Decora Smart Wi-Fi 2nd Gen Tamper Resistant Outlet.
The Leviton Decora Smart No-Neutral Switch and Dimmer products in tandem with the Wi-Fi Bridge enable dealers to seamlessly integrate smart lighting controls into older homes whose wallboxes do not contain neutral wiring.
The No-Neutral line from Leviton supports schedules, custom lighting scenes, rooms and grouping, vacation mode, auto shutoff and works with the company's Decora Smart Anywhere Companions for wireless 3-way/multilocation applications.
Leviton wanted to increase the smart lighting options for potential customers without neutral wiring who otherwise might be reliant on using smart bulbs, protocols like ZigBee, Z-Wave or other proprietary protocols that require third-party hubs or connectivity, can be more costly, challenging or frustrating, senior product manager James Shurte tells CE Pro.
"For these customers the market hasn't really been that wide for solutions," Shurte says. "We wanted to make a connected switch within our Decora Smart Home platform that only needed line, load and ground – so if you don't have a neutral it's not a problem.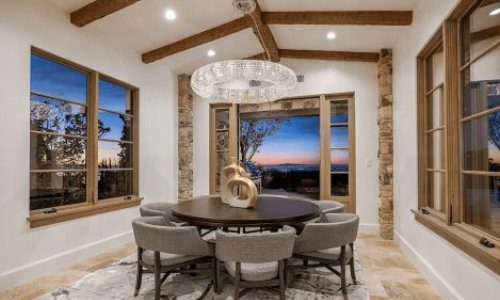 As a custom integrator, lighting is in demand. Effective communication, education and showcasing the value proposition of LED light fixtures in conjunction with integrative control systems are the keys to overcoming challenges and closing sales in this specialized market. Join us as we discuss the future of digital lighting and control with David Warfel from Light Can Help You and Patrick Laidlaw and Mark Moody from AiSPIRE.
Register Now! 
"You swap out your old switch, put this new switch in and then what we do is we have a very tiny plug-in, it's our Wi-Fi Bridge," Shurte notes. "It's actually smaller than our mini plug-in switch. It doesn't control any loads, you plug it in out of the way – it's about the size of an iPhone charger. There's no Ethernet cable, it's not going in a rack; you plug it in, add it to your Wi-Fi network and it's literally just a bridge to the No-Neutral Dimmers and Switches."
Shurte adds that the Wi-Fi Bridge communicates with the devices over a low-power RF and takes that signal and communicates to Wi-Fi, to the My Leviton app or to Alexa, HomeKit, Google, IFTTT, SmartThings or other services Leviton supports.
"Once you have that set up, from an app perspective it's like any other Wi-Fi dimmer switch we have in the portfolio," he tells CE Pro. "All of our different features are available, nothing is limited in that regard."
One of the Wi-Fi Bridges can support up to 25 No-Neutral Dimmers and Switches in a home and will cover "conservatively" 2,500 square feet – "We've actually seen much better than that in testing," Shurte says. For larger homes, installers can simply add another Wi-Fi Bridge where needed for wider coverage, and the lighting devices will automatically search for the nearest Bridge, there's no hopping or jumping like in the past when you add a device.
The No-Neutral Dimmer offers full-range dimming performance with custom settings in the My Leviton app for preset lighting levels, fade rates, bulb types and more. An "Off Means Off" feature ensures low-wattage LED bulbs always turn completely off, according to the company.
Leviton Motion Sensing Dimmer, Smart Outlet Offer Expansive Applications
Leviton's Decora Smart Wi-Fi Motion Sensing Dimmer combines those two important functions in one device to enable hands-free lighting control in numerous areas of a house and assist customers with energy savings. It offers simple setup via the My Leviton app and the dimmer provides new features like Room Occupancy Response, Night Settings, Motion Snooze and more.
"Occupancy sensing and dimming in one is good, but because it's intelligent the device has so many more features beyond just occupancy or vacancy sensing," Greg Rhoades, director of marketing, Leviton, tells CE Pro.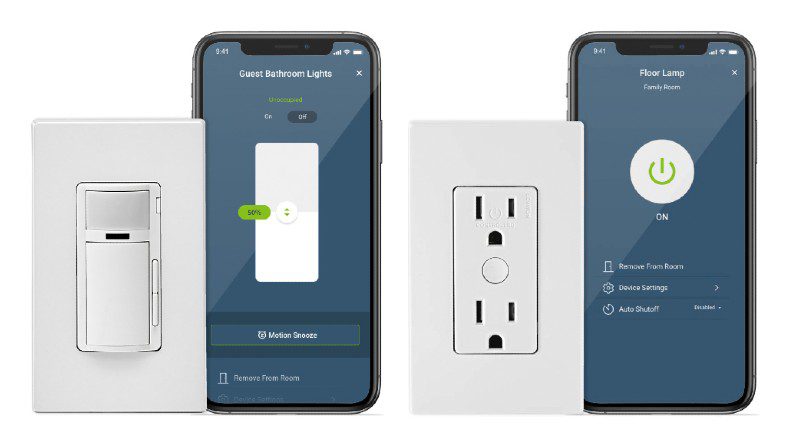 "And it's really easy for our installers to customize and calibrate right via the app. So if they want to adjust the sensitivity, it's super easy; if they want to adjust it between occupancy and vacancy, even if there's no Wi-Fi at the time they can do that. We built-in some extra intelligence here and I think we realized it's the first hub-less HomeKit-enabled motion sensing dimmer or switch – so a lot of people are going to use it not only within our system, but in the HomeKit ecosystem as a trigger for other devices."
Rhoades mentions that integrators can associate the product with devices such as lamps, sconces, ceiling fans, smart outlets, etc., to respond to motion and have the Wi-Fi Motion Sensing Dimmer tie together the myriad activities in a basement, closet, garage, kitchen and elsewhere.
"I think that's where the CE pros are going to connect the dots and make this more customized than it's ever been before," he says. "You've got a dimmer form factor, it has a dim-bright bar, embedded PIR sensing and ambient light sensing – so you replace your standard switch with this, put it in and now you've brought motion-sensing hands-free control to that space."
The built-in sensor has up to 180-degree field of view and provides 900 square feet of motion coverage, supporting both occupancy and vacancy sensing modes. The device also supports 3-way/multilocation with hardwired and wire-free companions.
Night Settings and Built-in Guide Light features also come in handy and are as simple to configure as checking a box within the My Leviton app, Rhoades adds.
With the former, the Motion Sensing Dimmer can be triggered when a homeowner is present walking into a room at night and only turn on lights to 10% instead of a jarring 80%, for instance. The latter, meanwhile, can be set up to deliver soft illumination to a room without turning on overhead lights at night, for example, and then return to regular settings during the day.
Lastly, the latest-generation Decora Smart Tamper Resistant Outlet adds support for Apple Siri and Leviton's Wire-Free Anywhere Companion Switch that the first generation lacked, augmenting its smart functionalities for wireless control in new construction and retrofit scenarios.
The outlet works with Alexa, Google, HomeKit/Siri, IFTTT, SmartThings and Schlage to control an array of connected devices.
It features a reduced depth of 1.3 inches to make installation easier, and provides built-in shutters to prevent insertion of unintended objects. Outlets are compatible with the Leviton Color Change Kits.
"The big thing that's valuable with professionals is easily doing switched outlet control. Now they can take a Wire-Free Anywhere Companion Switch, mount it on the wall wherever they need it, and wirelessly pair the two devices together over RF," Rhoades explains.
"You don't even need an app to do it, and you've created a switched outlet in all of 45 seconds as opposed to however long it would take in the past to cut a hole and run a wire – so we're pretty excited about that as well."
If you enjoyed this article and want to receive more valuable industry content like this, click here to sign up for our digital newsletters!