The new Google Nest Hub Max (PR below) is the first big news from the combined Google/Nest group since Nest migrated out of its own "Works with Nest" platform and into the larger Google Home environment.
It is also the first consumer device (as opposed to chipsets and such) certified as "Built on Thread," the network-layer protocol (IPv6 over 802.15.4) that incorporates mesh technology, security, quality of service and other features for low-bandwidth IoT devices.
Thread is a great protocol for what it does, and a fine way to unite different products and platforms at the network level, but the Thread Group's regular claims of "interoperability" among disparate implementers is a little misleading. Even technology editors cheered the news of Google's Thread implementation as a triumph for home-automation interoperability.
But First: Hub Max Boasts Nice Improvements
Before we get to that, though, there are some very nice improvements of the new Hub Max versus the older Google Home Hub (Mini?). It's just that Thread, per se, is not one of them.
We got our first glimpse of the new product at CEDIA Expo 2019 and it's nice, really nice. I own the predecessor product, and a lot of the improvements are just what the customer ordered, especially a front-facing video camera, which was sorely missed in the first iteration.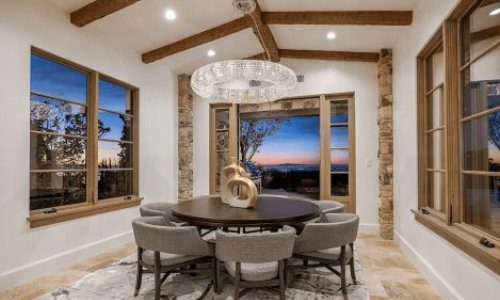 As a custom integrator, lighting is in demand. Effective communication, education and showcasing the value proposition of LED light fixtures in conjunction with integrative control systems are the keys to overcoming challenges and closing sales in this specialized market. Join us as we discuss the future of digital lighting and control with David Warfel from Light Can Help You and Patrick Laidlaw and Mark Moody from AiSPIRE.
Register Now! 
FLASHBACK: Thread's New Certification Mark for Home Automation is Bad for Consumers
Google had maintained it made a conscious effort to exclude the camera in its original Hub because consumers didn't want the invasiveness. So you might think they'd provide a physical shutter for the Hub Max camera, which they don't – just a digital disabler.
Anyway, a lot of wonderful things come with a "built-in Nest Cam" including Google Duo videoconferencing, surveillance (while you're away, of course), and "Face Match" for personalized notifications like upcoming events and video messages.
The sound is improved with bigger and more powerful speakers, which I don't much care about for my own purposes (NPR, nature sounds via YouTube, C by GE tunable white bulbs with native Bluetooth integration).
RELATED: TechTalk: How Google Nest is Getting Integrators Involved in 'Connected Home' Sales
At 3 inches bigger than the original, the new 10-inch screen is great for aging folks like me who have uses like mine, but might scare off others who prefer something more discreet. I like the thought of hand-gesture control for pause and resume, but I don't know how close you have to be for waving to work.
The $229 launch price is nice, but I don't personally use Google Duo and my current Hub sits on a desk facing me and the wall behind me, so it won't do much good for surveillance unless the bad guy is trying to steal my metal bulletin board (admittedly very cool) and the stuff attached to it.
You still need to pay $5 to $30 per month per camera for Nest Aware to get much value out of the devices, which can get hefty (especially compared to the absurdly cheap Ring ecosystem) for DIY-hard users.
My biggest problem with it (besides the unwieldy name) comes to the little things — primarily the inability to personalize the home screen and a bunch of little UI flaws. Fix those and I'll pay the $100 premium over my Google Home Hub.
Max is Nice, But Thread Doesn't Much Matter
So, yes, I like what I've seen of Max.
It's just that "Built on Thread" is kind of inconsequential — not useless, but surely not as great as the Thread Group purports: "Thread's standardized, open and secure network solves one of IoT's biggest problems: seamlessly and reliably connecting thousands of IoT devices."
In theory, yes, Thread does "connect" devices at the network layer, but it doesn't make them interoperable, as Thread promises in its press release (below).
You still need a shared home-automation application/protocol for products to interoperate. Currently, Google/Nest is the only one using Google/Nest's protocol, called Weave. Well, them and Yale, which makes the Nest x Yale Lock.
The good news is that Thread and Weave are largely Nest inventions, and it's built into just about every product that Nest has ever made, including thermostats, cameras, doorbells, and Nest Secure, including Nest security sensors. That means Max can communicate locally with other Nest devices, which is pretty sweet. (Note that local communications also is being enabled via Wi-Fi with third-party devices thanks to Google's new Local Home SDK.)
Even after Google acquired Nest in 2014, the behemoth didn't incorporate Thread/Weave into its own products, except for one of its short-lived hubs a couple years ago. So this is a pretty big deal for the Google/Nest ecosystem.
It troubles me, however, that Google and the Thread Group are touting interoperability among Google's Thread products and other manufacturers' Thread products, which don't yet exist. Even when they do come to market, unless they're using Nest Weave, they won't work natively with Google's "Built on Thread" products unless they're using Google's Nest Weave protocol.
Asked to comment on interoperability, a Thread spokesperson told me:
You are correct that the Google Nest Hub Max runs Weave over several IP-based networks, including Thread and Wi-Fi. As a Google Nest device, the Google Nest Hub Max works seamlessly with all other products in the Google Nest ecosystem, including the Nest x Yale Lock, Nest Connect, Nest Secure, Nest Detect, etc. As a Google Assistant-capable device, the Google Nest Hub Max can work with and control more than 30,000 devices from more than 3,500 partners via the Google Assistant. Finally, as a 'Built on Thread' certified device, the Google Nest Hub Max can also be used a Thread router for or in any arbitrary Thread network, regardless of application layer.

Thread Group spokesperson

So in this case, I guess interoperability means that third-party Built on Thread devices can serve as repeater nodes in a Thread mesh, which fortifies the IoT network . That's a nice feature but doesn't really meet my own definition of interoperability. Maybe that's just me.
As I wrote four years ago, I'm just wondering what happens when consumers see a Thread logo on a non-Nest package and think it somehow works with Nest.
Many tech editors — not to mention the popular press — reporting on the Thread news missed it.
RELATED
---
PRESS RELEASE
The Thread Group Certifies Google Nest Hub Max as World's First Publicly-Available 'Built on Thread' Device
Thread's standardized, open and secure network solves one of IoT's biggest problems: seamlessly and reliably connecting thousands of IoT devices
SAN RAMON, Calif.– Sept. 11, 2019 — Today the Thread Group announced that the Google Nest Hub Max smart display successfully passed its rigorous specification compliance and interoperability testing to become the first certified and publicly available Built on Thread device. The Thread Group conducts tests against multiple vendor configurations to ensure that technology from different manufacturers can ultimately communicate, reliably and securely. The Nest Hub Max has proven its ability to do this, and joins the growing roster of Thread-certified solutions, which currently includes more than 20 components.
The Nest Hub Max can connect to more than 30,000 smart devices from more than 3,500 vendors with the Google Assistant and the Smart Home and Local Home SDKs. Nest Hub Max's Thread support brings the Internet and the rest of the Google Nest home directly and securely to small, power-constrained devices without expensive, proprietary gateways. For example, as a Built on Thread certified device, Nest Hub Max can pair with the Nest x Yale Lock and can extend the range of either Nest Secure or Nest Connect. In the future, Nest Hub Max will be compatible with other Built on Thread certified products, regardless of their manufacturer.
"As a founding board member of the Thread Group, Google has long understood the challenges of IoT, as well as the possibilities and user benefits unlocked by a technology like Thread," noted Grant Erickson, president of the Thread Group. "With that foresight, they've been committed to Thread for more than five years, supporting and driving its development and adoption across the IoT industry's biggest players."
Thread requires less power relative to comparable solutions, which improves the battery life of devices across its network. Thread's self-healing mesh network delivers a reliable and robust network that is complementary to WiFi and Bluetooth Low Energy (BLE), which is critical to delivering on the promise of true IoT for consumers.
Regardless of the specific connectivity technologies used, Thread helps devices talk to different clouds, while simultaneously running multiple application layers, such as Dotdot, OCF or Weave. It does all of this without any additional hardware or software, which saves developers time and money, and promises the end user a lower cost, less power-hungry solution.
Thread's future-proof technology means certified devices can easily migrate to the Thread 1.2 specification – announced in June 2019 – which improves the network's energy efficiency, latency and node density. Thread 1.2 offers optional support for Bluetooth Low Energy devices, such as smartphones, and standardizes Thread out-of-band commissioning over Bluetooth, making it possible for devices with only a Bluetooth Low Energy radio to be a native part of a Thread mesh network.
Nest Hub Max's Built on Thread certification implementation is based on OpenThread, a Thread-certified open-source implementation of the Thread networking protocol, released by Google and adopted by a number of Thread-certified components.
For more information, visit http://www.threadgroup.org, follow @TheThreadGroup on Twitter, and connect on LinkedIn.
About Thread Networking Protocol
Designed for devices and things in the places where people live and work, Thread is an IPv6 networking protocol built on open standards for low-power 802.15.4 mesh networks that can easily and securely connect thousands of devices to each other and directly to the cloud.
About the Thread Group
Formed in 2013, the non-profit Thread Group is focused on making Thread the foundation for the internet of things in homes and commercial buildings. Built on open standards, Thread is a low power wireless networking protocol that enables direct, end-to-end, secure and scalable connectivity between IoT devices, mobile devices, and the internet. And, because Thread is IP-based, it seamlessly integrates with many environments, apps, devices and clouds. The Thread Group provides a rigorous certification program to ensure device interoperability and a positive user experience. Thread is backed by industry-leading companies including Apple, Arm, Google/Nest, Lutron, Nordic Semiconductors, NXP Semiconductors, OSRAM, Qualcomm, Schneider Electric, Siemens, Silicon Labs, Somfy, and Yale Security.
If you enjoyed this article and want to receive more valuable industry content like this, click here to sign up for our digital newsletters!