When Finnish electronics integration firm Digisähkö was hired to outfit a brand new luxury home with the latest smart home technologies without making it look like a technology store, they knew exactly what to include to provide the client with the smart home of their dreams.
The first order of business was choosing a control platform. The team opted for a Control4 system to automate a home cinema, indoor pool and sauna, multiple TVs, electronic door locks, a video doorbell, Somfy motorized window shades, a security system, and more. The system also includes wall-mounted touchpanels to provide the owners with a simple way to manage and access nearly every piece of technology in the home.
Digisähkö became involved very early in the building project, so they were able to provide input for the home's design, ensuring a complication-free installation that is barely visible besides the chic touchpanels.
"This client had a couple of unique desires, so the most important thing for us was designing their system with products and solutions that could fully support and smoothly integrate everything they wanted," says Digisähkö founder Jani Hirvonen. "Using Control4 allowed us to automate a massive artificial skylight that simulates a variety of natural lighting conditions, ensures robust wireless connectivity in every corner of the home, and ties in every piece of tech from electronic locks on sliding glass doors to the security system and motorized window shades."
"The home is quite beautiful, and our use of 'hidden' technologies such as a central equipment rack and in-wall and in-ceiling speakers provides every modern comfort and technological benefit without sacrificing the traditional coziness of a custom home," adds Hirvonen. "In particular, the Big Skylight Window from The Light Cognitive, which is an enormous LED-based device in the ceiling over the full length of the indoor swimming pool, blends into the space perfectly while providing unmatched comfort through its wellness-focused, nature-mimicking lighting schemes."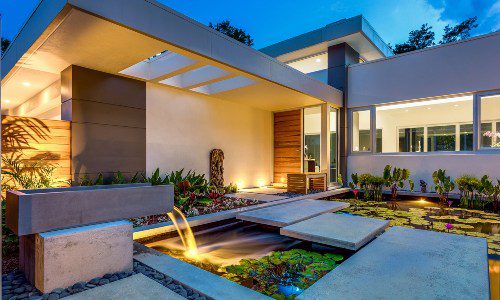 Landscape and architectural lighting create a magical and elegant ambiance for homeowners. The outdoor lighting industry has always been a phenomenal one and continues to grow in popularity. Now is the ideal time to learn more about this rapidly growing and highly profitable industry. Join our panel of esteemed lighting experts that will dive into why it's time for integrators to rethink their role in the outdoor lighting industry.
Register Now! 
The Big Skylight Window uses LED technology to offer users a variety of lighting scenes, such as a clear morning or sunset, with gradients that imbue a space with calming 'natural' light. The home's general lighting is also programmable, with several scenes currently in use that combine different areas or base brightness on time of day. Then there's the indoor pool, which is special itself, featuring a swim jet that allows the owners to 'swim laps' in place, as the jet pushes water against them.
In-Home Golf Getaway Helps Homeowner Overcome Finland's Dark Winters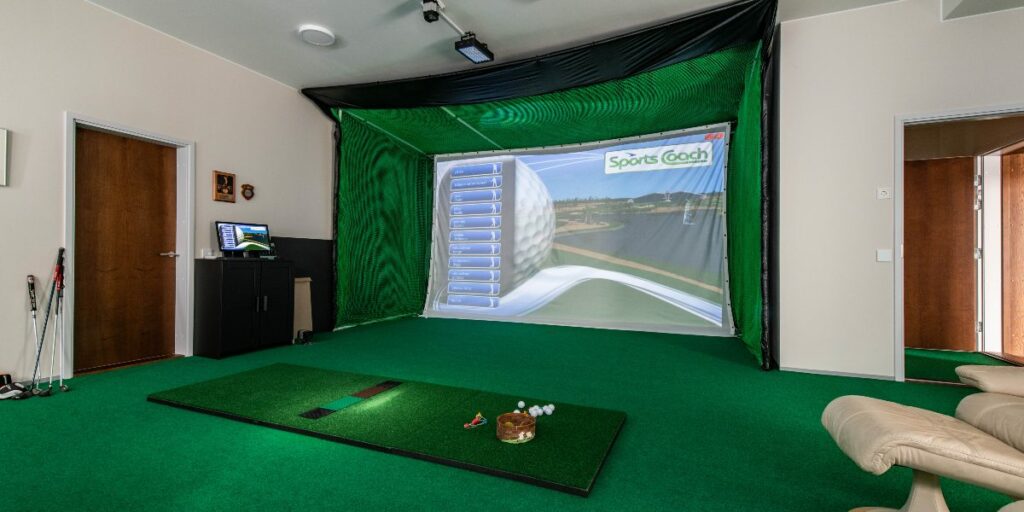 The one main request the client had was to provide them with house-wide access to HD golf channels. They wanted both music and HD golf to blanket the home so they don't have to use specific rooms for entertainment, and that required a more robust home network than the average dwelling.
"Finland is a northern country with dark, cold winters, so activities such as indoor golf or indoor swimming and technologies like the Big Skylight Window offer entertainment and comfort year-round, regardless of exterior conditions," says Hirvonen. "The only major homeowner request that is not integrated with the home automation system is the golf simulator, which is located in the basement and provides the ideal late-life, year-round entertainment for the golf-loving homeowners."
To keep everything running smoothly and ensure constant connectivity, a 1-gigabit Pakedge fiber network covers the entire property. It also provides integrators with a way to troubleshoot common issues, as it is part of Snap One's OvrC platform that enables Snap One Partners remote access to view equipment status and perform resets immediately, without requiring a site visit. The system includes a Pakedge router, switches, access points and wireless controller.
Components such as KNX-compatible lighting and shades were chosen for their performance and their compatibility with Control4 to guarantee reliable operation. The home features a total of eight wall-mounted Control4 touchpanels, a mix of 10-inch and 7-inch panels, to provide instant control no matter where it's needed. Digisähkö also paired each TV and the home theater projection system with a Control4 handheld remote that offers all the familiar buttons and functions of a traditional TV remote control. The TVs are Sony BRAVIA models ranging from 49- to 65-inches, and the home cinema features a DreamVision 4K projector with an Elite Screens acoustically transparent projection screen.
Completed in 2019, the home is constantly monitored by Digisähkö, which conducts visits two to four times a year and upgrades components as needed or requested by the owners.
If you enjoyed this article and want to receive more valuable industry content like this, click here to sign up for our digital newsletters!