It was big news in December when giant utility company NRG Energy shelled out a whopping $2.8 billion to acquire Vivint Smart Home, the No. 2 company in the CE Pro 100. On the surface, my initial thought was that the NRG, Vivint deal was simply a means to boost NRG's recurring monthly revenues by delivering security monitoring services to its 5.4 million customers.
Of course, that is certainly low-hanging fruit for NRG's revenue expansion, but now that the deal has at last been finalized, I think this acquisition goes much deeper than just feeding a security-based recurring revenue machine.
I believe the move is more about the future role the smart home and the integration channel plays in saving the entire nationwide energy grid from collapse… literally. It's no secret the power grid is at the breaking point. Rolling blackouts are becoming more common.
Consumer demand for electricity is growing, and it will continue to grow. The strains on the grid for smart home technology, EV charging stations, and even the recent crazy idea floated to mandate electric stoves are all tidal waves driving power usage up and up.
Where is the necessary electricity going to come from? New coal-burning/fossil fuel-driven power plants? Not a chance. New nuclear power plants? No. New hydroelectric dams? Nope. Giant solar farms, wind farms and ocean wave generators? Perhaps, but it's unlikely those sources can produce the necessary power we will need unless the government decides to buy half the state of Nevada to convert itself into a giant solar field. (Hmm… that's an interesting idea.)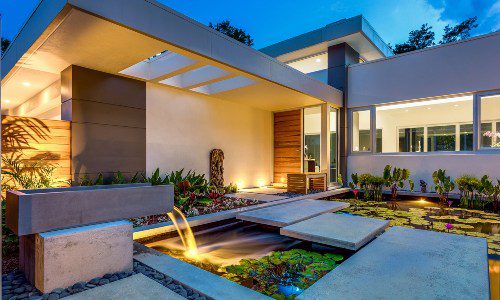 Landscape and architectural lighting create a magical and elegant ambiance for homeowners. The outdoor lighting industry has always been a phenomenal one and continues to grow in popularity. Now is the ideal time to learn more about this rapidly growing and highly profitable industry. Join our panel of esteemed lighting experts that will dive into why it's time for integrators to rethink their role in the outdoor lighting industry.
Register Now! 
Using Energy Efficiency to Meet Demand
So, in the meantime, what's the solution to this power crisis if you are a utility company like NRG, which has a publicly stated goal of being net neutral by 2050? NRG must find a way to have its customers use less power to preserve the grid. Voilà — the smart home and the custom electronics industry are the answer.
Instead of needing to generate more electricity during times of peak demand, utilities like NRG will be able to analyze the usage data of their customers using Vivint's capabilities and then act on that data to reduce demand with the client's approval.
The utility can down the temperature on a homeowner's network thermostat or set the time for when the EV charging station or dishwasher kick on to avoid peak demand.
Indeed, even if only a portion of NRG's and Vivint's customers agree to let the utility adjust their demand, it will make a difference. How much of a difference it can make is unknown.
According to a 2020 technical report from the U.S. Department of Energy's Office of Scientific and Technical Information, researchers at Oak Ridge National Laboratory compared two different approaches by local Alabama utilities that remotely adjusted their customers' smart thermostats, water heaters and HVAC systems in a particular neighborhood. Remarkably, the utilities were able to reduce energy consumption by 44% overall and by 34% during peak demand times!
Future Acquisitions in Store?
If impressive results like those can be repeated on a widespread basis, utility companies will be lining up to partner with or acquire smart home integration companies. This NRG buyout of Vivint could be just the first salvo from utility companies as they leap into the smart home business.
I would not be at all surprised to see more utility companies, both large and small regionals, becoming aggressive acquirers of smart home service providers. We've seen largely failed attempts by large utilities such as Ameritech and Southern California Edison to expand into the traditional home security business, but the broader smart home market landscape is drastically different today.
The silver lining from this looming energy crisis is that it just might have made your custom integration company a very attractive target for acquisition. If you have any sort of exit strategy in mind, it might be time to put some energy behind the energy and power management portion of your business.
If you enjoyed this article and want to receive more valuable industry content like this, click here to sign up for our digital newsletters!