CE Pro Podcast #56: Developing an Exit Strategy and Determining Your Company Value
M&A expert Ron Davis says going rates are 20X and 40X multiples for RMR, and 4X to 7X for EBITDA. Minimum of 10% net profit is a goal.
Listen to this podcast using the embedded player below, or use the link to download (right-click to save) or to listen using your system's media player. On mobile devices simply click the Download this Audio File link below and your devices player will automatically play the file.
Listen to this podcast right now.
Format: mp3 • Length: 24:18 • Filesize: 46644366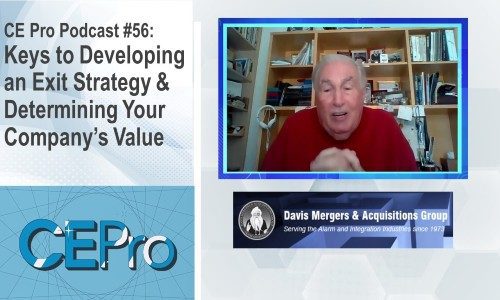 Do you know what your custom installation company is worth? If you don't, you are not alone. Most integrators never think about developing an exit strategy… they just fold up their company when they are ready.
But why not get a payout for all your hard work? Security industry icon Ron Davis of Graybeards R Us is one of the security industry's biggest brokers for M&A activity. He says the appetite in the market for acquisition of custom electronics integration companies is growing, especially among security companies on a local level.
Davis says the latest multiples being paid for integration companies are between 20X and 40X for recurring monthly revenue (RMR) service agreements, and between 4X and 7X for cash flow, or EBITDA. Davis recommends a company have a minimum of 10% net profit in their operations to make them most attractive.
He also says there is value to be placed on intangibles like reputation and goodwill. Also, there is potential for exit strategy payout for real estate and inventory.
Where Should Integrators Start Their Planning?
Davis says every custom integration company should pretend today is "day one" of their company and begin developing their exit strategy. He advises it is never to too late.
So what's the first step? "Call your local alarm company," he says. "Tell them you are interested in an alarm system, either for your store or for your home and see what it is they do and how they sell and if it's something that you're comfortable with possibly.
"If you're comfortable with it see if there is an opportunity to joint venture. They promote your products to their customers and you promote the alarm products to your customers. See if there's some synergy there," he says.
Here much more of the conversation between Ron Davis and Jason Knott in the podcast video and audio links above. Find past episodes of the CE Pro Podcast by subscribing to the CE Pro YouTube channel or our Apple and Spotify podcast feeds.