Vivint Smart Home (NYSE: VVNT) continues to prove that recurring monthly revenue (RMR) works quite well in the smart home market.
While many custom installation companies rely on installation revenue versus ongoing monthly fees, Vivint has successfully converted the tried-and-true security business model in the smart home business. The company's Q2 2020 shareholder report shows $306 million in revenue for the quarter, up 8.9% compared to 2019. That is despite the fact that the company had to suspend its door-knocking campaigns in March and April.
The Provo, Utah-based company also improved its bottom line, with a net loss of $87 million in the second quarter, a $28.9 million year-over-year improvement compared to $115.9 million in the prior-year period.
The company expects to be cash flow positive in 2020. Year-over-year adjusted EBITDA jumped from $88.3 million to $152.7 million, an increase of $64.4 million.
Total subscribers increased by 6.8% during the three-month period ended June 30, which accounted for approximately $19.2 million of the increase. The average monthly revenue per user rate grew by $1.31 (or 2.1%) to $64.66 per month, which provided an increase of approximately $7.5 million in total revenues.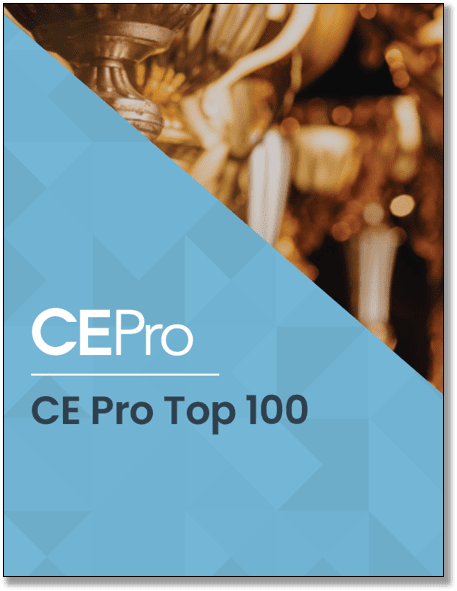 No matter how you slice it, 2021 was sweet music to the ears for the members of the CE Pro 100. The annual list of the largest custom integration companies had "record"-breaking growth last year.
Download your copy today!
Meanwhile, despite economic headwinds caused by the ongoing coronavirus pandemic, Vivint added 107,980 new subscribers during the second quarter. That is a decrease of 3.2% compared to the same period in 2019; however, subscriber growth in the quarter was impacted by a six-week pause in U.S. sales activity in the direct-to-home sales channel; the discontinuation of summer sales activities in Canada; and a focus on shifting retail installment contracts (RICs) toward third-party financing partners.
"We resumed direct-to-home sales in early May, as states around the country begin reopening their economies. Aside from the delayed start, our summer sales program is proceeding well and we're actually seeing productivity gains versus the prior year," CEO Todd Pedersen said during an earnings call with investors on Thursday.
"Another powerful tailwind is that we're funding virtually all new customers through our paid-in-full or third-party financing with Vivint Flex Pay. This allows us to bring on new subscribers in a much more capital efficient way."
Vivint, the No. 1 company in the CE Pro 100, now has more than 1.6 million customers across North America. The company's attrition rate improved by 40 basis points sequentially to 13.7% in the second quarter.
The quarter's overall strong performance prompted the company to raise its guidance range for the full year. The estimate for 2020 revenue is $1.23 billion to $1.28 billion versus previous guidance of $1.2 billion to $1.25 billion. Vivint raised its adjusted EBITDA guidance to between $555 million and $565 million versus previous guidance between $525 million and $535 million.