Best Buy (NYSE: BBY) is on a roll and much of it has to do with its successful in-home installation and service strategy. The giant CE retailer and custom installation company just completed its 12th straight quarter with sales growth, reporting sales for its Fiscal Year 2020 Q4 ended February 1 were up 3.2% to $15.196 billion. For the completion of its 2020 Fiscal Year, the company achieved $43.6 billion in revenues, up from $42.8 billion last year. For the upcoming year, the company is predicting 2% growth.
Its continuing focus on the in-home experience for its customers is a big contributor to the success, which has seen its stock rise over 66% in the past year.
"During fiscal '20, we expanded our in-home consultation program from 530 to 725 advisors," says CEO Corrie Barry, CEO. Those advisers conducted more than 250,000 free in-home consultations in FY2020 with high satisfaction rates (Net Promoter Score of 87), she told investors. And from that service, Best Buy is seeing growth in repeat purchases by those customers.
"Both employees and customers continued to love it. Additionally, we are now seeing a growing percentage of repeat purchases, as customers develop and take advantage of their relationship with their advisors. This of course was the intent when we began the program and we're delighted to see these relationships being built as we continue to increase investment in technology that is perfectly suited for this new kind of seamless customer interaction," she says.
Meanwhile, the company's Total Tech Support program launched last year for a $199 per year RMR fee continues to shine.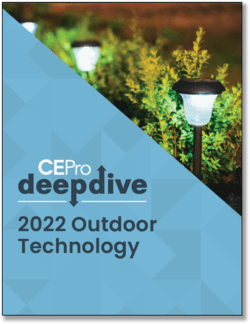 The 2023 CE Pro Outdoor Technology Deep Dive reveals unique set of impediments, including explaining pricing and interacting with outdoor-centric trades.
Get your copy now to take a "deep dive" into the trends and challenges of outdoor technology.
Download the report now!
"Our Total Tech Support Program grew steadily during fiscal '20 to end the year with almost 2.3 million members. It continues to get strong customer reviews and members spend more and are twice of likely to use other services than non-members.
"The average member uses the program approximately 2.5 times per year. During the year we also rolled out pilots to test new member requested benefits related to networking, parental controls and data storage," says Barry.
The data from Q4 was the company's 12th straight quarter of comparable sales growth.
"We offered compelling holiday deals that resonated with customers and provided a seamless shopping experience, great inventory availability and fast and free delivery. Across online, home and stores, we are fulfilling our purpose to help enrich people's lives through technology while also helping technology companies commercialize their product innovations," says Barry.
Coronavirus Being Monitored
Best Buy CFO Matt Bilunas comments, "As we enter FY21, we are closely monitoring the developments related to the coronavirus outbreak. This is a very fluid situation, which makes it difficult to determine exact financial impacts from disruptions in supply chain.
"Based on what we know today, we have assumed the majority of the impacts occur in the first half of the year. Therefore, we view this as a relatively short-term disruption that does not impact our long-term strategy and initiatives. Our guidance ranges for both Q1 and the full year reflect our best estimates of the impacts at this time."
Bilunas says for FY21 Best Buy expects to deliver full-year comparable sales growth in the range of flat to 2%.
The largest comparable sales growth drivers were headphones, computing, appliances, mobile phones and tablets. These drivers were partially offset by declines in the gaming category. Best Buy's domestic online revenue grew 18.7% to $3.52 billion. Online revenue now represents 25% of Best Buy's total domestic sales. The company's gross profit rate was 21.2%, down slightly from last year due to lower margin products and the Chinese tariffs.