It didn't take long for Samsung's new entry into the outdoor TV market to make an impact at Video & Audio Center/Just One Touch in Santa Monica, Calif.
"We sold seven in the first week," reports Tom Campbell, corporate director/chief technologist at Video & Center/Just One Touch. The CE Pro 100 integration company used both email and radio advertisements to promote the outdoor lifestyle, which is becoming much more important during the coronavirus COVID-19 pandemic.
Samsung jumped into the outdoor display and audio market last week with The Terrace, a 4K QLED smart TV and accompanying soundbar specifically designed for outdoor entertainment. Available in 55-, 65-and 75-inch models, The Terrace is IP55 rated for resistance to dust and water. It has a thin 10mm bezel and a depth of 59mm, with 2,000 nits of brightness, a motion rate of MR240, and a 2% reflection rate using an anti-glare coating. Price points are $3,499, $4,999, and $6,499 respectively.
"We are making a major push to promote the whole category of outdoor entertainment," says Campbell. That push includes outdoor video, audio and lighting. In its one-minute-long radio ad, the HTSA-member company says:
"Today, people are spending more time at home, for family and for home office, as well as spending time in the yard outside. And this is perfect… the Samsung Terrace. QLED UltraHD 4K picture quality with 2,000+ nits of brightness levels—rain or shine. Enjoy year-round outdoor entertainment with the fabulous Samsung Terrace. And Video & Audio Center's Just One Touch custom installation team can install it for you. So perfect, so right for you and your family as you enjoy the outdoors of your home."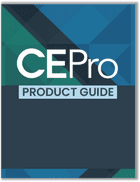 CE Pro's 2022 Product Guide showcases some of the latest and innovative solutions from manufacturers serving the custom electronics industry in a cross-section of categories.
Download the guide now!
Predicting Robust Q4
Joseph Akhtarzad, president of Video & Audio Center/Just One Touch, says the pent-up demand from the coronavirus lockdowns is already happening.
"Business is beyond our expectations right now, and we are expecting a robust fourth quarter in 2020," says Akhtarzad. "At this time, profitability is not the most important issue. It is about taking care of family, home and our clients. Without our clients, we have nothing. We are here to find solutions for our clients."
Through the pandemic, the company did not layoff or furlough a single employee. As an essential business, Video & Audio Center/Just One Touch continued to operate.
Campbell says demand is on the rise in multiple categories besides for the Samsung Terrace, including home networks and home theater.
"People are looking for faster Wi-Fi and networking. We are selling computer networks and keyboards like crazy. The phones are ringing off the hook. And the TV has become the hub of the whole house, not just for entertainment but for news and information."
The company is also seeing interest in the new Samsung Pendulum 43-inch display that rotates on a horizontal and vertical axis. The vertical access allows users to fill the entire screen with video that is captured in a vertical format from a mobile phone. Video & Audio Center set up a display front and center in its showroom.
Meanwhile, the company continues to see a rise in demand for voice control of devices. As such, Just One Touch has debuted its new JustOneWhisper.com website. Researchers are predicting a 30% increase in demand for voice control in smart homes and even in commercial business applications. Some of the increase can be attributed to consumers' reticence to touch devices, such as door handles, door locks and even touchscreens. Campbell says Video & Audio Center was experiencing a growing demand for voice control long before the COVID-19 pandemic hit.