Human-centric lighting (HCL) could represent yet another short- and long-term wellness business opportunity for integrators from the coronavirus outbreak.
According to the U.S. Bureau of Labor Statistics, 29% of the U.S. workforce is now able to work from home during the COVID-19 outbreak. That is 144 million workers between the ages of 15 to 65. And as more people work from home offices, the daily grind of getting to bed early so they can wake up early, shower, shave and eat breakfast before commuting to work is being upended. Indeed, the natural tendency is for workers to stay up later and sleep later (not to mention sit at their computers in their pajamas and snack from the pantry all day).
Human-centric lighting can be a potential remedy.  According to an article from Women's Health, neurologist Dr. Matthew Ebben says the human body and mind "loves consistency." So the disruption caused by working from home to the regular sleeping and eating cycles is unhealthy.
Thus, integrators can outreach to their clients with a circadian rhythm lighting solution that helps home office workers maintain their regular body clock. That means using lighting to awaken the homeowner every morning with gradually growing colored pink light in the morning.
In the home office, human-centric lighting can also be helpful. Blue light tones overhead that mimic the outdoor sunshine are said to improve a person's alertness. Likewise, programming the lights to dim to warmer hues during the evening tells the body clock it is time for bed, not binge-watching TV shows late into the night.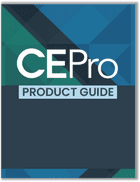 CE Pro's 2022 Product Guide showcases some of the latest and innovative solutions from manufacturers serving the custom electronics industry in a cross-section of categories.
Download the guide now!
Outside of the obvious opportunity to upgrade a client's home network in anticipation of establishing a home office or space for kids to stream school lessons, integrators can program in regular alerts to signal lunchtime and exercise. Those alerts might inhibit the home office employee from snacking constantly from the cookie jar or refrigerator.
So have you outreached to your clients with a home office and HCL offer yet?