Consumers will continue to embrace the "as a service" subscriptions for their home, from Netflix to Disney+ to alarm monitoring. The lovefest with subscriptions has spawned various smart home-as-a-service-based offerings. The latest "as a service" to for integrators to possibly put in their line card is wellness-based: Smart Water as a Service, which was introduced by fixture giant Moen at CES 2022. The company's Moen Smart Water Network, which debuted last year but has now been expanded, includes "total control" over the water in the home, from the water flowing through the pipes and exiting the faucet, down to the groundwater in the basement – all from one smartphone app.
The network includes leak detection and automatic shutoff via the Flo by Moen device (which includes a $5 per month fee), water usage reporting room by room, presets for temperature and water pressure, voice-activated faucets and more. Coming down the pike will be automatic pipe burst detection and winterization options that clear out the pipes during cold snaps to prevent freezing.
For integrators, the system offers the ability to wrap the solution into an all-encompassing "Smart Water as a Service" solution generating recurring monthly revenue, much in the same way companies like Vivint Smart Home charge monthly fees for alerts for medical situations, tornados, floods, temperature, and more. The Moen Smart Water App updates automatically and all the company's products in the Smart Water Network can also be controlled by third-party platforms and thus plugged into a single whole-house interface.
"It's no secret that technology continues to enhance our everyday lives. And nowhere is that more dramatically evident than in our homes. But while water is one of the most essential elements in our day-to-day life, it has been mostly left out of the conversation, until now," says Mark-Hans Richer, senior vice president, chief marketing and innovation officer, Fortune Brands Global Plumbing Group. "Our Moen Smart Water Network gives people the power to tap into the unseen network of water flowing through the pipes and valves behind the walls of their home – so they can control, enjoy and conserve the water running through their lives in ways never before possible."
The Moen Smart Water Network includes a slew of products all controlled and working together via the Moen Smart Water App. Among the features are: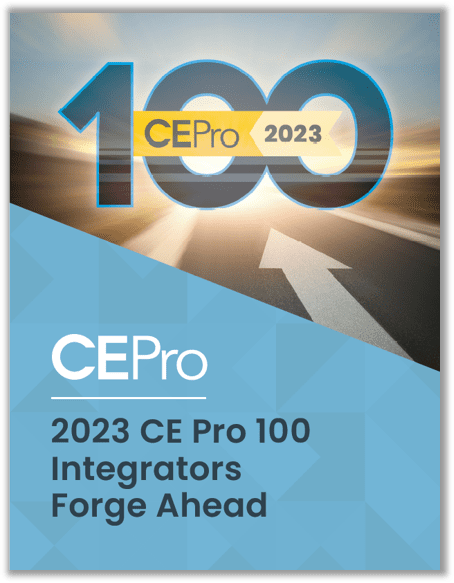 Which companies in the custom integration market made CE Pro's 24th annual CE Pro 100 list?
Automated water security: The Smart Water Security System monitors for potential water risks and leaks and can automatically take action to notify the user, shut off water and help protect the home.
Water education: Homeowners can now monitor water usage, room by room, where Moen smart water devices are located. This data also helps users set conservation goals and be more mindful of resources.
Personalized experiences: Within the app, users can set custom presets that control the specific temperature and amount of water dispensed by their faucet, plus personalize preferred gestures for operation of Smart Faucets with Motion Control.
Voice activation: Users can connect their Moen Smart Water devices to their existing smart home platform and use their smart speakers to activate fixtures, control water temperatures and dispense specific measurements for touchless interactions.
"We're making water work smarter for homeowners by allowing them to customize their smart water ecosystem with the products, features and benefits that matter to them most," adds Richer. "If leaks are a concern, the Smart Water Security System has their back and lessens the worry of unexpected water damage. If they love to cook and want to move about the kitchen with ease, the Smart Faucet provides the customization and control they desire."
Moen Smart Water Security System
The suite of products includes:
Flo Smart Water Monitor and Shutoff — a $500 leak detection and water monitoring device that's installed on the water lines going into the home that can automatically turn off the water to the home if a leak or risk is detected. The Smart Water Monitor and Shutoff provides automated water security by monitoring water pressure, flow rate, and ambient temperature, while running daily Health Tests to check for leaks and other abnormalities. If the device senses a home has a leak or is at risk, it will alert the homeowner so they can take action through the app, or the device can be set to close the water valve automatically to help prevent catastrophic damage.
Smart Leak Detector — a standalone sensor that can be placed anywhere in a home to alert homeowners when and where it detects moisture outside of the pipes to help prevent water damage and loss due to a fixture malfunction or environmental factors.
Smart Sump Pump Monitor — a device that connects to the sump pump to monitor and provide alerts for a potential pump failure and help reduce the risk of flooding.
Smart Faucet — Touchless faucets with voice-controlled technology that works through Amazon Alexa, Google Assistant or existing smart home platform. The faucet provides three additional ways to operate the faucet: touchless sensor control, handle control, and control through the app. New for 2022 is the addition of gesture control that can determine temperature and water flow using various gesture schemes.
Smart Shower — The Smart Shower will be integrated into the Smart Water App in 2023. Moen Smart Shower is a digital shower that offers personalization to create a preferred showering experience, with three choices to control the shower: voice activation, smartphone app and an in-shower controller. It's compatible with Amazon Alexa, the Google Assistant and Apple HomeKit platforms, with controllers available in two finishes.
Smart Water App — The Moen Smart Water App allows users to connect to the water flowing through their home. The app gives users complete control over their water from anywhere at any time.
Coming later in 2022, the Moen Smart Water App will provide users with services for:
Winterize: Users can manually trigger the ecosystem to use the Flo Smart Water Monitor and Shutoff to shut off water coming into the home, then purge the water line via the Smart Faucet.
Burst Protect: When the system senses that high pressure or low temperatures could put the pipes at risk of freezing, this feature is triggered automatically. It will shut off water to the home via the Flo Smart Water Monitor and Shutoff then purge the water line with the Smart Faucet, using data collected by the devices to know when it's time to activate the Burst Protect feature.
If you enjoyed this article and want to receive more valuable industry content like this, click here to sign up for our digital newsletters!