On the heels of a successful pilot in Dallas, PrepTECH has launched a new attack on the workforce shortage problem. Focused on adding more than 1,000 new technicians each year, the skills developer is getting the word out to as many high potential candidates as possible by rallying its friends, associates, brands, supplying companies and industry associations.
Through a crowdfunding campaign to "Pitch In," individuals and companies can fund the outreach to more applicants. PrepTECH founders Helen Heneveld and Paul Starkey believe 10,000 applicants will yield more than 1,000 new hires each year.
The bandwidth this provides can grow the industry (factory sales) by $60M a year compounded. In five years, that is $300M in factory sales and $1B in dealer revenue run rate improvement, the organization notes.
"We don't have to stand by and acknowledge the problem without doing something about it, new workers are and can be attracted to what home tech and custom integration offers," says Starkey.
The PrepTECH co-founder and industry veteran will discuss the company's efforts further in a CEDIA Expo panel, "What to Do About the Skilled Labor Shortage" (Friday, Sept. 30, 1:30 p.m.) that also features Trent Morano, VP of systems at Power Design, an electrical contractor specializing in multifamily projects; and Amanda Wildman, president and owner of integrator TruMedia and a CEDIA board member.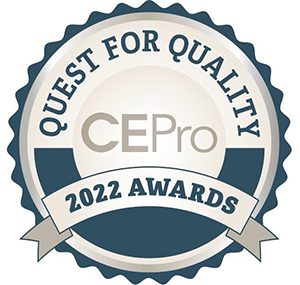 CE Pro urges integrators to recognize their suppliers that go above and beyond to deliver premium support and service. Cast your vote today to recognize the services (not the products) from your favorite manufacturers and distributors.
Cast your vote today!
Starkey points to great work hours, weekdays, full work week, competitive pay, advancement, continuous learning, and industry growth as major drivers that attract tech capable talent who may have overlooked the industry before.
"There are plenty of candidates not working in ci who see this as a step-up career move, we just need to reach and educate them," he says.
4 Levels of PrepTECH Crowdfunding Contributions
All the funding goes to specific ads to applicants who are vetted through testing and enter a 36-hour online credentialing program.
Every $15 contribution to getting applicants helps solve the problem, Starkey adds. The company has a goal of $150,000 in 24 months which could mean 10,000 applicants.
Contributors can go to https://preptech.com/content/PITCHIN.aspx to make one of four level of contributions ($100 and $500 friend/best friend levels, $8,000 brand sponsor and $15,000 corporate sponsor). The company plans to sustain the applicant funding through its own reinvestment. All of this is a plan to "grow the pie," Starkey says.
PrepTECH recently announced scholarships aided by sponsors AudioControl and Home Technology Association (HTA) were helping techs to land new jobs. Starkey tells CE Pro that two of PrepTECH's first 10 graduates were valedictorians of their high school class. "We are finding very smart applicants who are fascinated with our industry!"
Employers looking to secure local talent should reach out to paul@preptech.com to see how they can fund exclusive outreach in their area.