Who says software is boring? Not the D-Tools crowd. The company is hosting a beer pong party at the upcoming CEDIA Expo 2022 in Dallas with the support of several partners. AV-iQ, Sound United, MetraAV, Future Ready Solutions, and WhyReboot will all be on hand in the D-Tools booth #22046 with craft beer and games of beer pong for integrators to enjoy on Thursday, Sept. 29 from 2 p.m. to 5 p.m.
But D-Tools' presence at CEDIA Expo is not all fun and games.
The company will be celebrating the success of its D-Tools Cloud software, which according to CEO Randy Stearns is taking hold in the industry.
"We have nearly 1,000 integrators now using D-Tools Cloud," Stearns tells CE Pro.
"D-Tools Cloud has really become our go-to product for the residential systems market. It's snappy, easy to use, fun, and it just gets a job done. And you can use it on any mobile device. We are close to four years in on this product and it's quickly becoming a full end-to-end solution.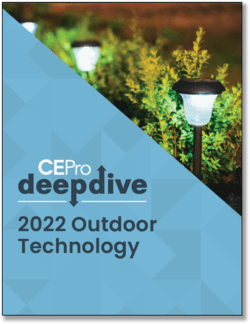 The 2023 CE Pro Outdoor Technology Deep Dive reveals unique set of impediments, including explaining pricing and interacting with outdoor-centric trades.
Get your copy now to take a "deep dive" into the trends and challenges of outdoor technology.
Download the report now!
Our current capabilities leading up to this year's CEDIA Expo are CRM functionality, advanced estimating and what we call visual reporting, which is the ability to just click to add into a floorplan, add a photo, and build a quote that way. We've got a very powerful and versatile multimedia proposal presentation capability, and basic drawing functionality that's going to improve dramatically over time."
He adds that the software's project management tools cover tasks such as change orders, purchasing, scheduling, task management, and timekeeping. Stearns says the only element missing right now is a service module, which D-Tools will be previewing at CEDIA Expo with a timetable for a full release later in the fall.  
The module will allow integrators to create service plans, sell service agreements within the software, manage their service requests, issue service orders, schedule service, track the status of service calls and how those are progressing invoices, and collect payments all from any mobile device in the field.
"It's going to be super cool," comments Stearns. He adds that down the road the company plans to add a client portal element to the service module so clients will be able to submit their own service requests online, and then be notified when a technician is on the way.
Beyond D-Tools Cloud, the company will be showcasing version 19 of its flagship System Integrator software at CEDIA Expo.
"I'm excited just to be back at CEDIA Expo and have a full-blown show. We've got a full-sized booth with eight or 10 people there. I think it's going to be good to see everybody again, and we're just looking forward to being there and having a good experience," adds Stearns.