Did you hit every booth during the CEDIA Expo Virtual event, held Sept. 15-17?
No, of course you didn't. For one thing, the first day of the event focused on education and exhibitor press conferences; days 2 and 3 featured open Expo hall hours. So even though attendees were sitting at their computers and did not have to worry about crisscrossing a physical show floor to meet with their vendors and potential vendors, chances are they didn't cram in visits to every virtual booth this year.
The good news is CEDIA Expo Virtual booths are still accessible, so if you are registered you can go back and watch videos, download literature and grab the appropriate contact information.
That said, for CEDIA Expo Virtual and beyond, several companies caught my eye when it comes to business management and operations that can help integrators improve efficiencies and their bottom line. It's easy to overlook exhibitors like these among the audio, video and automation technologies that take the spotlight, so here are a handful to go back and check out.
Modus VR – Sensational System Design Tools
You've probably come across Modus VR in recent years as the company has made a name for itself by uniquely providing integrators virtual reality-based system design tools. Putting on the VR headset and seeing this method for creating a home theater room certainly has been quite an experience on the show floor – but would it translate to an actual virtual tradeshow?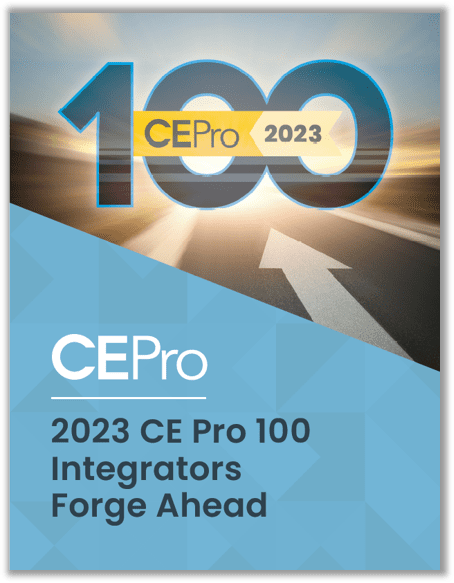 Which companies in the custom integration market made CE Pro's 24th annual CE Pro 100 list?
Most definitely. Anyone who visited the Modus VR booth (modusvr1.cediaexpovirtual.com) was treated to livestreamed demos on the hour in which real-world deliverables were developed. The goods from the software company included line drawings with annotations and dimensions; fantastic animated Modus Photo renderings; and panoramic 360-degree images for spaces such as home theaters, conference rooms, rec rooms and more.

"Dealer conversations have been really positive! As much as we like to give people a chance to try out our tools for themselves, it's also been fun to have a chance to tell the full end-to-end story," says Modus VR co-founder Ken Brueck.
"It's incredible to see what's possible in 30 minutes [demo lengths]. I think a lot of people have been skeptical of the raw speed Modus provides, so being able to show it like this has been pretty eye-opening for some."
Brueck adds that 2020 has been busy for Modus VR dealers, including growth on the resimercial/commercial side, hence the conference room demos at CEDIA Expo Virtual to explain those applications are also doable.
"When we were in beta we were home theater-only, with plans to expand as our capabilities grew. It turns out it's been hard to overcome that initial perception," he says. "We're trying hard to let people know they can do much, much more with Modus than just theaters."
RAM Commercial – Rugged Options for Your Fleet
Whether you need a sturdy and spacious commercial van or super-strong pickup truck, the time might be right to add vehicles to your fleet and RAM Commercial is ready.
At its CEDIA Expo Virtual booth (ramcommercial.cediaexpovirtual.com), RAM packed in plenty of product catalog information sheets and downloads – fair warning, the 2020 RAM Commercial catalog runs 42 pages – as well as fun videos.
Among the highlights is the 2021 RAM 1500 TRX truck that's a new addition to the RAM family, boasting a 702-horsepower, 6.2-liter supercharged HEMI V8 engine. "It will get you where you need to get, quickly," enthuses product specialist Felipe Campos.
Other 1500 TRX features include Bilstein Black Hawk e2 shocks, TorqueFlite 8-speed automatic transmission, high-performance exhaust, 650 pounds/foot of torque, 35-inch Goodyear Wrangler Territory all-terrain tires; TRX performance hood and grille with LED lighting, and much more.
Overall, the company's line of trucks gained several enhancements that can help techs stay safer and more confident on the road, especially if they have customers who live or own vacation homes off the beaten path.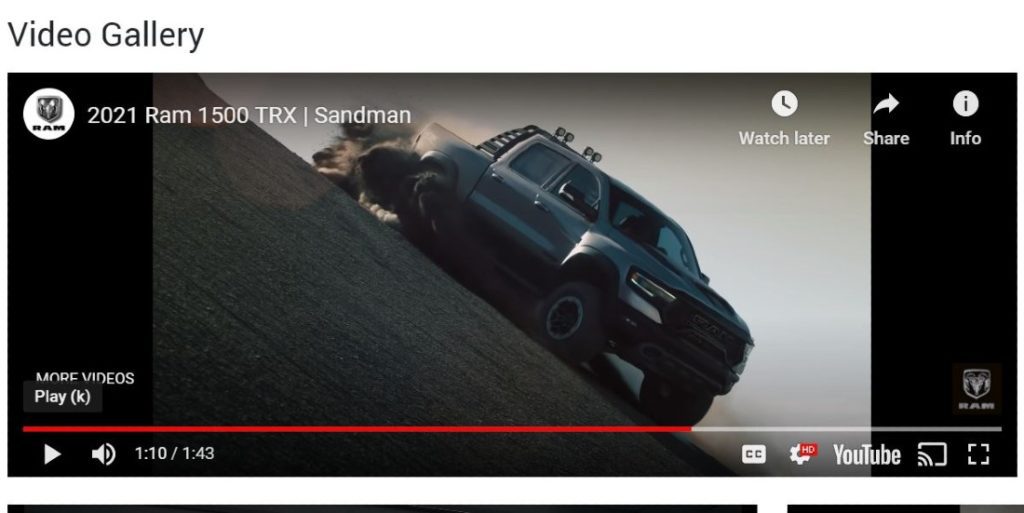 "Our trucks are now available with the third-gen 3.0 L Diesel powerplant, which is now rated at 260HP and 480 pounds of torque," Campos says. "The innovative features also include things like Adaptive Cruise Control with full stop, Forward Collision Warning with full stop, Digital Mirror, and new backup features, which make backing your trailer much easier."
For those who prefer sleek and efficient cargo vans, the ProMaster and ProMaster City catalogs outline the slew of interior and exterior accommodations that differentiate them from competitor models.
Visitors to the RAM Commercial CEDIA Expo Virtual booth can even enter to win $75,000 toward a new vehicle, with the drawing taking place in January 2021.
Sound Bookkeeping – Offering to Crunch the Numbers
Jeff Homan, owner of Sound Bookkeeping, knows that integrators don't exactly love to spend time on their financials when they could be selling or designing systems, among other things. In fact, he has first-hand proof, having owned an integration company for a decade – Wired Technologies in Orlando, Fla. – before selling back in 2016, and hiring a team that also brought integrator experience before joining him at Sound Bookkeeping.
"It's nice to be on the exhibitor side of CEDIA Expo," says Homan, who has been attending the event for about 20 years but made his exhibitor debut at CEDIA Expo Virtual.
The Sound Bookkeeping booth (soundbookkeeping1.cediaexpovirtual.com) urged attendees to hand off those finance frustrations, and made its introduction via YouTube in addition to an information sheet download. The company also provided some show specials and gave a "Bookkeeping Sucks (We Can Help)" coffee mug to the first 50 attendees to sign up.
As far as services go, Sound Bookkeeping provides standard services included in all its packages as well as a variety of add-ons.
Standard services include: preparation of basic budgets; recording transactions, receipts, invoices; accounts cleanup; reconciliation of checking, credit cards, PayPal; unlimited email support; unlimited digital receipt backup; regularly scheduled consultations; and monthly preparation of financial reports (profit & loss, balance sheet, statement of cash flows).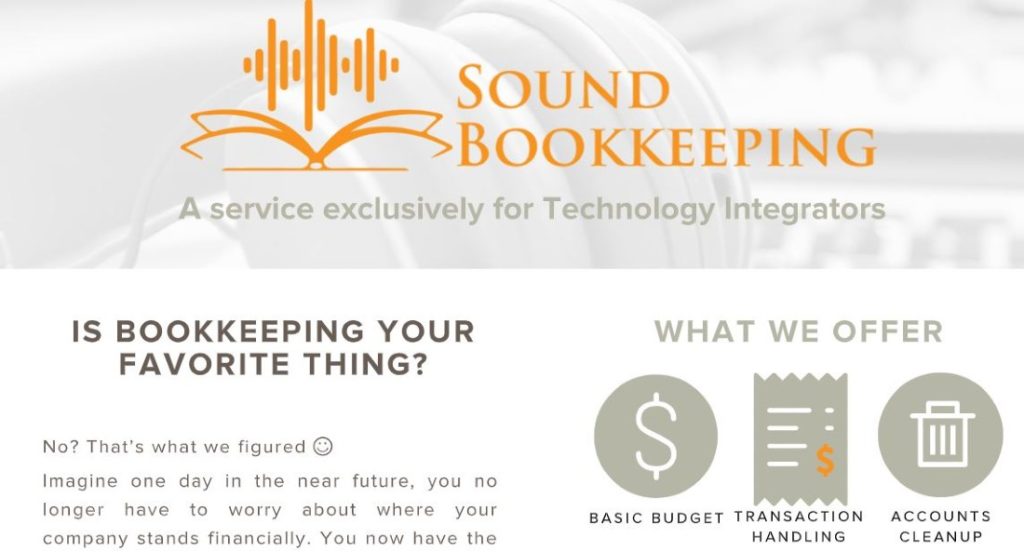 Meanwhile, attractive add-ons run the gamut from current financial reviews and historical book catchups to sales tax payments, progress invoicing setup and implementation, job costing, software conversion and reliable bill pay.
"It's easy to let bookkeeping take a back seat in the business and only scramble around tax time and when loans or financing are needed," Homan says. "Some of the biggest help we offer is just getting the financials done on a timely, regular basis. This allows owners to see how they are doing pretty much in real-time vs. months, or sometimes, years later."
He says the company has been gaining integrator customers mainly via word-of-mouth referrals and meeting people at industry events, but CEDIA Expo Virtual marks the first focused outreach. The business specifically targets the custom integration channel and the team leverages its experience.
"The industry knowledge and background can really help integrators, since they generally don't need to explain what the charges are for. We know the vendors, the suppliers, the services, the buying groups, the software tools," Homan explains. "I can't say that know everything, but we've got experience with most of it."
If you enjoyed this article and want to receive more valuable industry content like this, click here to sign up for our digital newsletters!