Sound United brand Polk Audio has launched its Reserve Series, which the company describes as "a high-performance, versatile loudspeaker line designed to deliver serious performance for music, movies and gaming."
The Reserve Series models are IMAX Enhanced and Hi-Res Audio Certified, and compatible with both Dolby Atmos and DTS:X immersive surround-sound formats.
Polk Audio is offering the Reserve Series in nine models with finish options in matte black, matte white and walnut woodgrain.
Loudspeakers are now available on www.polkaudio.com/reserve and at select specialty AV dealers and custom integrators worldwide, according to Polk.
"The Reserve Series use the same custom-made transducers originally developed for Polk's award-winning Legend Series loudspeakers," says Frank Sterns, president of Polk Audio.
In this updated Wage & Salary Report, you'll find out results for salaried occupational categories broken down by 14 regions of the U.S. & Canada. Uncover valuable information about where your company stacks up when it comes to paying your important people by
downloading your free copy today!
"Featuring the proprietary Pinnacle Tweeter, Turbine Cone midrange and Polk's latest bass-management and resonance control technologies — PowerPort and X-Port — the Reserve Series delivers against Polk Audio's signature quality sound at an approachable price."
Models include:
R100 Bookshelf – $599/pair
R200 Bookshelf – $699/pair
R300 Center Channel – $399
R350 Center Channel (slim) – $549
R400 Center Channel – $599
R500 Tower – $599 each
R600 Tower – $799 each
R700 Tower – $999 each
R900 Height Module (wall- and speaker-mountable) – $599/pair
The center channel speakers come in three sizes. The R300 is designed to fit in most AV cabinets, while the R350 is only 5.5-inches tall, and is wall-mountable so it can be used as left, right or center channel.
For the first time, Polk is introducing a height module (R900), which can be placed on the floorstanding speakers or wall-mounted. The height module features a toggle switch, which tunes the speaker for the application, whether that be on-speaker or wall-mounted.
Polk Audio Reserve Series Leverages Proprietary Technologies
Seeking to retain as much of the Polk Legend flagship performance as possible within a moderately priced package, Polk Audio engineers created rigid, internally braced cabinets while leveraging driver and port technologies from the Legend Series speakers, which last year were among the first speakers to earn IMAX Enhanced designation.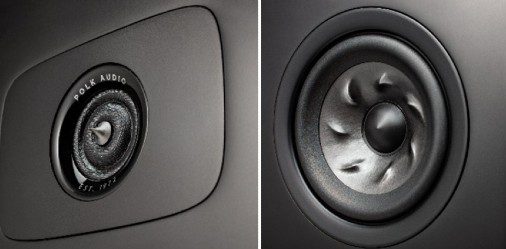 The company explains that it used — and created — multiple advanced technologies for the Reserve Series:
Pinnacle Ring Radiator Tweeters: The new 1-inch Pinnacle tweeter features a finely tuned waveguide, which dramatically improves the dispersion of high frequency energy, ensuring a broad sweet spot, while the critically damped rear-chamber helps defeat unwanted resonances. A Hi-Res certified driver, the Pinnacle Tweeter is designed for two-channel music listening as well as multichannel immersive audio.
Turbine Cone Midrange: The Turbine Cone combines Polk's foam core driver design with molded Turbine geometry, which dramatically increases stiffness and damping without adding mass. This results in a smooth, detailed midrange across the entire bandwidth of the driver, the company says.
X-Port Technology: The Reserve Series marks the debut of Polk Audio's patent-pendingX-Port technology, which uses a set of closed-pipe absorbers precisely tuned to eliminate unwanted cabinet and port resonances. X-Port, found on Reserve Series' vented models, is most beneficial to the lower mid-range, ensuring balanced, clean mid-bass for amazing detail and dynamics, Polk says.
Power Port 2.0 Design: Power Port 2.0, in the R600 and R700 floorstanding models, is a Polk-patented loudspeaker port application that enables bass frequencies to extend more deeply and at higher output levels than traditional ported speakers. The port tube base was redesigned in aluminum and sits closer to the floor than previous Power Port designs for added performance characteristics and aesthetics.
Advanced Cabinet Construction: The R700 tower speaker model features advanced point-to-point bracing with new Cabinet Resonance Control technology (CRC) that eliminates panel resonances for enhanced detail and clarity, explains Polk.