Monitor Audio has announced the launch of its all-new Creator Series. Tagged as a "fresh approach to the custom installation market," the new collection of in-wall and in-ceiling loudspeakers are designed to provide high quality sound and clarity within a comprehensive, clearly defined range, according to the company. The new Creator Series features nineteen architectural speakers: fourteen in-ceiling and five in-wall, arranged in three tiers, which, as Monitor points out have been arranged such that each successive tier has additional functionality and enhanced performance over the prior tier.
Simpler Installation for Professionals, Better Acoustic Performance for Clients
Gathering feedback through the Monitor Audio Partner Program (MAPP), Monitor has stated it sought to create a simpler range and accessory offering, ensuring that the performance levels of each would be clearly defined for use on custom install projects. Taking a more streamlined approach to technologies, naming, applications and solutions, Monitor states these architectural speakers should make the whole process of product selection much more straightforward for the integrator.
Part of this simplification philosophy is the use of the new Quik-Link' terminal. This latest addition is a patent-pending technology that allows the installer to remove the terminal block from the physical speaker and pre-terminate the speaker cables to it. Once the speaker is ready to be fitted within its cut-out, the Quik-Link can be offered up to the connection point on the speaker and magnetically snaps and locks into place.
Other added Creator Series features include Tri-Grip II, an evolution of the dog-leg mechanism that is considerably stronger and more reliable than the previous generation. Built-in back boxes also allow for hassle-free installation and controllable sound, even in the trickiest of applications, according to Monitor Audio.
Meanwhile, end-users get to experience some key innovations Monitor Audio notes are usually only found in its premium standalone loudspeakers. Across medium and large in-ceiling speaker sizes, the overall cut-out sizes remain the same, but the driver size has been considerably beefed up, moving up from 6.5" to 7" and 8" to 9" respectively.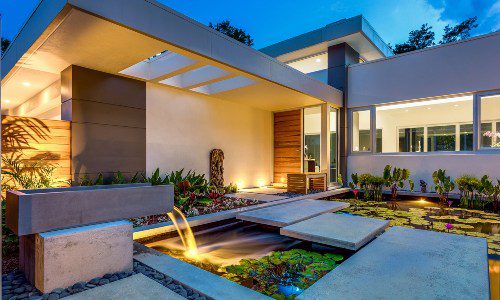 Landscape and architectural lighting create a magical and elegant ambiance for homeowners. The outdoor lighting industry has always been a phenomenal one and continues to grow in popularity. Now is the ideal time to learn more about this rapidly growing and highly profitable industry. Join our panel of esteemed lighting experts that will dive into why it's time for integrators to rethink their role in the outdoor lighting industry.
Register Now! 
Driver technology has also been configured within each Tier from C-CAM tweeters and mid-bass drivers (Tier 1), RST II mid-range and bass drivers (Tier 2), and RST II mid-range drivers and RDT III bass drivers (Tier 3). The Tier 3 in-wall model also boasts an MPD II transducer based on the THX Certified Ultra, Cinergy home cinema series.
An Overview of the New Creator Series Tiers
Tier 1 of the new Creator Series features a range of in-ceiling and in-wall architectural speakers designed for cost effective installations where product simplicity and solid acoustic performance is required. As Monitor Audio notes, all Tier 1 speakers are a 2-way configuration and feature new C-CAM mid-bass drivers and C-CAM tweeters with Uniform Dispersion (UD) Waveguide I.
Tier 2 of the series introduces RST II mid-bass drivers, based on those found in the company's award-winning Silver 7G range alognside C-CAM tweeters with Uniform Dispersion (UD) Waveguide II. Tier 2 also introduces boundary correction and high-frequency cut/boost. The new T2X combines the previous generation's 'T2' and 'FX' that can be used in 'cinema mono FX', 'mono wide dispersion' and 'single stereo' modes.
Lastly, landing on Tier 3, all architectural speakers are a 3-way configuration with RDT III bass drivers, based on those found in the new Platinum Series 3G. A new Inverted Dual Concentric II (IDC II) coaxial mid/tweeter range driver array now features a larger voice coil to ensure the Uniform Dispersion (UD) Waveguide II can be used to control the high-frequency directivity, effectively acting as a point source, as noted by the company.
Additionally, the C3L-A offers a fixed-angle IDC II for focused sound, which Monitor Audio notes is ideal for in-ceiling LCR placement. The Tier 3 W3M in-wall speaker, meanwhile, features an arrangement based on THX certified Ultra Cinergy Series technology. This speaker features an RST II mid-driver and MPD II transducer, which is positioned between dual RDT III bass drivers. A new rotatable IDC II coaxial mid/tweeter driver array is placed at the acoustic centre of the speaker, which improves versatility for use in LCR placement.
If you enjoyed this article and want to receive more valuable industry content like this, click here to sign up for our digital newsletters!