Sonos can thank in part the custom installation channel for its record-setting Q4 revenues of $339.8 million. Despite the challenges presented by COVID-19, the company beat market expectations for revenue by more than $40 million for the quarter.
The popular audio company says its fiscal 2020 marked the 15th consecutive year in a row in which its performance exceeded expectations.
"Our products continued to rank as the leading products in the premium home audio category in fiscal 2020. We have experienced particularly strong growth in our installer channel throughout fiscal 2020 and expect this channel to continue to be a strong contributor as we look forward, " states Patrick Spence, CEO, Sonos, Inc.
"The Sonos brand is by far the leading choice amongst installer professionals. In fact, according to a 2020 CE Pro report of the brands sold by the top 100 installation professionals, Sonos is the leading brand in wireless speakers, soundbars and subwoofers. Our 92% share in the wireless audio category among these industry professionals according to the report significantly outpaces our competitors and underscores the strength of our brand, the quality of our products, and our dominant competitive position in the categories we serve."
Sonos 4th Quarter Highlights
According to the company, it grew its total homes by at least 20% to nearly 11 million households globally, and 41% of its existing customers purchased and registered new products.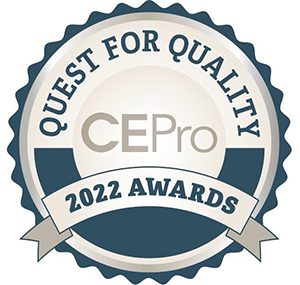 CE Pro urges integrators to recognize their suppliers that go above and beyond to deliver premium support and service. Cast your vote today to recognize the services (not the products) from your favorite manufacturers and distributors.
Cast your vote today!
Spence called it an "important inflection point" for the company that "proves that our unique model delivers for both customers and investors" in which customers return again and again to buy additional Sonos gear for their homes.
It wasn't just revenues that grew in Q4, but profit also. Adjusted EBITDA (earnings before interest, taxes, depreciation, and amortization) increased to $46.4 million from $2.8 million last year, and ahead of analyst estimates of $27.5 million (First Call).
Looking ahead for fiscal year (FY) 2021, Sonos has targeted an EBITDA of $170 million to $205 million. These figures exceed current analyst expectations of $114.9 million, and based on these figures the company is experiencing revenue growth in the range of 11% to 15%.
Additionally, Sonos has announced that its board has authorized a $50 million stock repurchase program. Sonos says the stock buy-back program reflects the current value of its stock.
The custom channel was not the only driver of revenues. The company reported its direct-to-consumer revenue increased 67% year over year. Spence cited a Futuresource report that shows 63% of consumers are now "comfortable" purchasing audio products online. That figure was just 25% prior to the pandemic.
He also touted the success of Sonos Radio, which was launched last quarter and comes pre-programmed into the Sonos app. Spence says it is already the No. 4 most listened to streaming audio channel. Meanwhile, just last the company introduced Sonos Radio HD, a new ad-free, high-definition streaming subscription tier of Sonos Radio offered at $7.99 a month. Sonos Radio HD features exclusive content in lossless, CD-quality audio.
On the hardware side, the company experienced strong demand for its Move, Arc, One SL, Sub, Amp and Port products. So much so that the supply chain was stressed and Sonos does not expect to catch up on demand until next quarter for its Amp and Arc products.
FY 2021 Outlook
Adjusted EBITDA in the range of $170 million to $205 million, representing growth in the range of 57% to 89%, ahead of current analyst expectations of $114.9 million (First Call)
Adjusted EBITDA margin in the range of 12% to 14%, representing a 380 to 580 basis point improvement year-over-year ahead of current analyst expectations of 8.3% (First Call)
Revenue in the range of $1.44 billion to $1.5 billion, representing growth in the range of 11% to 15% from fiscal 2020 on a comparable 52-week basis, ahead of current analyst expectations of $1.384 billion (First Call)
"In fiscal 2020, we delivered a record 8.2% adjusted EBITDA margin, or 10.6% excluding the effect of tariffs, and we project delivering 12% to 14% adjusted EBITDA margins next year, which is ahead of our prior targets," Spence points out.
"As we look ahead, we are focused on delivering innovative new products and services that customers love, strengthening our direct-to-consumer efforts, and supporting our incredible partnerships. We believe we are well positioned to deliver strong profit margins, cash flow, revenue growth and increased shareholder value over the long-term."