It's fair to say that roughly 15 years ago Sonos helped to revolutionize the way people listen to music in their homes.
Since that time the company has expanded its product line to include a greater selection of powered speakers; it has revamped its amplification and operating system, and of course entered the home theater category.
Recently, Sonos introduced its latest home theater product: The Arc. The company's new soundbar is a Dolby Atmos compatible solution that features the company's latest industrial design, and it is designed for use with today's modern larger-screen size televisions.
Sending me a white version of the soundbar, I used the Arc simultaneously with the new Sonos app in my home with my existing Sonos products, which I am running on the original operating system and iOS app.
Sonos Arc Features and Setup
I think it is pretty safe to say the Arc is the most advanced speaker Sonos has ever produced. Delivering multichannel audio that includes Dolby Atmos object-based surround sound compatibility, the Arc contains eight midrange/bass drivers, three tweeters and 11 amplifiers to power each driver.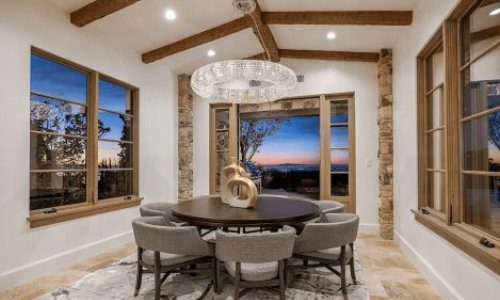 As a custom integrator, lighting is in demand. Effective communication, education and showcasing the value proposition of LED light fixtures in conjunction with integrative control systems are the keys to overcoming challenges and closing sales in this specialized market. Join us as we discuss the future of digital lighting and control with David Warfel from Light Can Help You and Patrick Laidlaw and Mark Moody from AiSPIRE.
Register Now! 
As I alluded to earlier, the Arc runs on the company's brand new S2 operating system.
Other features that are noteworthy include the ability to integrate the soundbar into a whole-house audio system, voice control options with a choice of popular services such as Amazon Alexa and Google Assistant, and Sonos' TruePlay automatic equalization technologies.
Shipping in a single container, the well-designed packaging ensures the soundbar stays secure in the box. Once I unpacked the speaker, I pulled out the power cable and HDMI cable that came with it out and connected them to their respective ports in the rear of the soundbar. Running an Ethernet cable from an Araknis network switch I plugged in a Cat-6 cable to place the speaker on my network.
I completed the physical connections by plugging the power cable in, and by running the HDMI cable to the HDMI-arc (audio return channel) of my Sony 4K TV. The rest of the setup was done through the new S2 OS-based app, which I downloaded onto my iPhone XR.
---
CE Pro Specs:
The Arc contains eight elliptical woofers and three silk-dome tweeters
A total of 11 Class D amplifiers drive each of the Arc's transducers
The Arc provides integrators with its TruePlay auto EQ system and adjustable EQ settings within the app
Voice control options include Amazon Alexa
The unit operates on the new S2 platform, and it also includes Apple AirPlay 2
MSRP is $799
---
Most of the setup time, which I estimate will take about 15 or 20 minutes is simply following the prompts to perform the basic setup, the HDMI connection verification; TruePlay equalization options, and the voice control options. In my home we use Amazon Alexa, so I set it up with Alexa voice control.
Admittedly, there are a lot of screens that you will be prompted through—40-something—if you perform the basic setup, the HDMI verification, the TruePlay EQ and voice control options. Additionally, there may be more screens if you are setting up a companion SUB and surround speakers.
Realistically, anyone that's setup a Sonos speaker won't have any issues setting up the Arc. The only issue someone will encounter is if someone tries to connect the Arc to an older TV that doesn't include an HDMI Arc (audio return channel) equipped television. The audio return channel is necessary in order to reproducing object-based surround sound content using the Dolby Atmos format. Sonos points out that integrators can use HDMI-to-optical adapters. This solution however, only permits the reproduction of stereo and Dolby surround audio.
I also want to reiterate that I ran the S2-based Arc simultaneously with my existing Sonos system without any issues.
Performance and Final Thoughts
Before I get into the Arc, one of the things I setup—and I did this with both my Sonos system, and the Arc was to setup Sonos Radio. Most of my listening with Sonos Radio was done with the Rock Pantheon, and I thought the channel played a nice variety of classic rock.
OK, with that said, I did a variety of listening with streaming content such as Sonos Radio, as well as TuneIn, and other music listening using Apple AirPlay. With video content I used Netflix, Disney Plus, and Amazon Instant Video, broadcast television via a Dish Joey set-top box (STB), and UltraHD 4K discs using an LG 4K UHD player.
Also, I'd like to point out that while I am not a gamer, my son is, and he used the Arc with a PlayStation 4. I'll get more into this in a little bit, but I wanted point this out before I went any further.
My first few listening sessions were with music, and my first thoughts were the speaker throws a much bigger soundstage and is much more articulate than my older Play:1 and Play:3 Sonos products. Dynamically, the Arc is more extended than those older products, which much more mid-bass and more top end. Using music from Pink Floyd and Tesla, I was surprised at the amount of midrange detail the Arc delivered.
Using the AirPlay option, I moved on to bands such as Queen and the Eagles I found the Arc to be very smooth. For example, during the song, "Bohemian Rhapsody" in the second verse when the whole band comes in the transition was smooth dynamically. Later when Brian May comes in with his iconic solo, I thought his guitar had a nice level of space that placed a focus on his guitar part, while allowing bass, drums and piano to reside underneath the guitar.
On another iconic song—"Hotel California"—from the Eagles I could nicely hear the bass line outlining the song's opening chord progression, which is played famously on a 12-string guitar.
Getting into some multimedia content I love to use Disney "shorts" as demo pieces because I think they are first well produced, and they are mini stories that are easy to follow. A couple of my favorite shorts are "Jack-Jack Attack" from "The Incredibles" and "DUG's Special Mission" from "Up, and thankfully Disney Plus offers a number of other short films too on its streaming site.
Using these shorts to get an initial feel of how the Arc would sound with surround content I was not disappointed. The Arc throws a big soundstage that includes a nice delineation of surround effects; punchy mid-bass response, and clear dialog.
Watching some TV shows through Amazon Instant Video I will admit that I love classic TV from the 1970s and detective shows like "Columbo" and "Starsky and Hutch." The clothes, the cars and the sparse production of these programs are a stark contrast to modern TV programs.
While light on effects and surround action, I thought the speech reproduction of the Arc was fantastic with these classic shows. I will point out that its performance does improve through the use of the TruePlay EQ option. Without TruePlay I thought the top end of the speaker was a bit thin and it was noticeable with both music and TV. On video content with TruePlay engaged both male and female voices were natural sounding.
Getting back into surround content I used a Dolby Atmos demo disc and played several demo tracks. What I found was the diffuse soundstage capabilities of the Arc were heightened to an added level with Atmos content.
Moreover, I asked my son what he thought of the Arc with his gaming action. My son told me it does add to the fun and experience of gaming, which surprised me.
Wrapping things up, I'll point out the new S2-based app is easy to use. Music sources are easy to find and navigating the app's other functions shouldn't be a problem.
My only words of caution with the Arc I think for integrators will be managing users' expectations. Based on my experience when you combine the familiar functions that Sonos offers such as whole-house audio, full surround sound capabilities and a user-friendly app, the Arc instantly shoots to the top of the best soundbar lists that are out there.
But, like any other soundbar it will not replace a multi-speaker system designed to reproduce immersive audio content. The only other point I would like to make about the Arc is that because of its need for a TV's audio return channel for the playback of Dolby Atmos, dealers won't be able to meet some clients' desire for object-based surround sound without replacing their existing TVs. 
So, the bottom line: The Arc is a top-of-the-food chain soundbar, and it is the best product that Sonos has ever developed, which is saying a lot.
---
CE Pro Verdict
Pros:
The Arc provides users with a big soundstage with good balance and image depth
The S2 platform, along with Sonos' array of streaming options and Sonos Radio are a music lover's dream
For those with limited space for multiple speakers the Arc is a good way to upgrade someone's video systems with quality multichannel sound
Cons:
This is an odd tidbit to point out, but I think it's important to manage users' expectations with the immersive capabilities of the Arc. Yes, it does deliver a diffuse, big soundstage without sacrificing dialog articulation, but it is not a full-fledged immersive audio system
It would be great from an aesthetic point of view—this is more about the entire line—but more color choices beyond black or white would be great.
To see a sample of some of the screen prompts the S2 operating system app provides check out the slideshow that includes many of the setup screens.
If you enjoyed this article and want to receive more valuable industry content like this, click here to sign up for our digital newsletters!