Auto racing is one of America's top spectator sports with tens of millions of fans worldwide. Even if you're not counted amongst those fans, however, there's still a chance you at least know the National Association for Stock Car Auto Racing (NASCAR). Well, recently, the association decided to upgrade its headquarters in a huge way with some massive video walls courtesy of Planar.
Built in 2009, the eight-story, 184,500-square-foot office complex sits in Daytona Beach, Florida, right across from the Daytona International Speedway. From the start, the space was designed as a tribute to motorsports with all sorts of memorabilia scattered throughout the offices, and the technology used throughout needed to hold to that same branding.
"We wanted something bold, brash and impressive—just like our sport," NASCAR Executive Vice President and Chief Development Officer, Craig Neeb said. "Its color, its imagery and its sound. We wanted to convey all of that."
With that in mind, the AV systems being used at different levels of the facility simply weren't cutting it. "It certainly didn't represent our brand," he said. "It was just lackluster to be really candid." As such, Neeb and his team set their sights on LED video wall technology which, according to Neeb, offered the ability to capture people's attention and create a truly immersive experience, eventually leading them to Planar.
"We felt that Planar had continued to elevate to the level of a world class solution provider," Neeb said. "Planar's case studies provided great examples of why we should go with them. From a technology standpoint, it was clear the products fit each application so well. That's what really got our attention."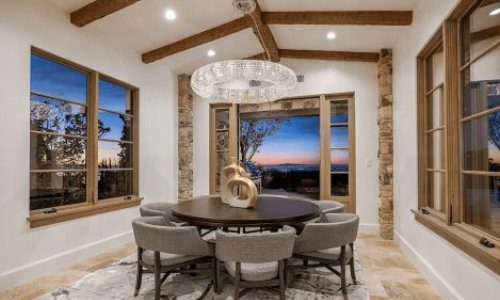 As a custom integrator, lighting is in demand. Effective communication, education and showcasing the value proposition of LED light fixtures in conjunction with integrative control systems are the keys to overcoming challenges and closing sales in this specialized market. Join us as we discuss the future of digital lighting and control with David Warfel from Light Can Help You and Patrick Laidlaw and Mark Moody from AiSPIRE.
Register Now! 
Crisp LED Displays Make First Floor No Longer a Bore
Showcasing the spectacle of auto racing, a large ground floor room was equipped with a nearly 16-foot-wide and 5½-foot-high (8×4) Planar TVF Series LED video wall with a 1.2mm pixel pitch (TVF1.2). The room is typically used to meet and greet visitors and to host race day events, so the new video wall, Need said, allows them to showcase and celebrate the sport.
As a functional canvas, NASCAR can now use the Planar TVF Series LED video wall for presentations, meetings, employee gatherings and entertainment.
"Sometimes it can be for something simple, like displaying welcome messages for visiting VIPs, thanking them for being a part of our sport, which can go a long way," Neeb said.
But while the LED canvas serves a lot of purposes, Neeb stressed the top priority is to express the energy and excitement that is synonymous with NASCAR.
"Some of the content we show includes footage from the vantage point of the car, which creates the sense that you're in the car and racing around the racetrack," Neeb said. "The video wall really imparts the feeling, the emotion and the visceral experience that is NASCAR."
Planar Video Walls Gives NASCAR a Boardroom with a View
Moving up to the eighth floor, Need and his team were presented with a unique challenge. Dedicated to NASCAR's original founder, the Bill France boardroom is a large and long space with an adjoining terrace and a generous amount of window space. As a result, this overall lack of wall space offered little leeway to fit a video wall without covering some of that area.
Ultimately, the team settled on a creative solution that managed to net a spot for the display while preserving most of the natural lighting. The existing windows at the end of the boardroom were replaced with a nearly 16-foot-wide, 7-foot-high (8×6) Planar DirectLight Ultra Series LED video wall with a 1.2-pixel pitch (DLU1.2). Then, a camera was mounted on the outside of the building that relays a live feed to the video wall replicating the same view seen out the window previously.
"It's as if you're looking out the window, just like before," Neeb said.
Also, as a premium option for the boardroom, the Planar video wall used came with Planar ActivAlign proprietary self-adjusting alignment technology, which maintains high visual performance over time while combating issues such as vibration and thermal expansion, helping ensure a seamless visual experience for presentations, video conferencing and the like.
"It works incredibly effectively and with the brightness of the screen, content can be seen from anywhere in the room," Neeb said. "The video wall is also very useful when we host hospitality events in the space and out on the terrace."
Overall, Neeb said one of the best benefits of the new LED video walls has been the absolute reliability of the technology.
"It's incredibly resilient. You can trust it. The last thing you want is for your guests to walk into a space and see a display with obvious challenges to it. We can say from firsthand experience that the Planar video walls have lived up to their expectations."
In addition to the Planar TVF Series and Planar DirectLight Ultra Series LED video walls, over three hundred Planar high performance HD LCD monitors (24", 27" and 32") are being used to support the building's monitoring and security control systems.
If you enjoyed this article and want to receive more valuable industry content like this, click here to sign up for our digital newsletters!