Media server maker Kaleidescape has announced that Tayloe Stansbury has been appointed its new chief executive officer. Stansbury succeeds Cheena Srinivasan, who served as CEO since 2014; he will remain with Kaleidescape as founder and executive vice president, focused on alliances and business development, including movie studio relationships. In addition, Norma Garcia-Muro has joined Mountain View, Calif.-based Kaleidescape as vice president of marketing.
"We are excited to have Tayloe's expertise in product, technology, growth, and scale, and Norma's expertise in cinema systems and movie marketing, to drive Kaleidescape's growth," says Michael Malcolm, founder and chairman of Kaleidescape's board of directors.
Stansbury is a longtime Kaleidescape customer, and he brings a wealth of leadership and business expertise. He previously served as interim CEO of Watermark Insights, as chief technology officer of Intuit (NASDAQ: INTU), and as executive vice president of product and operations at Ariba. He serves on a number of non-profit, private, and public boards, including Coupa Software (NASDAQ: COUP). He received his A.B. in applied mathematics from Harvard University.
Garcia-Muro is an entertainment industry innovator with a background in motion picture, home entertainment, and premium cinema technology. She was integral to the launch of Dolby Cinema worldwide, and premium cinema experience at THX. Her previous posts include head of international marketing at Lucasfilm, where she oversaw strategy and positioning for the Star Wars and Indiana Jones' franchises, and as director at Paramount Pictures Home Entertainment. Garcia-Muro was recently named one of the Top 50 Women in Global Cinema.
"Tayloe's proven leadership in technology and corporate stewardship, together with Norma's background marketing iconic films and next-generation cinema technology, provide Kaleidescape with a strong synergy of tech and Hollywood. We are delighted to see them both take the lead as we launch this exciting new chapter in revolutionizing home entertainment with the finest cinema experience available," says Cheena Srinivasan, who recently discussed with CE Pro how the market is ripe for home cinema growth. Kaleidescape has a 50% marketshare in the media server category in the 2020 CE Pro 100 Brand Analysis.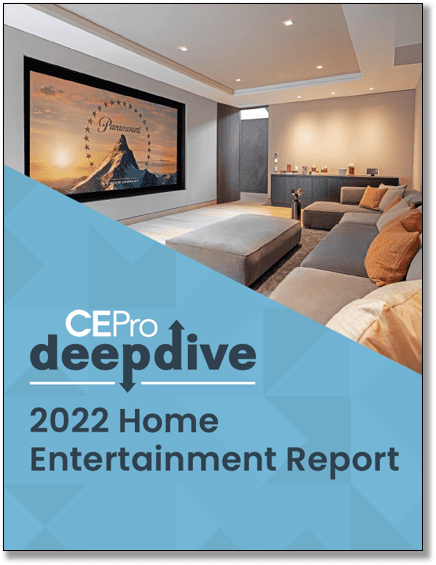 The home entertainment category is especially susceptible to the supply chain crisis because there are so many individual components required. Despite that ongoing problem, the once-forgotten "home theater" category continued its strong comeback in 2021 likely driven by the ongoing house-bound public due to the COVID-19 pandemic.
Download your copy today!