Home-theater-in-a-box (HTIB) is back and better than ever. It's essentially what Enclave Audio offers with its wireless insta-surround-sound packages, which both streamline and simplify HTIB compared with its past connotation.
Within the custom electronics industry, HTIB may have had somewhat of a negative connotation compared with what the pros sell and install, but there's no denying that bundles containing left/right/center speakers, surrounds, subwoofer and AV receiver served their purpose.
The emergence of soundbars and systems that packaged soundbars with wireless subwoofers of course took streamlined systems a step further. But despite technological advancements, not counting the sub it's still a tall order for one speaker to do the work (or simulate) of five individual speakers.
Enclave Audio, however, takes advantage of other advancements to make HTIB especially attractive for customers seeking to upgrade audio in their living room, theater/multipurpose room and other secondary rooms to surround sound with zero hassle. With products certified on the WiSA (Wireless Speaker & Audio) platform, and able to employ eARC/ARC from HDMI as well as optical cable, Enclave Audio stuffs a lot of audio goodness inside its box.
Enclave Audio CineHome II Features
The entire CineHome II system from Enclave Audio arrived in a big box to my house, where I set it up in our odd-shaped living room in which wiring for surround sound might otherwise prove problematic.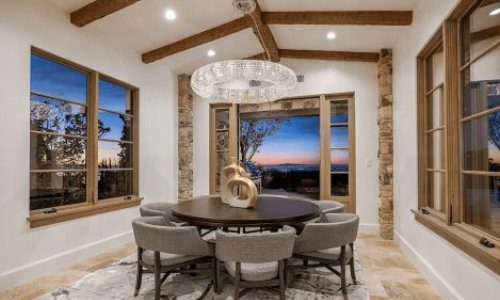 As a custom integrator, lighting is in demand. Effective communication, education and showcasing the value proposition of LED light fixtures in conjunction with integrative control systems are the keys to overcoming challenges and closing sales in this specialized market. Join us as we discuss the future of digital lighting and control with David Warfel from Light Can Help You and Patrick Laidlaw and Mark Moody from AiSPIRE.
Register Now! 
Typically I'm not into details such as packaging, but for this system I couldn't help but be impressed by the precise and detailed boxing and labeling done by Enclave Audio. Clearly there was a lot of thought put into how to maximize the space of the roughly 30 x 15 x 21-inch box, as well as stay on the theme of simplification for consumers.
The $1,099 CineHome II system includes a pair of left/right speakers, with a 3-inch driver and a 1-inch tweeter; a center channel with two 3-inch drivers and a 1-inch tweeter; a pair of bipolar surround speakers, with two 2-inch drivers apiece; and an 8-inch down-firing subwoofer. Note that Enclave Audio offers another version, the $1,599 CineHome PRO, which adds THX certification and larger speakers/sub.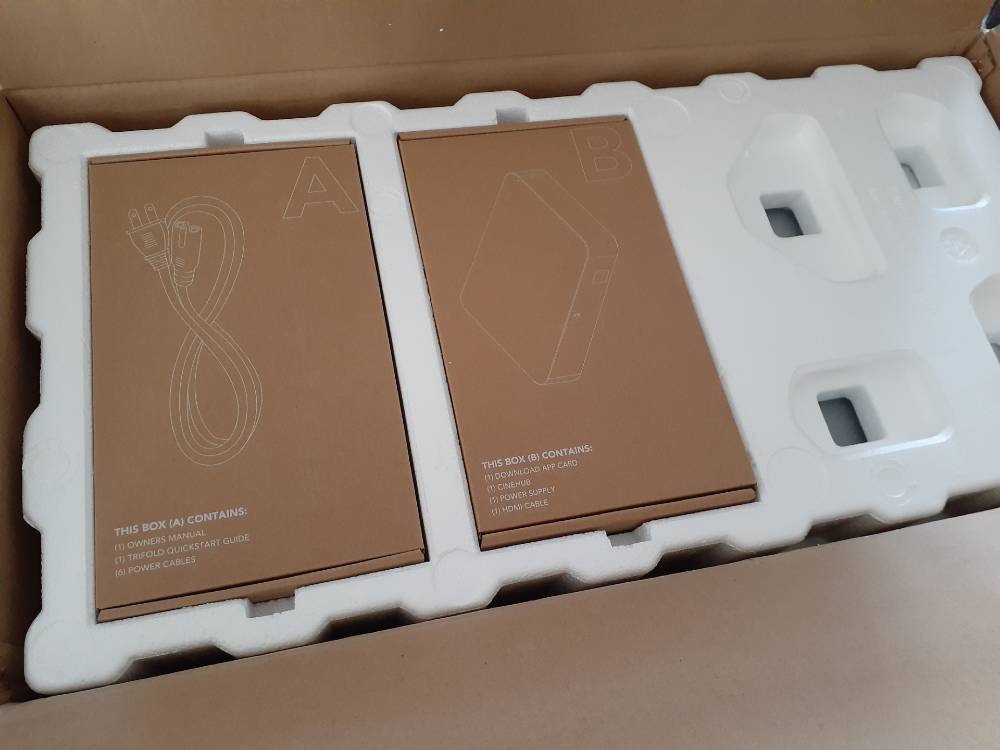 Then there's the CineHub, which provides the brains of the wireless setup and connections of HDMI, optical, 3.5mm auxiliary stereo and a service port. It's about the same size (7 x 5 x 1.6 inches) as my Spectrum cable box placed underneath it.
Apart from those items, the other necessary system component in the accessories boxes was all the power cords, seven in total – six for the active speakers and subwoofer, and one for the CineHub. Because if there's one misrepresentation about a "wireless" system, it's that it still usually requires wiring in the form of power cables and interconnects.
I do like how Enclave Audio created a niche in the rear panels of the speakers to create a more unobtrusive connection; the power cord slides through the niche so it sits flush with the panel for a seamless façade if mounting (and overall aesthetic). The rear panels also include power on/off buttons, reset buttons and keyhole and screw-in options for mounting the speakers.
CineHome II Surround-Sound Setup
The biggest installation challenge is ensuring sufficient power outlets reside nearby. My AV stand is in a corner of the room that has a pair of outlets, but factoring in LCRs, subwoofer, TV, cable box, CineHub and Blu-ray player, I still enlisted a multi-outlet surge protector for some of the cords. And then remember the surround-sound speakers must be powered as well.
Enclave Audio CineHome II Features
8-inch down-firing Subwoofer
2 x 3-inch drivers + 1 x 1-inch tweeter in center
1 x 3-inch drivers + 1 x 1-inch tweeter in left and right
2 x 2-inch drivers in bi-pole surround speakers
6 Power cords for speakers/sub
Keyhole and 1/4-inch 20 mount options on each speaker
CineHub, HDMI cable, power supply included
MSRP $1,099
One reason I really appreciated the CineHome II system is the compact size and sleek look of the speakers.
I placed the center channel horizontally on the stand in front of my 40-inch (diagonal) flat panel, the left and right speakers on either side of the furniture and the subwoofer just to the right on my fireplace hearth.
The surrounds fit on small, circular glass-top end tables that flank my sofa – and actually, both tables also have lamps on them, just to give you an idea of the speakers' low-profile nature. Thankfully I also have power outlets behind each stand.
All of the speakers, including the subwoofer, offer elegant grilles that feature a gentle angular accent in the middle. If you look at them from certain perspectives, they look almost like those rudimentary kids' drawings of a house; probably just a coincidence.
Meanwhile, the slim design of the left and right speakers worked really well to place tight on the sides of the AV console, because I don't have much flexibility there. And unlike soundbars I've tested, the center channel isn't overly long and does not interfere with the IR sensor on my TV.
Here's where Enclave Audio's ability to add wireless surround sound really stood out for my living room system – I've had my Westinghouse TV for nearly a decade and it is anything but a smart TV, so I couldn't even install the system as one ordinarily would.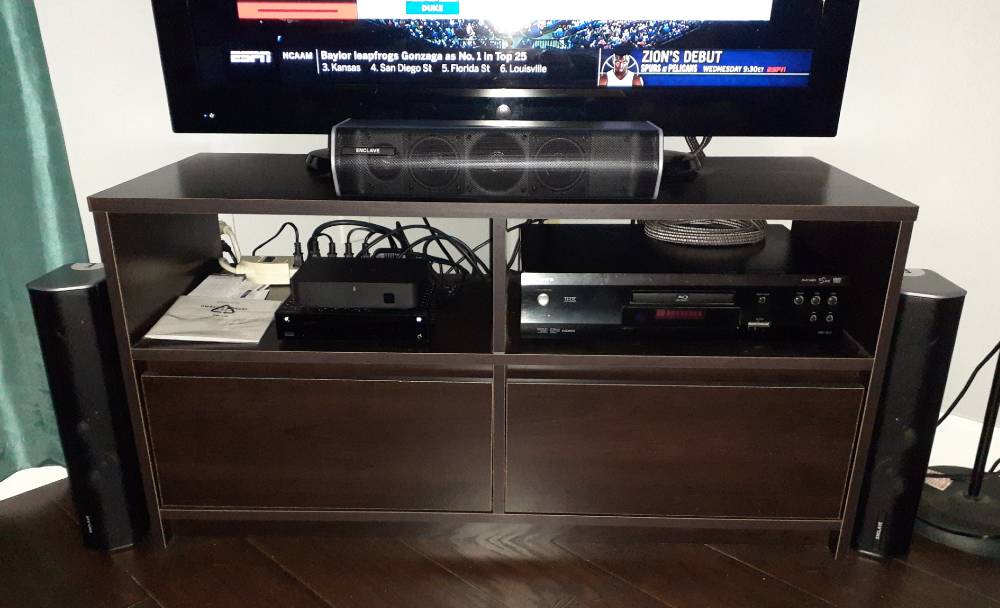 Ideally, users will simply run HDMI out from a more modern TV with eARC/ARC to the CineHub. Rather, since there's no HDMI out on my display nor an optical out, I connected an optical cable from my cable box (whose HDMI cable runs to the TV) to the CineHub.
Indeed, a little bit of a workaround (I could have gone RCA stereo to aux, but wasn't sure if that would then limit audio to just stereo) to what in reality will be an even more streamlined setup for most.
After that, I powered up all of the speakers and subwoofer, and blue Bluetooth indicator lights on the rear panels flashed until they paired with the plugged-in CineHub, about a half-minute process.
From there, I downloaded the Enclave Audio app, which paired via Bluetooth with the CineHub and lets you do things like control volume, input speaker distances to seating, add extra dB to individual channels, etc.
Enclave Audio CineHome II Performance & Conclusions
Going from my TV's built-in audio to the CineHome II surround-sound system was a major upgrade. I had no doubts that it would be, but I wasn't sure how much of an enhancement it might make – based on some of my experiences with other HTIBs and soundbar/sub setups, there's a range in quality and a tendency to go too heavy on low frequency.
Enclave Audio strikes a nice balance with CineHome II. The speakers provide lots of intelligibility, expansive sound stage and real fullness without any extra muddiness.
I had fun flipping through channels on my Spectrum cable box, from which I can also access Netflix. Then I moved the optical cable to an old Integra Blu-ray player for some surround-sound music and movie content.
There was an Indiana Jones marathon on Paramount network the day I set the system up, so every now and then I checked in if a favorite scene was on. During Raiders of the Lost Ark, I watched as Harrison Ford lowered into the snake room, and the effects of the hissing and slithering as well as the crackling of his torch made you feel as though you were right next to him.
When I came back for Temple of Doom, the crazy sacrificial heart extraction scene was on. Again, the speakers and subwoofer elevated the intensity of the scene with its crescendo of effects and slaves' chants as Mola Ram removes the beating heart.
As I switched back and forth from the CineHome II to the TV speakers, it was as if all the life was sucked out of the audio.
Well-scored shows like Criminal Minds offered a good example of how the left/right and surrounds where background music seemed ever present integrated well with the dialogue coming from the center channel, while other effects like gunfire and street noise still made an impact.
With the CineHome II system, you could also tell which networks placed more microphones in various areas of an arena for basketball games; switching between college hoops games on ESPN and CBS, for instance, sounds such as the basketball hitting the rim or players' sneakers squeaking as they moved around the court were more prominent on CBS – they had some well-placed mics, or perhaps better sound mixer who could make the most of the broadcast's audio for home media systems.
Feeding the CineHub optical cable to the Blu-ray player (again, the HDMI cable was connected to the TV for video) produced similar results and effective rendering of enveloping audio, whether it was a Blu-ray for something like all the sword fighting of Crouching Tiger, Hidden Dragon, or the swirling drums of Genesis' "Duke's Travels" in the beautiful 5.1 mix of the album Duke.
Overall, the value of CineHome II comes in just how easy it is to transform the viewing experience. My only real knock with my experience was having to use my Samsung Android phone as a volume controller through the Enclave Audio app. Since we don't have a common tablet device, that would mean my wife and daughter would also have to download the app to their own phones. But this won't be an issue for owners of newer TVs with HDMI CEC to integrate controls with their remotes.
Enclave Audio scores high marks for its combination of value, installation ease, sound quality and aesthetics. That should add up to ample upgrade opportunities.
CE Pro Verdict
Pros:
Simple setup for wireless surround sound
High levels of intelligibility, clarity
Sleek aesthetics to help incorporate a 5.1 system into most rooms
Cons:
Need ample power outlets for all the power cables
For older TVs without HDMI ARC/eARC setup is slightly more complicated
If you enjoyed this article and want to receive more valuable industry content like this, click here to sign up for our digital newsletters!