Daniel Nilsson, director of business development at Barco Residential, is the coolest dad in the universe… hands down.
While practically everyone across the United States is isolated in place due to the coronavirus lockdown, Nilsson found some creative ways to transform his home R&D lab into a dynamic interactive experience for his young children. The indoor space in Seattle is being used is Nilsson's lab, which he uses for product R&D and tech support.
With the state of Washington under a stay-in-place directive from the governor, as are many other states, Nilsson has converted the lab into a "staycation" zone for stay-in-place-related family entertainment. He similarly has created a cool "drive-in" movie theater space in the backyard.
In the lab, Nilsson used a Barco Balder projector on a Display Technologies VMM vertical mount and projecting the images on to a Screen Innovations Zero-G screen to project a lazy river, rollercoaster ride and a flying wingsuit experience. For the lazy river, Nilsson's two kids (ages 6 and 9) don their swimsuits and relax in inflatable innertubes and "float" down the virtual river. The content simply comes from a YouTube video.
For the flying wingsuit adventure, the content similarly comes from YouTube, with the kids riding on dad's back. The cherry on top of the experience is a Makita LXT leafblower that is used to blast air across their faces as they "fly" in the wingsuit. The rollercoaster ride is enlivened by Nilsson holding his child and emulating the twists and turns of the track. The entire experience is complete with audio from Focal and Triad loudspeakers.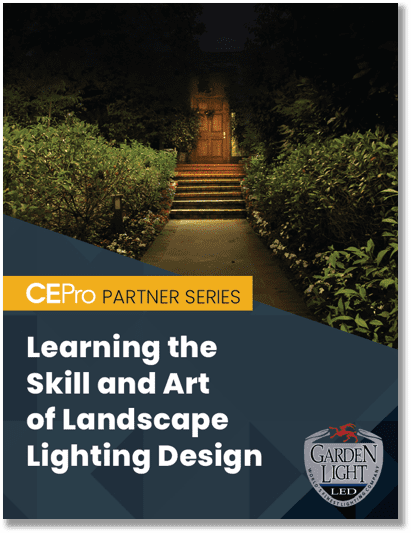 Experts recommend landscape lighting design as an entry point for integrators into the revenue opportunity of home lighting. Check out our new resource for tips and best practices. Download "
Learning the Skill and Art of Landscape Lighting Design
" today!.
For the drive-in movie theater in the backyard, the Barco Balder projector is mounted on a custom plywood stand that Nilsson constructed using the backboard for a cornhole game. The audio emanates from Sonance Garden Series speakers, while the outdoor screen is made from triple-layered bedsheets – two dark and one light – that are clamped to a large chalkboard in the yard. The kids sit in Stiga snow racer sleds that double as their vehicles. The content is streamed from various sources to the projector.
"We approached this with the engrained Swedish mentality of 'there is no bad weather, just bad clothing,' so we simply pushed through the Seattle cold and the kids loved every minute of it," says Nilsson of the outdoor drive-in movie experience.
These creative concepts might give integrators some possible ideas to present to their own clients about unique ways to utilize their home theaters during this prolonged coronavirus crisis.