You really can't go wrong recommending any of the TVs participating in this year's Value Electronics TV Shootout, the annual event that crowns a King of TV in both 4K and 8K resolution categories.
But if you want to especially wow videophile customers, experts in the video world have named the 2022 Value Electronics TV Shootout winners. They certainly deliver jaw-dropping performance: Sony's XR65A95K Master Series QD OLED TV and LG's OLED88Z2PUA Z2 Signature Series OLED.
This year's recently held competition featured entries from the big three of consumer video, Sony, Samsung, and LG, and Sony and LG took honors respectively for bragging rights in the 4K and 8K divisions.
In the 65-inch screen size 4K category, judges at the Scarsdale, N.Y., Value Electronics store, run by regular CE Pro 'Video Guys' podcast guest Robert Zohn, evaluated five models.
The expert panel took a look at the Samsung QN65S95B OLED, Sony XR65A95K OLED, LG OLED65G2PUA OLED, Sony XR65X95K MiniLED, and Samsung QN65QN95B MiniLED.
The XR-A95K Master Series model from the pair of Sony entries impressed the judges to be the King of 4K TV Shootout overall winner, scoring well in the judging categories of SDR Day Mode (Best 4K Living Room TV); SDR Reference Mode (Best 4K Home Theater TV) and HDR Reference Mode (Best 4K HDR TV).
Within each category, criteria are broken down into areas such as black level/shadow detail, peak lumens, color accuracy/skin tones, color saturation/color volume, motion resolution, UHD detail/sharpness, high APL, and 4,000 nit tone mapping.
The 8K field pitted one TV apiece from Sony, Samsung, and LG: the Samsung QN85QN900B MiniLED, Sony XR85Z9K MiniLED, and LG OLED88Z2PUA OLED.
These higher-resolution sets were shown in larger 85/88-inch screen sizes to show off their prowess, and LG's big 88-inch OLED model scored big points with judges to top the competition.
Below is a look at the scoring of the Value Electronics TV Shootout two-day event; 4K entries on top, and 8K on the bottom.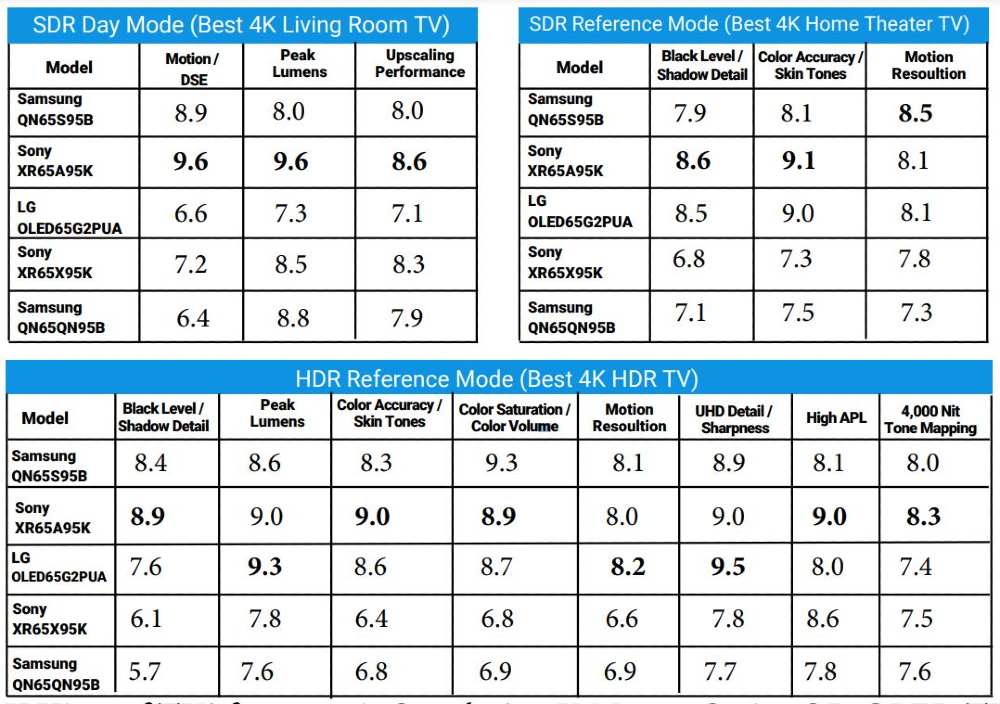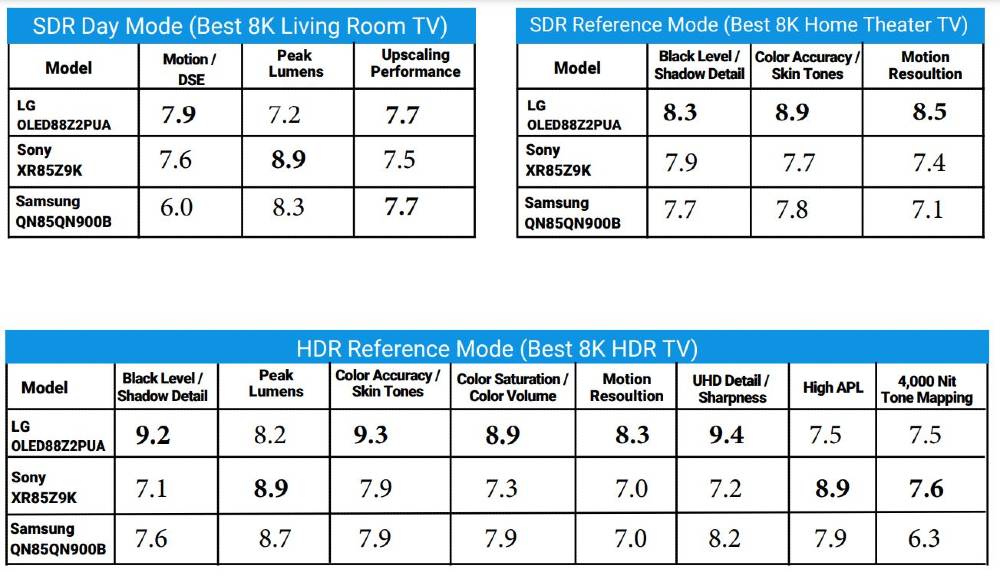 post