LS12000—I will admit I got excited.
Not only am I the owner of an Epson product, but I am a general fan of its projection products for several reasons. I've always felt that Epson projectors deliver a high level of value and performance, and those attributes are why I purchased a Pro Cinema 6050ub about four years ago. So, when I saw the company's latest generation of products included several upgrades, including laser-based light engines, I was immediately overcome with projector envy.
Thankfully or maybe not so thankfully Epson has allowed me to take a closer look at its new LS11000. Now after having the new projector in my system for about a month, my projector envy has reached critical mass.
Here's why I am so excited about the new Home Cinema LS11000 4K PRO-UHD Laser Projector:
LS11000 Features and Setup
A big part of the value proposition that Epson provides with its products is the features it bundles into its projectors.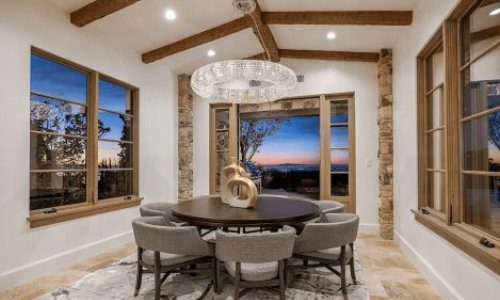 As a custom integrator, lighting is in demand. Effective communication, education and showcasing the value proposition of LED light fixtures in conjunction with integrative control systems are the keys to overcoming challenges and closing sales in this specialized market. Join us as we discuss the future of digital lighting and control with David Warfel from Light Can Help You and Patrick Laidlaw and Mark Moody from AiSPIRE.
Register Now! 
Starting with the headlining features of the LS11000, the projector incorporates the company's 3-chip 3LCD technology that is said to enable the projector to continuously display 100% of the RGB color signal for every frame. Epson also points out the projector employs the latest version of its 4K PRO-UHD pixel-shifting technologies that works in tandem with the projector's chipset, and its Precision Shift Glass Plate Technology that digitally controls refracted pixel light to display a 3840 x2160 resolution or in terms of pixels, 8.29 million pixels.
Besides the increase in resolution from the previous-generation models through its improvements in its 4K-PRO-UHD technologies, the LS11000 and Pro Cinema LS12000 (integrator model) now feature laser-based light engines. With the laser light engine, the projectors can provide years of consistent, worry-free operation without the need to swap lamps or living with the fact that over time lamp brightness levels fade and impact image integrity.
Some of the other features the projector provides include the company's Epson Picture Processor that is designed to handle real-time color, contrast, HDR, frame interpolation and other image attributes. The LS11000's 10-bit color processing is compatible with the HDR, HDR10+ and HLG formats, and the projector also comes with HDMI 2.1 48 Gbps inputs to support refresh rates up to 120Hz.
Additionally, the projector comes with its Cinema Lens that incorporates a multi-element glass lens, and a design prevents the leakage of light. Moreover, the lens provides three-way motor options with to +/- 96 percent horizontal movement; up to +/- 47 percent vertical movement, as well as zoom and focus controls.
Moving onto the setup. Unboxing and placing the projector on my projector shelf wasn't an issue. Having already removed my 6050 all I needed to do was to insert my FIBBR HDMI cable that's running from my Onkyo AVR into LS11000's HDMI 1 input, and then plugging my power cable, which I also left in place from the 6050.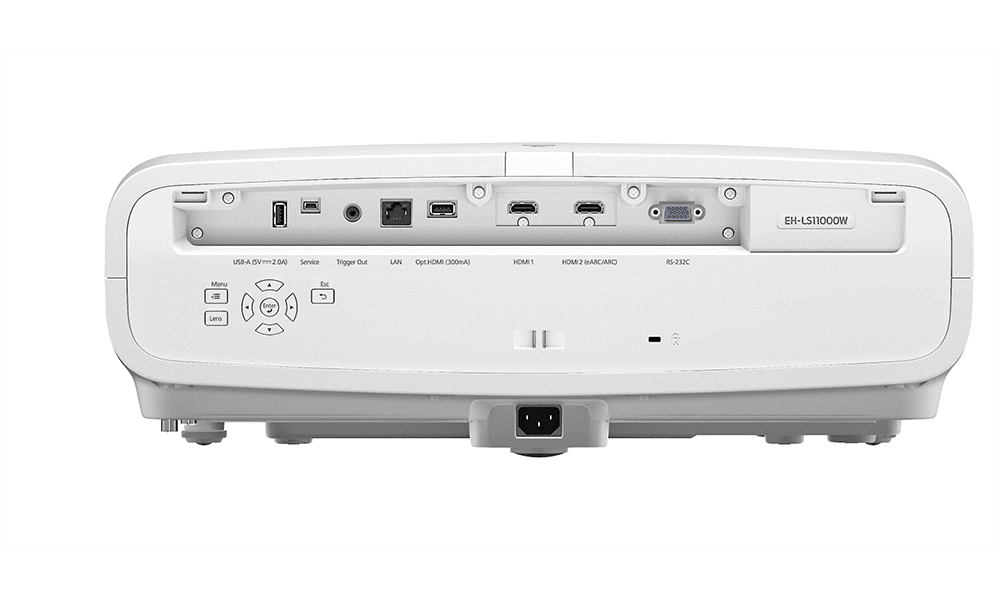 Turning the projector on I noticed that Epson has revised the design and ergonomics of its remote control. Compared to the remote that comes with the 6050 the revisions were minor and it did not take long to get acclimated to the new remote design. Using the remote I was able to set the size and focus of the projector within a few minutes to align it with my 100-inch Stewart Filmscreen Phantom HALR screen, which is about 12-feet from the projector.
Entering the projector's menu system, I set the color mode to its "natural;" I set image processing to "fine" and left everything else alone, including the lamp's operational output, which was set at 75%. I also left the aspect ratio, color space and HDR modes in "auto," and I left white balance setting at 6500K.
I lived with the projector at these settings for a couple of weeks before reentering the menu system to make my calibration adjustments, which I'll get more into shortly.
Before going any further I'll add that basic setup took just a few minutes and even the few adjustments I did make only took a few minutes. Soapbox time: Regardless of what level of calibration that is done, there should be some level of setup should be done whether it's using a calibration disc like the old THX or Disney Wow discs for a basic calibration or employing more advanced calibration procedures that includes the use of color meters, test-tone generators and calibration software. The important thing is that any level of adjustments will bring the projector closer to its full operational potential.
---
CE Pro Features
Laser-light source helps the projector produce a rated value up to 2,500 lumens
Epson Precision Shift Glass Plate Technology helps the LS11000 deliver a 3840 x2160 resolution or 8.29 million pixels
Epson Picture Processor handles color, contrast, HDR, resolution and frame interpolation
The company states that through its 3LCD chipset the LS11000 continuously displays 100% of the RGB color signal for every frame
The projector offers HDMI 2.1 connectivity with full 48Gbps bandwidth capabilities
MSRP is $3,999
CE Pros and Cons
The LS11000 produces a nice clean, crisp colorful image
Updated industrial design will complement modern home environments
Homeowners will have to spend thousands more to get a better picture than what the LS11000 delivers
Cons
Videophiles may complain about the projector's matte-white finish
The protective motorized lens cover may be a bit too noisy for some users
---
Performance and Final Thoughts
Straight out of the box after making just a few changes in the LS11000's menu I was thrilled with how good the projector's images were. Compared to my 6050 I thought upgrades were obvious.
The overall image was more detailed, punchier and crisper. Yes, the white levels were a bit high—they weren't clipping but some white level detail was lost—and image processing wasn't as smooth as it could be, but I was extremely impressed, and my envy was already starting. After making some calibration adjustments I was able to dial in white and black levels, color accuracy, and through the "frame interpolation" option, which I set to "low" I was able to smoothen out the image without overly softening its appearance.
Popping in the Blu-ray disc of The Incredibles into my Panasonic UHD player I thought the upscaled 4K images featured nice deep black levels, along with rich colors. The action sequences of the family running through the woods looked nice and smooth and the entire scene looked fantastic.
A big part of the value proposition that Epson provides with its products is the features it bundles into its projectors.

Bob Archer
Switching to a native 4K disc, I went to the Live Aid recreation bonus content from the Freddie Mercury biopic movie, Bohemian Rhapsody. Using the Panasonic UHD player with the LS11000 rendered high levels of detail, including seeing Freddie Mercury's reflection in the gloss black finish of the piano he was seated in front of, as well as seeing the wood grain in Brian May's "Red Special" guitar.
Other content I watched that again provided high amounts of detail included the series Recruit from Netflix. With my 6050 I hadn't noticed the scar on Owen, the main character's chin, but it was noticeable while watching the show on the LS11000.
One more piece of real-world content that highlighted just how good the LS11000 is hockey. The speed of hockey can be a torture test for image processing. Look at items such as the edge of the rink's glass partitions and the space around the puck. If you see the glass edge "feathering" and/or compression artifacts around the puck it means the processing isn't effective. Another element to look at is the smoothness of the game action. Do the players skating across the screen look smooth or is the motion choppy. Watching a Boston Bruins game, I was able to look for these elements during a game against the Capitals and thought the game action looked smooth and natural.
Another reason why I love sports as a real-world piece of evaluation content is that we all know what sports uniforms look like and how they are supposed to look. I found the black of the Bruins' uniform was deep without looking washed out and the gold and white accents also popped. I thought the red, white and blue of the Capitals' uniforms also looked accurate with rich detail.
Forgetting all of the videophile jargon for a moment, I'd like to point that if someone is looking for a projector-based, big-screen experience in a multipurpose type of room, the LS11000 nails that application too. In my house we watched the Super Bowl on the projector with the lights on and plenty of garbage food to indulge on during the game. My wife did not say a word about the image being washed out or anything else negative. I was perfectly comfortable with the image and did not think about what I was missing in terms of image quality. The projector's brightness and overall image quality remained nice despite the ambient room light that was present without any issue.
I think it is obvious that I really like the LS11000. Circling back to my earlier point about the value proposition that Epson typically provides. I think the LS11000 is a great example of the value the company's products offer. There's a clear improvement from the previous generation of projectors—the 6050ub—through its increased resolution, perceived brightness levels, image smoothness and color fidelity.
Yes, like anything else someone could say there are better projectors out there … and sure there are but to get something that performs at a higher level someone would have to spend a couple of thousand dollars more to buy that product. For some people spending a couple thousand more for a product that performs incrementally better falls under the category of diminishing returns. Others meanwhile may be willing to drop the extra cash, and that's fine, it's their money.
Regardless of where someone falls in how they spend their well-earned money, I think it's important for someone to experience the LS11000 projector for themselves. Its combination of a reasonable price tag given the current state of home projection, along with its performance and features make it something that should be auditioned before making any type of projector purchase. From my perspective the LS11000 lives up to my perception and the company's reputation within the home video industry.
I cannot recommend the projector enough, and now I must figure out a way to tell my wife that I want a new projector.
If you enjoyed this article and want to receive more valuable industry content like this, click here to sign up for our digital newsletters!