2018 CEDIA Talks - Like TED Talks for the Smart Home
'CEDIA Talks' at Expo 2018 feature 12 short presentations for smart-home pros in areas such as wellness, blockchain, robotics and 'multidimensional light.'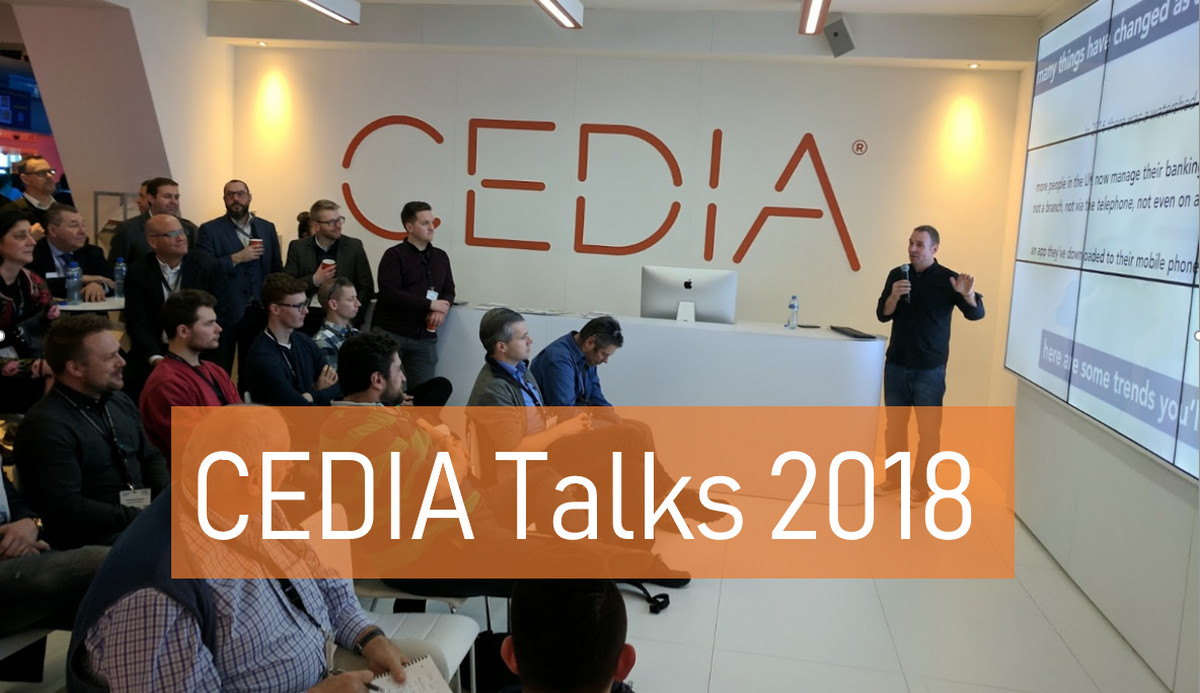 CE Pro Editors ·
July 26, 2018
CEDIA, the trade assocation for home-technology pros, returns to Expo 2018 with its popular CEDIA Talks, a series of 20-minute sessions that dive into hot topics with some of the industry's best and brightest. All CEDIA Talks are free to attend and will be hosted in the CEDIA Booth (#1527) at CEDIA Expo 2018.
"CEDIA Talks have become a staple for CEDIA Expo attendees," says Dave Pedigo, CEDIA VP of Emerging Technologies. "It is easy to pop into the CEDIA Booth and learn about some of the emerging trends, technology, and business practices that could be a game changer for the industry,"

Twelve CEDIA Talks will take place Thursday Friday, Sept. 6 and 7.
Register FREE for CEDIA Expo Using CE Pro's Special Promo Code: EXIV840604.
Here's the CEDIA Talk lineup:
---
Thurs., Sept. 6
11:00-11:20 a.m.
What Does Autonomous Vehicle Tech Mean to You?
Peter Aylett, President & CTO, Archimedia
11:30-11:50 a.m.
What The Hell Is A 'Blockchain'? Busting The Lid On The Future Of Money
Geoff Meads, Managing Director, Presto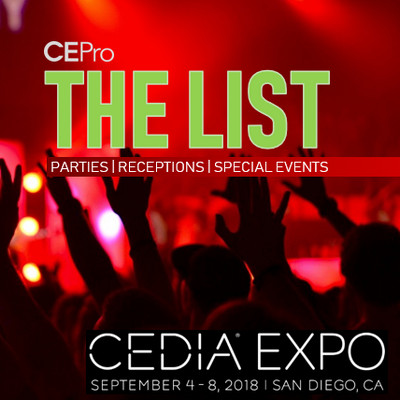 12:00-12:20 p.m.
Leaving your Company with a Voice that Lives Long After the Sale
Joe Whitaker, Co-Owner & President, The Thoughtful Home
12:30-12:50 p.m.
ATSC 3.0 is Here: Why This Matters to You
Michael Heiss,Principal Consultant, M. Heiss Consulting
2:00-2:20 p.m.
How AR and VR are Impacting Design and Why It's Great News for the CEDIA Channel
Jonathan Law, President, REAL AV
2:30-2:50 p.m.
Multi-Dimensional Light
Sam Woodward, Customer Education Leader, Europe and Africa, Lutron
---
September 7
11:00-11:20 a.m.
Improving Your Service Area with Virtual Locations and Local Phone Numbers
Rusty Deeble, Owner, Digital Installers
11:30-11:50 a.m.
The Wellness Movement: What Science Says about Lighting, Audio, Air Quality, VR, and More
Julie Jacobson, Founding Editor, CE Pro & EH Publishing
12:00-12:20 p.m.
Robots in the Home: AI Gets Physical
Rich Green, Owner, Rich Green Designs
12:30-12:50 p.m.
The Human Factor
Heather Sidorowicz, President, Southtown Audio Video
1:00-1:20 p.m.
Why You Should Add Fiber to Your Electronics Diet
Buzz Delano, Director of Business Development, Celerity Technologies

---
Secure Your Free Pass to CEDIA EXPO 2019
Register before Sept. 2 to gain free access to the opening keynote, product training & education series as well as the show floor including Innovation Alley and much more. Don't miss your chance. Sign up today.
---