Vivint (NYSE:VVNT), a leading smart home company and member of the CE Pro 100, has unveiled Vivint Repair: Water Sensor Experience, a brand-new emergency water monitoring service. The company states that it aims to help lower the cost and risk of water loss events by alerting homeowners and providing direct access to qualified cleanup services once such an event is detected.
This patent-pending service is the latest in the company's venture into Smart Insurance as it works to re-define home protection for homeowners. Water damage is the number one cause of household loss, the average insurance claim often coming in at over USD$11,000. However, historically, these claims come in after mitigation activities have taken place.
With this service, Vivint is aiming to help speed up mitigation, streamline repair and significantly reduce those damages and costs, providing a cost benefit to both homeowners and insurance providers through reduced severity and risk during significant events, and providing Vivint dealers an added value case when introducing Vivint Water Sensors into homes.
"We're excited to offer our customers access to critical water response services that have the potential to significantly reduce damage and loss costs, especially as speed to recognize and mitigate water damage is essential to reducing losses," said Ron Davies, Chief Insurance Officer at Vivint.
"This offering is the latest in our mission to rethink what traditional smart home protection looks like and leverage our existing technology to lower the risk of at-home emergencies for our customers."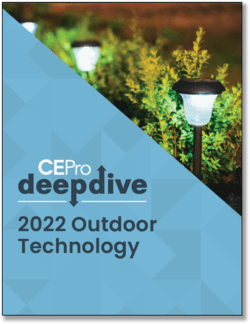 The 2023 CE Pro Outdoor Technology Deep Dive reveals unique set of impediments, including explaining pricing and interacting with outdoor-centric trades.
Get your copy now to take a "deep dive" into the trends and challenges of outdoor technology.
Download the report now!
Vivint's Water Sensor Experience will be available to Vivint customers in select states at no additional cost, pending they already have a Vivint Water Sensor installed in their homes. Homeowners in Texas, Louisiana, Georgia and Florida already have access to this turnkey water monitoring service, with more states being planned for the service in the coming year. The company has not yet divulged which states are planned, however.
"We're proud to continue to set the standard for what a smart home should be. Our smart home devices are unique as they not only notify people when an emergency may be occurring, they take additional steps to protect and prevent further damage," said David Bywater, CEO at Vivint.
"Vivint's water emergency response service builds on this standard and takes our mission of protecting our customers one step further by helping them better prepare and respond to at-home emergencies."