There could not have been a more apropos theme for Resideo Connect 2022, which was held Nov. 10-12 in the hurricane-ravaged Fort Myers, Fla.-area. The gathering was entitled "Making a Difference" with attendees from the security and HVAC communities rallying to help the local residents, while at the same time knowing the security and HVAC services they provide can make a huge difference in the daily lives of their clients.
The 33rd annual event on Marco Island, Fla. had nearly 500 attendees, making it one the largest events ever in the over-three-decade-old gathering (previously held under the brand names of Ademco and Honeywell before adopting the new Resideo brand name a few years ago).
"The perception of the security industry has changed over the years. People now realize that technology makes a difference in people's lives. Most times, you arrive because the client is having a bad day, due to a burglary, fire or failed furnace," says Scott Harkins, vice president of sales for Resideo, addressing the attendees in the opening session. "Most homes are managed by failure. We only address it when the systems fail. I don't want my biggest investment to be managed by failure."
Today and in the future, Harkins says integrators and HVAC professionals will be interceding in their customers' lives proactively vs. reactively.
Harkins outlined that Resideo (NYSE: REZI) and its dealers are engaged in seven of the eight worldwide "megatrends" (sustainable energy, climate change and resource scarcity, the future of thinking, geopolitical instability, consumerization of B2B, re-imagined workspaces, and de-globalization).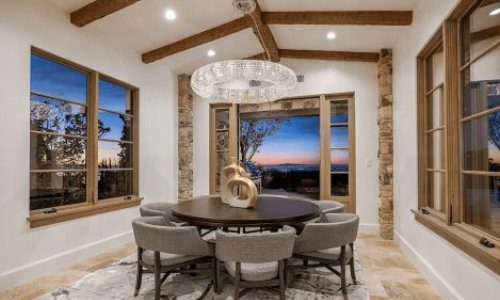 As a custom integrator, lighting is in demand. Effective communication, education and showcasing the value proposition of LED light fixtures in conjunction with integrative control systems are the keys to overcoming challenges and closing sales in this specialized market. Join us as we discuss the future of digital lighting and control with David Warfel from Light Can Help You and Patrick Laidlaw and Mark Moody from AiSPIRE.
Register Now! 
He outlined a vision whereby sensors dominate the home.
"The smart home is inevitable," says Harkins, pointing to the fact that almost all the major homebuilders today are making smart technology a standard in their new homes. He cited data that Resideo has sold $600 million worth of product in new construction homes this year, an average of $600 per home. The company has a goal to sell $3,000 worth of hardware in every new home or MDU, leveraging its investment in Brilliant in particular, to achieve that lofty sum.
Resideo Updates 'Fragile' Supply Chain Situation
Resideo's president of products & solutions Phil Theodore gave attendees an overview of the state of the company and the market. Resideo has $6 billion in revenues with 14,000 employees. The company currently earns 95% of its income from hardware sales and just 5% from services. Theodore has a vision to increase the percentage of revenue from services to 20% in the near future, using monitoring services as the key component.
"In the future, everything in the home will be monitored… everything," he exclaimed. "Our vision is the take our world-class hardware and make it even smarter."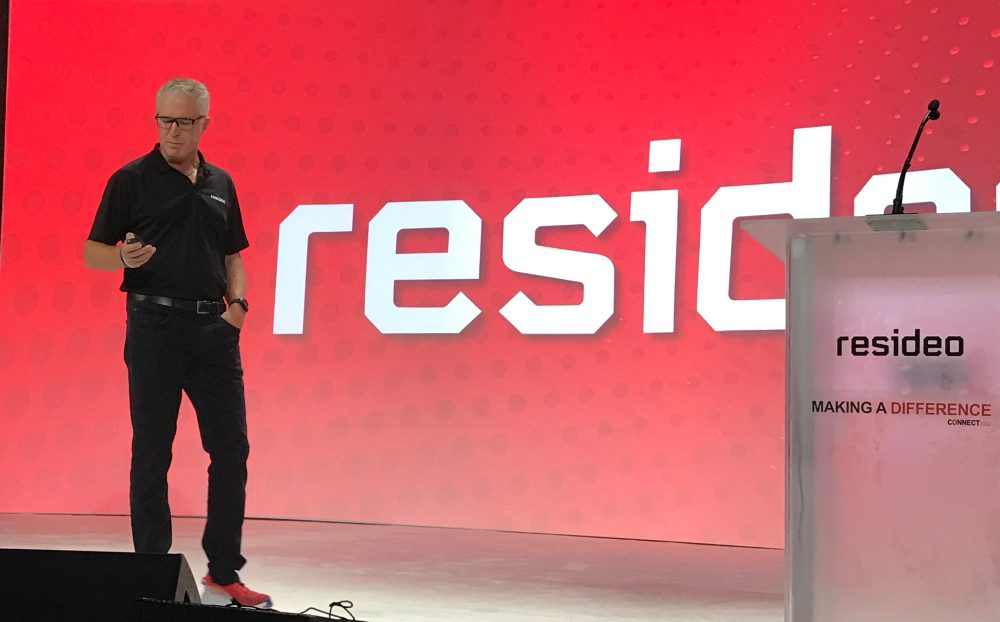 In terms of the supply chain, he says Resideo has invested tens of millions of dollars in securing microchips for the next three years.
"Even though the chip supply has gotten better, it is still very fragile," he noted.
Using those chips, Theodore envisions a home in which the traditional video surveillance cameras of today will no longer exist, but will be replaced by sensor technology. Those sensors, for example, will detect if a person gets up to go to the bathroom a certain number of times per night, which can indicate a higher likelihood of an impending medical problem. Another example of proactive maintenance is the annoying "chirp" that homeowners get now when their smoke detector backup batteries are losing strength.
"The days of the chirp are gone," quips Theodore. New technology will be monitoring the battery strength allowing integrators to proactively change out those batteries ahead of time.
"Think about the value of information like that to an insurance company," Theodore comments, adding that the recent investment by State Farm Insurance in ADT was a "big deal" as it shows how interested insurers are in using advanced sensor technology to proactively detect or prevent problems such as water leaks.
He pointed to Honeywell Home thermostats and Resideo First Alert smoke detectors are devices will play a key role in this proactive detection.
"We sell 40 million smoke detectors and thermostats every year that are always on… nobody else has that in the home," he said.
Renewed AlarmNet Investment
Theodore also humbly apologized to the crowd for AlarmNet going offline back in March during the 3G cellular network sunset.
"No excuses… we let you down," he admitted. Resideo is investing in a new AlarmNet cloud infrastructure that will set the system up to perform well. The company has also brought in a new video product team and brought back the First Alert brand name. In all, Resideo invested $168.3 million in R&D in 2022, according to Scott Ziffra, senior vice president of product management and engineering.
Speaking of First Alert, Harkins informed the group that Resideo is resurrecting the First Alert Pro premier loyalty partner program for dealers, replacing the existing Resideo Premier Security Dealer (RPSD) program. On the HVAC side, the comparable program will be the Honeywell Home program.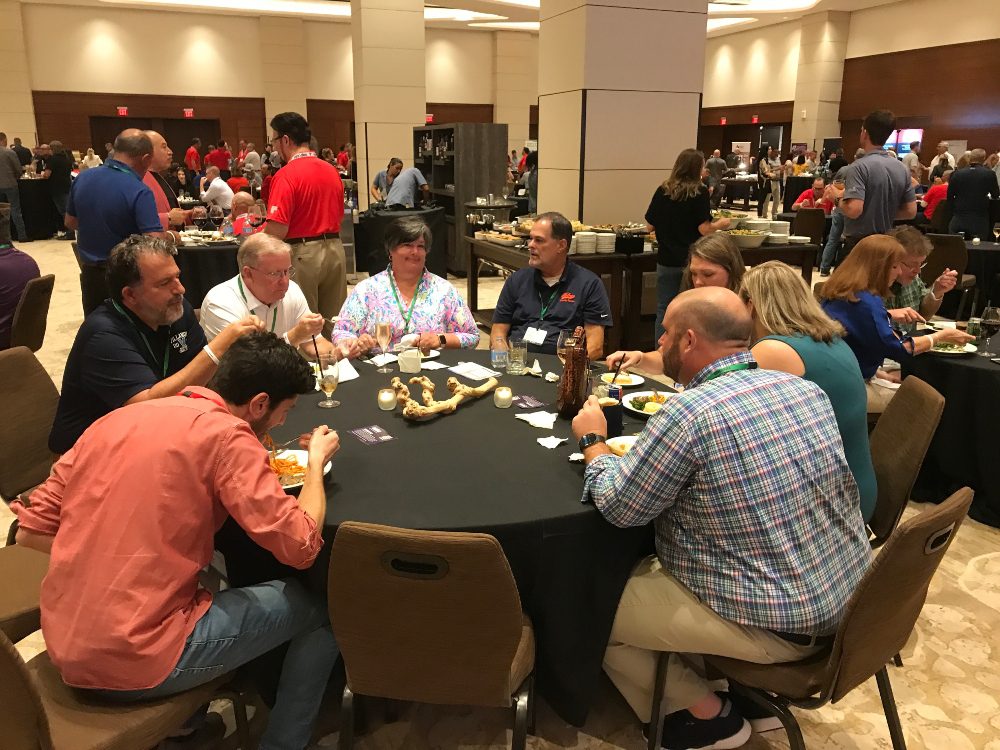 At the event, Resideo also unveiled its new smart water management solution at the event, the Resideo Braukmann L5 WiFi Water Leak Shutoff Valve. Installed by a professional, the L5 helps protect homeowners from water damage by turning off the water supply to the home when a water leak is detected by the attached sensing cable or by a paired Resideo WiFi Water Leak & Freeze Detector.
The Making a Difference theme at the event was also evident in the charity work done by attendees and Resideo. Harkins feted several dealers who worked to assist those in need, such as Bates Security which collected 52 pallets of donations in Kentucky following flooding last spring. At Resideo Connect, attendees compiled donation kits for those affected by Hurricane Ian and Resideo matched donations up to $10,000.
If you enjoyed this article and want to receive more valuable industry content like this, click here to sign up for our digital newsletters!