Recently, CE Pro sat down with Hamish Neale, commercial director, Hero Labs, to discuss how the water management category has developed, why so few homes are protected, and the common misconceptions surrounding leak detection products.
Can you tell us a little about Hero Labs?
Hero Labs is a London-based company with a mission to solve real-life problems. Our first hardware product, Sonic, is an AI-powered smart water monitor/leak detector with an automatic shutoff valve.
Sonic has been designed by a group of CEDIA professionals (both at a board and senior management level) who genuinely understand the pain points of an installation. How can we make it more compact? What needs to be simpler, what needs to be smarter, and how can we make it work better than the other products on the market?
---
What makes the product and technology so special, given an increasingly crowded marketplace for these types of products?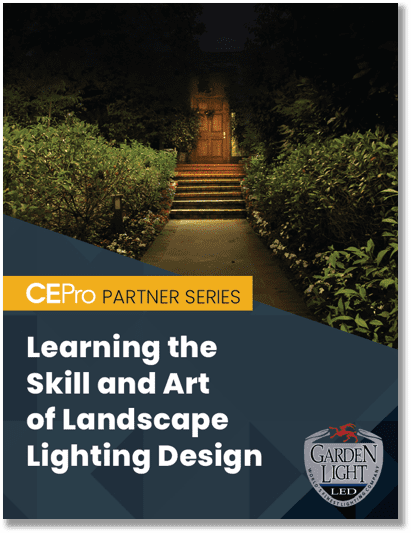 Experts recommend landscape lighting design as an entry point for integrators into the revenue opportunity of home lighting. Check out our new resource for tips and best practices. Download "
Learning the Skill and Art of Landscape Lighting Design
" today!.
As a smart plumbing product, the installation of Sonic requires a plumber to cut the pipe. With this in mind, we did not want the setup to also require an electrician, just to provide power. So we made Sonic battery and/or mains powered. Sonic ships with a standard power transformer for new home installations, but can be powered via four AA lithium batteries for up to two years. If Sonic is powered via mains, the batteries become a backup.
Another great example is our wireless network technology, HeroLink. Rather than the installer or system designer needing to ensure that Wi-Fi is available at the point of installation (often tricky with a device such as Sonic), our HeroLink radio (in operation between Sonic and our companion device Signal) lives in the 900MHz band, giving us a range of up to 900 feet of range between the two. We have tested this radio through up to eight concrete floors, removing Wi-Fi coverage from the potential challenges list.
---
Now that you've been out for a few months since CEDIA Expo 2019, what kind of feedback are you getting? What questions have you been receiving?
The feedback has been incredible; we have just appointed our first CI-focused distribution partner here in the U.K., OneAV. They have a great reputation for delivering exceptional products to the CEDIA channel within the region, and we are working with them to educate the market.
The first questions we are asked generally seem to be around how we identify a leak, how do we alert the homeowner, and under what circumstances do we activate the integrated valve and turn the property's water off?
Sonic has the ability to understand the normal water usage in a home, such as how a dishwasher uses water, or how much water is used in a toilet flush, or even what is the typical water usage from a tap or a shower; and in relation to all of these, what is a leak by comparison. This is where the power of machine-learning is employed, so our AI engine can determine the next best step.
---
Any particular misconceptions out there that you've discovered?
No, not really. Integrators seem to really get it, and for homeowners (especially those who are having a smart home professionally installed) it is an absolute no-brainer to have Sonic installed at the same time.
---
What can you tell us about water-related insurance claims?
In a recent report prepared by Verisk Analytics' ISO unit, they found that in 2017, the total amount of insurance payouts in the U.S. for water damage was $13 billion, with an average claim cost of about $10,000.
Industry figures have been highlighting the fact that water damage claims have been increasing in frequency when compared to other types of claims (including fire) that are seeing a decline.
---
Why are so few homes protected?
The required technology to protect a home has just not been available. Ultrasonic sensors have generally been the domain of industrial engineers, and the machine learning and AI required to make them useful without being annoying is new, even to the CEDIA channel.
To try and do what we do with turbine flow sensors and volumetric/time shut-off programming can result in false positives, homeowners having their water cut-off for no reason and an unhappy customer. Alternatively, point sensors rely on being installed in the location where the leak is going to happen. Not a great solution for freshwater plumbing systems.
---
At what point does the discussion of water shut-off typically come into the decision-making process for new-builds and remodels?
At the moment, not very often. Over time we are convinced that it will be at a similar point as the discussions regarding lighting control.
Integrators can and should own this space in their client's homes. Smart plumbing systems are going to be the norm, and by recommending smart water monitoring/leak detection early in their discussions with clients, integrators are doing themselves and their clients a favor