By now every integrator has heard the pitch about why recurring monthly revenue (RMR) is so valuable to their business. Generating cash flow, enhancing customer relationships and building long-term value are chief among the reasons. And most integrators have likely already looked into the security industry, which is the poster child for RMR, and made the determination whether or not they want to delve in the increasingly competitive residential alarm business.
But RMR today is so much more than just security. Indeed, in just the past few years, RMR-generating service agreements have gained steam behind the efforts of companies like OneVision Resources. Pure network monitoring from companies like Parasol have also gained favor. Power usage monitoring from companies like Resideo are in place, along with a new Custom Integrator program from Dish that share the monthly revenue from a satellite TV subscriber with the integration company that brought the client to Dish.
Dish's program even shares some of the monthly subscription fee with the dealer after the customer moves to another home. Also, smart home/security giant Vivint unveiled its Authorized Pro program this year for integrators can shares the security monitoring with a custom electronics dealer. Similar to the Dish program, Vivint shares RMR even after the client moves from that home to another home (and installs a Vivint system).
Even more uniquely, companies like Black Dove charge clients a substantial fee to display digital art in the homes. As the reseller of the service, integrators can tack on their own fees.
These are just a some of the new RMR programs that can enable integrators to add an amazing $120,000 to $381,000 in value to your business just the first year of producing recurring revenue. By year five, those figures balloon to between $600,000 and $1.9 million in business value. After 20 years, the value of an integration company can be $2.4 million to $7.6 million more.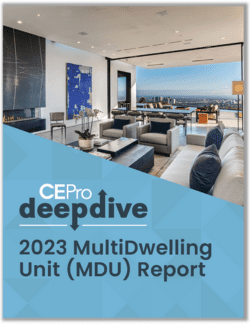 Discover why MultiDwelling Units (MDUs) have major appeal for custom integrators and what they're doing to address this market.
So what are you waiting for? Take a look at this comprehensive FREE download from CE Pro that details some of the various new RMR-generating programs for the custom electronics industry and what it can mean for your business.
If you enjoyed this article and want to receive more valuable industry content like this, click here to sign up for our digital newsletters!