While 2020 was rough for integrators to be focused on growing their pure commercial business, the Work From Home/Learn From Home trend was a beacon of light in an otherwise bleak year. Indeed, while integrators saw their commercial market business fall 17% last year, they were able to minimize that downward trend by installing a median of six home office projects last year at a median price point of $8,106 each.
In terms of the pure commercial market, integrators expect to install seven commercial jobs in 2021 at $16,406 each. That is a 23% drop from the $21,250 median price point earned before the pandemic. However, dealers are optimistic for a longer-term bounce back in the commercial market, predicting a jump of 9% over the next five years.
Those are just some of the key findings from the 2021 CE Pro Resimercial Deep Dive Study, which attempted to gauge both the state of the commercial crossover market as well as the state of the home office market. Both these areas are commonly be lumped into the term "resimercial" in recent years. Indeed, the resimercial market is a complex one. It has multiple segments, including:
Light commercial applications performed by a residentially focused custom integration company, such as bars, restaurants, small retail, and corporate offices/boardrooms on a small scale.
Common areas in a multi-dwelling unit (MDU) residential structure (apartments, condos). As many integrators know, managing an MDU project is somewhat like managing a commercial application. There are infrastructure requirements for the entire facility, with specific common areas/public spaces like lobbies and fitness centers that often require commercial-grade solutions.
Residential applications such as home offices that require enterprise-grade equipment, such as a robust home network, high-end home recording studio, home power management/ backup power, cellphone signal boosters, and home offices with teleconferencing/unified communications setups.
The CE Pro study focused on two of the three: light commercial applications (corporate, hospitality, education, etc.), as well as residential applications using enterprise-grade equipment (WFH setups). The study shows this is not a "new" market for most integrators, with respondents reporting they have been working in the commercial market routinely for the past nine years. Not coincidentally, that timeframe somewhat mirrors the deepest time of the Great Recession that began when the housing bubble collapsed and forced integrators to seek out commercial opportunities.
Home Offices Take Center Stage
As noted, the median number of home office projects done by integrators in 2020 was six with a median price point of $8,106. CE Pro had not previously gauged the market on the average number of home office installations, so there is no data to compare against to determine if that is higher or lower than before. Logic would assume it is a higher number of home office projects than ever before given the demand driven by the pandemic as workers and students were stuck secluded at home.
In this updated Wage & Salary Report, you'll find out results for salaried occupational categories broken down by 14 regions of the U.S. & Canada. Uncover valuable information about where your company stacks up when it comes to paying your important people by
downloading your free copy today!
From a price perspective, clearly home office projects were lucrative in 2020. On the low end, more than four out of every 10 home office projects (42%) were installed for less than $5,000. On the flip side, 8% of home office projects were more than $50,000, with 1% even being more than $250,000.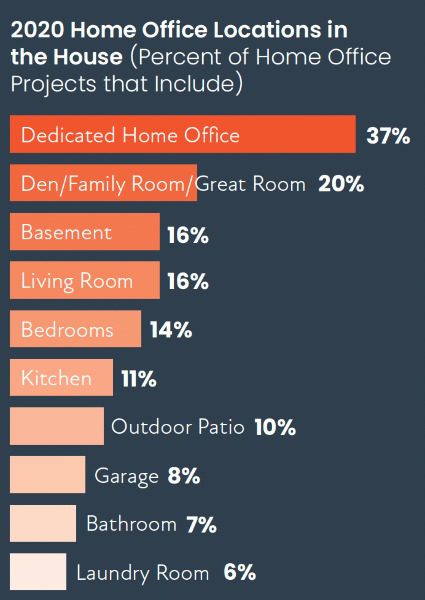 The most common equipment installed in these home office setups is a combination of larger displays (43% of home office projects) and enterprise-grade network routers and wireless access points (42%) primarily. Another common equipment for WFH setups includes unified communications/collaboration equipment (24% of home office projects) such as microphones and cameras for teleconferences.
Some of the more unique gear deployed for home offices include motorized shade controls and lighting fixtures. Many people who previously might have only used their home offices in the evenings suddenly found themselves working all day at home. That situation meant they discovered the lighting that might have been OK at night was not suitable for daytime activity also. Thus, 23% of home office projects included lighting control and 18% included motorized shade control.
Even though many Americans found themselves with multiple family members at home for both distance-learning for school and WFH scenarios, it was very rare for an integrator to be hired to install more than one home office inside a home. The average project was an upgrade of just a single workstation in a home; however, just under half of all integration companies (47%) report that they did at least one project in 2020 that involved setting up more than one home office location inside a residence.
Not surprisingly, the most common room inside a residence where integrators deployed a home office setup was in a dedicated office space. In all, 37% of all home office projects were done in a dedicated office inside a house. About 20% of home office setups were in family rooms or dens, while 16% were in basements, 16% were in living rooms, 14% were in bedrooms, and 10% were for outdoor patios. Amazingly (or maybe not), 7% of projects were designed to bring better connectivity to the bathroom.
Commercial Market Grind in 2020
As noted, dealers reported their overall commercial business fell 17% in 2020. For 2021, they expect to install a median of seven projects for $16,406 each. Nearly two out of every three integrators (64%) had a drop in their commercial market revenues last year, while another 16% were flat. That means eight out of every 10 integrators did not see their commercial business rise last year, which is to be expected given the pandemic. Nearly one in four dealers (23%) report that their commercial business tanked by 50% or more. Another 18% experienced a drop between 25% and 50%.
But despite the declines, optimism abounds as integrators expect to see a 9% rise in their commercial work over the next five years. One in five dealers (20%) expects to see very strong growth of more than 21%, while one in four is expecting double-digit growth through 2025.
There are several key commercial vertical markets in which integrators are involved. More than half of dealers (51%) install systems in bars and restaurants, half (50%) work in corporate boardrooms, and 39% work in retail. Other leading vertical markets are healthcare (37% of dealers), education (35%), and houses of worship (30%).

The most common equipment installed in commercial facilities are TVs/displays/ monitors and mounts, audio equipment, video surveillance cameras, and video projectors and screens. Other common categories of equipment include access control, touchscreens, video teleconference equipment, audio distribution systems and microphones.
The crossover use of residential gear in commercial environments is somewhat commonplace. Nearly two out of every three integrators admits he or she "frequently" or "sometimes" uses residential gear in a commercial location. Only 8% of integrators say they have "never" done it.
Finding commercial projects is not dissimilar to how dealers find residential jobs. Referrals from another commercial client are the No. 1 source, with 20% of projects coming in that way. Referrals from residential clients account for 16% of commercial jobs, while general contractors are the main source for 14% of projects. Only 11% of projects are in response to a competitive bid/RFP, while designers and architects are each responsible for feeding 9% of projects to dealers. Manufacturer-driven leads only account for 8% of projects, while cold-call prospecting accounts for 6% of commercial jobs.
One stark difference between the commercial world and the residential world is that many times commercial projects will require the integrator to file an insurance bond for the project. However, integrators report that is only on 9% of their commercial projects. That low percentage is likely due to the fact that residential-focused integration companies are taking on smaller commercial projects (as evidenced by the $16,406 median price point) compared with the massive six-figure projects that are the wheelhouse of commercial- centric firms.
Speaking of price points, while the median is $16,406, some integrators do report they take on large commercial projects. According to the study, 11% of the projects are over six figures at the high end. Coincidentally, the same percentage (11%) projects are under $5,000 at the low end.
To be more successful in the commercial space, CE pros believe they need more information about specific commercial technologies/applications, such as unified communications, AV-over-IP, digital signage, DSP configurations, and more.
Other pertinent data from the study reveal:
The average timeframe from time of first encounter with a client to breaking ground on the project is 3 months.
The typical integration company has been performing commercial work for 9 years.
Facility owners are the primary point of contact for commercial projects, which makes sense given the propensity for smaller jobs being done by CE pros.
General contractors, facilities managers and IT directors are also key contacts.
The median number of manhours required to complete a commercial project is 40.
Integrators successfully sell service agreements to 7% of their commercial clients.
The median price point for a commercial service agreement is $46.50 per month.
28% of commercial project service agreements garner more than $100 per month.
The median profit margin on a commercial project is 25%.
The top three complaints about working in the commercial realm are competitive bidding; the ability to maintain cashflow between upfront purchase of equipment and the time you are paid; and tight installation timeframes.
The top three favorite things integrators enjoy about commercial projects are higher revenues; easier installations; and the lack of perfidious homeowners to deal with.
Click here to see all of our detailed charts and info for the 2021 CE Pro Resimercial Deep Dive!