The economy has rebounded so sharply that it's almost back to where it was prior to the beginning of the pandemic's impacts in the U.S., but there are now several other factors to consider, according to Chris Kuehl, NSCA's chief economist.
In fact, the pandemic isn't even the chief economic concern among investors, economists, the finance community or the business community, Kuehl said during an NSCA webinar this week.
"We have really transcended that which was completely dominating all conversation last year," Kuehl said.
Global Economies Recovering Rapidly
Global markets, businesses and consumers are paying less attention to the pandemic as vaccinations continue, restrictions are eased, economies begin to reopen and people resume their pre-pandemic lifestyles.
Replacing the pandemic atop that list of concerns, Kuehl says, is inflation, which has been climbing up that list.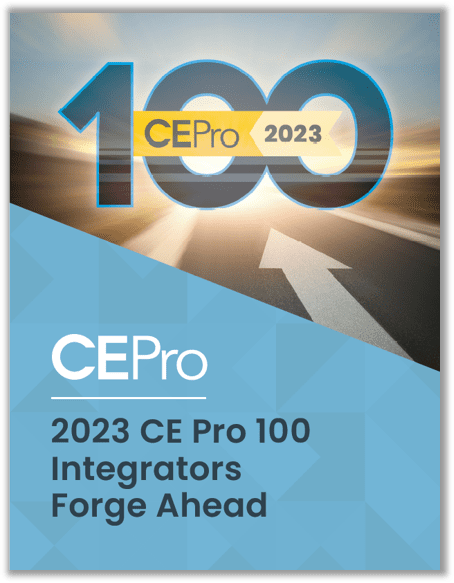 Which companies in the custom integration market made CE Pro's 24th annual CE Pro 100 list?
Wages, money supply and commodities impact inflation, but money supply is the biggest factor impacting inflation right now, Kuehl says.
"Is there going to be a point where there's so much money flowing into the economy that it overwhelms the ability of producers to meet the demand out there? That's kind of happening now," Kuehl says.
That demand is what is driving up commodity prices like steel, lumber, oil and more. Like we've seen with semiconductors, producers were hesitant to meet demand in the middle of a pandemic that has already crushed the economy last spring. Now that they realize the demand is real, they are beginning to scale back up to meet that demand, Kuehl says.
Consumers are putting their money where their mouth is and are "chomping at the bit" to resume life as usual.
"They have been saying all along that as soon as you lift those restrictions, I'm going to go back to my old ways, and we sort of believed them," Kuehl says. "But there was always that hesitancy to say, 'Well, you know, that's easy to say, but are you really going to do that?' Well it turns out that they meant it."
Markets and investor optimism has been strong for months and is showing no signs of slowing down, which is fueling the rapid recovery to the point where the economy is growing at a faster pace than it was at the beginning of 2020.
COVID-19 Continues to Delay Construction
While global economies are generally trending up, there are some key indicators that there is still much work to do.
According to Kuehl, residential construction is skyrocketing, but commercial construction is "on hold" as prospective office tenants take a wait-and-see approach with concerns of another wave of COVID-19 in the fall and winter.
There are also new conversations about just what these new office spaces will look like in a post-pandemic world, but there seems to be no consensus on what tenants need from their construction partners.
However, office spaces aren't being abandoned just yet. In fact, the consensus is that office space will once again be prioritized in some capacity.
"They've not given up on office buildings," Kuehl says.
---
This article originally appeared on our sister publication Commercial Integrator's website.
If you enjoyed this article and want to receive more valuable industry content like this, click here to sign up for our digital newsletters!