Before starting Sixth Sense Solutions, a resimercial integration firm based in Houston, Texas, Jerry Shanar had his start in the restaurant industry. It wouldn't be for quite some time until he decided to make the switch over to integration, but when he did, it seems, in his words, all avenues pointed towards ADI as his company's go-to partner and distributor.
Based in Houston, Texas, Sixth Sense Solutions is, as Shanar puts it, a "one-stop-shop" for just about everything from AV to security to networking working within the ever-growing resimercial integration category. The only thing they won't do, Jerry says, is IT work.
"The first interaction I had with the integration industry was with a guy I brought in to work on the AV for my restaurant," Shanar says.
"I wasn't too thrilled with the price he was quoting me, so I said, 'Nah, I'm good. I think I'll do it myself.' After that, my friends and family kept coming in and asking who did the systems. When I said I did, they immediately wanted to know if I could do that for them."
That was 10 years before he officially started Sixth Sense.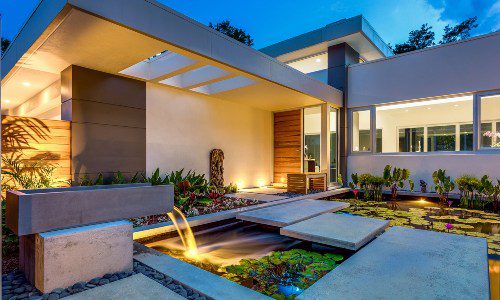 Landscape and architectural lighting create a magical and elegant ambiance for homeowners. The outdoor lighting industry has always been a phenomenal one and continues to grow in popularity. Now is the ideal time to learn more about this rapidly growing and highly profitable industry. Join our panel of esteemed lighting experts that will dive into why it's time for integrators to rethink their role in the outdoor lighting industry.
Register Now! 
"When I first decided to do this for real, I knew I didn't want to restrict myself with working residential or commercial," Shanar explains.
"Residential had way too many ups and downs and I was already very familiar with the restaurant industry for commercial. I had plenty of business contacts among hospitality groups and I can just tell what was needed on a project whenever I walked into a space because I had been there before."
'All Avenues Pointed to ADI'
Because he did work in security, Jerry started to do more and more research into the products and requirements for going pro in resimercial integration. Through that research, however, he kept seeing ADI crop up again and again. "All avenues pointed right towards them," Shanar notes.
This became even more apparent when ADI acquired ECD for AV products. Prior to the acquisition, Jerry noted, they weren't particularly stocked on AV products, but now, Shanar says Sixth Sense does nearly 100% of its business through either ADI or ECD because of that product availability.
"I don't think people understand how much time it saves to be able to search for everything you would need on a project from a single portal," Shanar says. "There's no jumping back and forth between different websites. It's all in one place. It also helps minimize the number of moving parts on a project, which, again, is just absolutely invaluable."
In his words, it's effectively the Sixth Sense of distributors: a one-stop-shop for nearly everything anyone would ever need, especially in resimercial integration. Security alarms, fire alarms, AV products, for Shanar and Sixth Sense, it really does have just about everything you would need working a residential or commercial project.
A Knowledgeable Staff to Sort out Projects with is Invaluable
If product availability could be viewed as the draw, then the ADI staff experiences Shanar had over the years as definitely been the hook as he describes it. When first starting, Shanar describes the staff as being incredibly knowledgeable and a worthwhile resource for him and his business.
"I am the type of person who loves challenges," Shanar admits. "I thrive in environments that no one else wants to touch, so I'll pick up the project and then use the quoting process as an opportunity to figure out how I'm going to deliver what the customer wants. The initial meeting is always figuring out what the customer wants, and then the homework is figuring out how to deliver that. I would say the ADI staff are a match made in heaven for my type of workstyle."
As Shanar describes it, any time he was working on a project he didn't know how to deliver it, he would call someone from ADI and they'd be able to help him through it. This also proved to be a lifesaver on numerous occasions, as, according to Shanar, there would always seem to be something that goes off on one of his projects.
"I don't know if it's my luck or what, but nearly every project I work on has some type of curveball it throws at me," he says.
Connections in High Places
Shanar's business with ADI has also paved the way to some unique projects, he notes. One job in particular involved a friend's brother-in-law who needed work done on a luxury house he was building in Colorado.
"The problem is some guys will see a house worth millions of dollars and they'll immediately ratchet up the rates," Shanar explains. "Don't get me wrong, a home worth millions of dollars is going to come with its own challenges that warrant extra cost, but not at the rate these guys were charging. I wanted to help, but it would've been way too expensive for me to fly out from Texas to Colorado to have it done."
Instead, Shanar was able to work with ADI to find a local integrator that Shanar could deliver the blueprints and products to and have them execute the job on Sixth Sense's behalf. About a month after the project was completed, Shanar stopped by while in town to visit family and liked the work so much he had them provide the finishing touches.
"It was an incredible service that they provided by recommending me a local integrator and giving them the opportunity to do some work they might not have received otherwise. And I can only imagine that same has happened in reverse without me even knowing about it."
If you enjoyed this article and want to receive more valuable industry content like this, click here to sign up for our digital newsletters!