In the past couple of years, CE Pro has chronicled the initiative of UK-based Together For Cinema, an industry charitable organization that works with donors to create theater rooms at children's hospices. As we kick off a month marked by holiday cheer and giving, here's a look at one of the most recent donated installations as Together For Cinema continued its efforts to deliver a bit of movie magic to help brighten the days for children's hospice patients and their families.
To date, Together For Cinema founder Ian Morrish and a support network of manufacturer sponsors, distributors and local integrators have created 37 cinema rooms for such facilities, donating time, labor and equipment worth more than $1 million U.S. dollars (or £910,000).
"At the start of [2022] we had an ambitious seven cinema room installations planned and I'm delighted to say that we have delivered on these. Just to keep us on our toes we also added in a refurbishment of a previous installation that we had completed in 2014. So, for 2022, eight good cause cinema room installation projects completed," Morrish enthuses.
There's no slowing down in 2023, either. Morrish says Together For Cinema has been in touch with and/or visited all seven of its proposed installations for this year including five at children's hospices, a disabled center for children and young adults in Surrey, and the Resources For Autism center in North London.
One of its most recent installations was done for Andy's Children's Hospice, part of St. Andrew's Hospice in Grimsby, Lincolnshire, only a few minutes from the coast. There, they care for children and young adults and help families to "make each day count."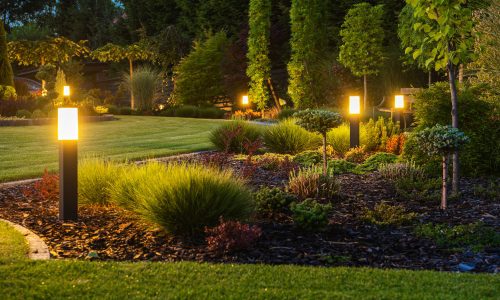 We are thrilled to present a lecture topic that delves into the connection between light and our surroundings, exploring how landscape lighting can transform a space from ordinary to extraordinary. Our keynote speaker, Janet Lennox Moyer, will share her extensive knowledge on the complexities of landscape lighting in design, commissioning, and maintenance and provide participants with the tools to identify good versus bad practices and techniques. Join us for an enlightening session that will unlock the secrets to success in landscape lighting design with one of the industry's most respected experts, Janet Lennox Moyer.
Register Now! 
Andy's offers a number of services to meet the needs of all children and their families in their catchment area, and tailor the care provided to each child, "always remembering to inject a healthy dose of fun and laughter," Morrish says.
After being contacted by the estates and facilities manager at St. Andrew's in August 2021, Morrish conducted a Zoom call and eventually a visit to the facility. In the meantime, he enlisted Ben Cook, director of Nottingham, Surrey-based Sonic Vision to do the design and installation.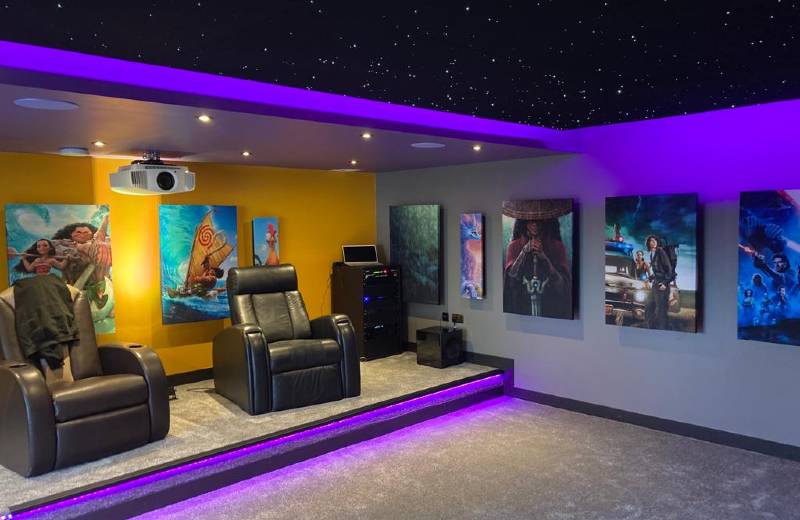 "Once Ian had explained the work that Together For Cinema do, it was a no-brainer for us to get involved with this installation," Cook says. "Our day-to-day business is to create breathtaking experiences and what better way to use those skills? This was an opportunity to create something special for children that have had their opportunities minimized, as such our goal was to create a space that provides amazement, enables some valuable family time and hopefully helps to make some smiles as well as memories."
Sonic Vision's Work for Together For Cinema & St. Andrew's Overcomes Challenges
As with many of Together For Cinema's installations, this one came with challenges such as limitations to which spaces can be renovated; keeping a space multifunctional; and working around existing equipment or room infrastructure. On the visit with Cook, he and Morrish saw potential in an old storage room that was basically a square shape with double doors and still filled with shelves, paint, an old safe and lots of boxes.
"One doorway would need to be blocked up to allow the room to be oriented correctly to enable easy access. We decided to raise the floor at the rear, thus maximizing the size of the screen and providing two rows of seating with clear line of sight. Additionally, we decided to drop the ceiling at the rear to accommodate lighting control equipment, the star ceiling projector, and allow some height speakers to be included," Cook explains of the design.
"At the front of the room we included a timber frame to accommodate the 4 x 3-meter star ceiling, adding a stunning effect and a real sense of height, whilst also concealing some of the room's less favorable features. The color scheme was put together to keep the space vibrant whilst also reflecting the St Andrew's branding."
In all, nearly 20 providers donated products that went toward Sonic Vision's stunning results. The video comes via a Sony VPL-VW290ES projector, Sony Ultra Blu-ray player, and Projecta/Legrand 111-inch acoustically transparent 2.39:1 screen. The surround-sound system features Monitor Audio complement of six Soundframe 2's with custom grilles, CP-WT 240 in-wall center channel and two C265 FX in-ceiling speakers, plus a pair of its Radius 390 subwoofers. A Denon 9.2-channel AVR handles the processing, and Officina Acustica provided the acoustic paneling.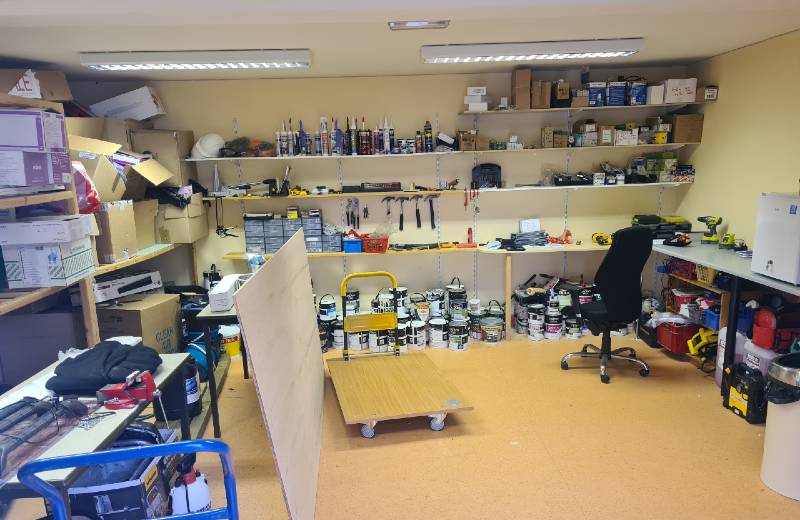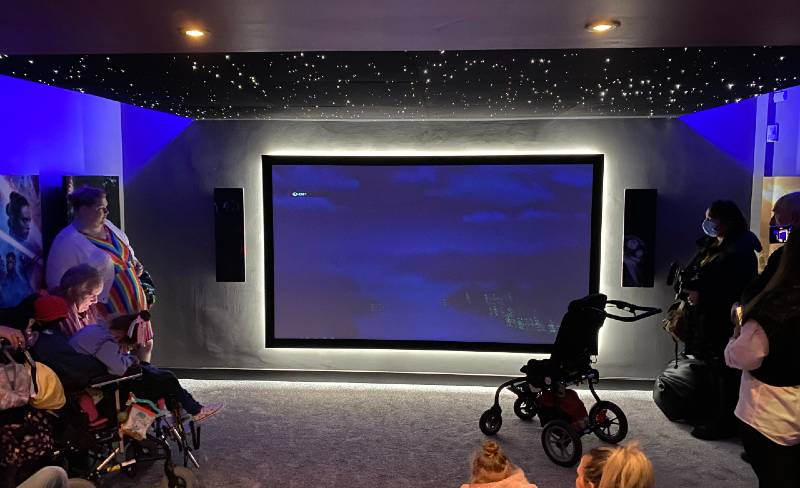 Technology solutions also include a Control4 control system and Neeo remote; HDANYWHERE HDMI cables; SurgeX power management; Araknis network; Fortress recliners; Insytle LEDs; and Rako lighting controls. "The image that they brought alive through their initial thoughts and ideas sounded too good to be true. We really couldn't imagine the Estates Team workshop/storage room looking like a cinema, and we were totally blown away when we saw it for the first time," says Michelle Rollinson, chief executive, St Andrew's Hospice. "The special memories that will be created are magical and will bring comfort to families at sad times."
If you enjoyed this article and want to receive more valuable industry content like this, click here to sign up for our digital newsletters!