A longtime customer of Texas-based AV integration company Sound Lab Designs assigned principal Ernie Blumenthal with the task of creating a theater in a home that he was having built. The theater was meant to be done without compromise, with a specific desire for Dolby Atmos, and for it to be modeled after Capitol Studios' famous Studio C recording area.
Blumenthal and his client flew to Los Angeles to experience several of Capitol's rooms, with Studio C — the Dolby Atmos Music certified room – immediately setting the benchmark for what he wanted his theater's acoustical performance to be modeled after.
To help complete his vision, Blumenthal recruited German architect Jochen Veith of JV Acoustics, known globally for his creation of premier recording facilities, and California theater interior design specialist Brad Keeler of Progressive Design.
Keeler, along with Maurice Patist, president of PMC USA loudspeakers, had previously updated the rooms at Capitol, including Studio C, which was redone in 2017.
Blumenthal and team proceeded to build the theater like a professional recording studio. Two acoustic access doors and room-within-a-room construction completely isolate the theater from the house. As for the flooring, a 5-inch concrete slab sits atop acoustical isolation pads which in turn rest upon the 4-inch concrete floor of the main home. Walls are separated by a gap with acoustical treatments in between.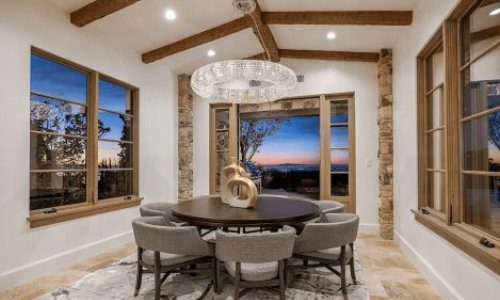 As a custom integrator, lighting is in demand. Effective communication, education and showcasing the value proposition of LED light fixtures in conjunction with integrative control systems are the keys to overcoming challenges and closing sales in this specialized market. Join us as we discuss the future of digital lighting and control with David Warfel from Light Can Help You and Patrick Laidlaw and Mark Moody from AiSPIRE.
Register Now! 
Keeler installed the interior to Veith's specifications. Diffusers are positioned on the walls and acoustical treatments are suspended from the ceiling on wires which also create a nice visual element.
"With its 27-feet wide by 35-feet deep footprint, 16-foot ceilings and tiered seating, the theater has an overall grand feeling. To keep it fresh-looking for years to come we opted for light-colored wood floors. This was not a concern given the amount of acoustical treatment placed throughout the walls and ceiling," says Blumenthal.
Sound Lab Designs Goes All Out with 22-Foot Theater Screen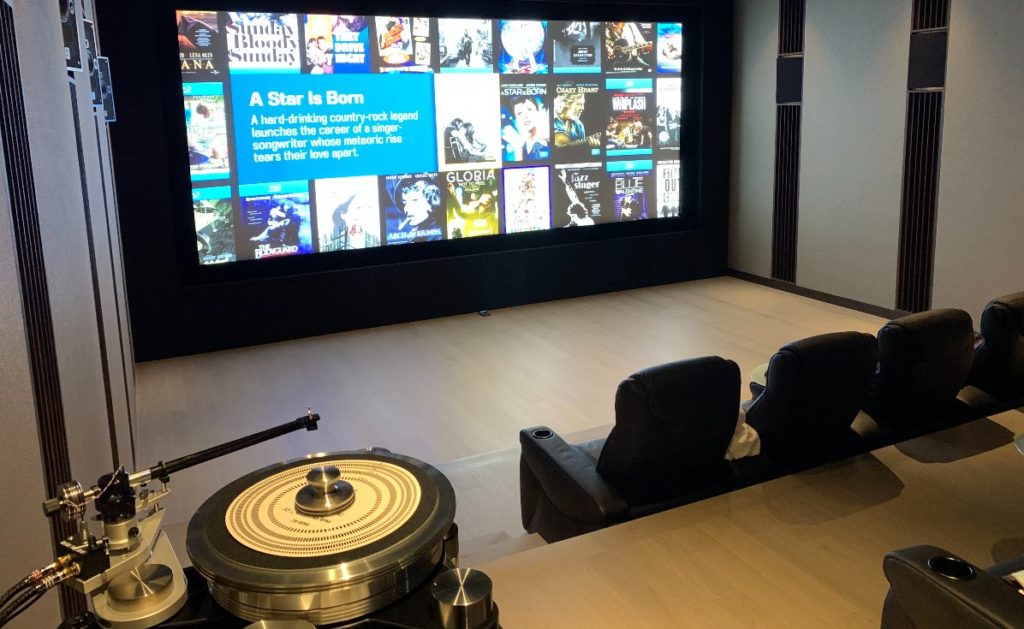 The theater's air conditioning system was designed to be completely silent. A separate AC unit manages the equipment room, home to the amplifiers and projector. A custom made 50,000-watt isolation transformer with voltage regulation provides clean power to all the equipment.
"After completion the room was tested and surpassed all design specifications. At 110dB full-bandwidth pink noise there was an almost 80dB drop at all frequencies outside the room," notes Blumenthal.
The audio portion of the theater consists of PMC's flagship QB1-XBD fully active speakers as front mains, QB1 active speaker for center, twenty-two Wafer 2 surrounds in a Dolby Atmos configuration and two PMC XBD active rear subwoofers used as an acoustic bass array to help tighten-up the bass response in any position in the room. This is a similar but larger-scale version of the PMC system used in Capitol's Studio C. A StormAudio ISP 3D.32 ELITE manages the preamplification and immersive audio processing.
With such a critical focus on audio performance, the install required a commercial-sized film screen that would not impede the performance of the PMC speakers mounted behind it while still delivering reference video. Also required was the ability to adjust aspect ratio all the way down to 4:3 for the homeowner who is a big film noir buff.
For this, the team turned to Seymour-Screen Excellence for their Enlightor Neo 4K HDR acoustically transparent projection screen surface framed in its Adjustable Ratio Theater (ART) motorized masking system. The setup used measures 22-feet diagonal with a native aspect ratio of 2.40. ART is complemented in this installation by a 30,000 lumens Digital Projection 4K laser projector and anamorphic lens. A Lumagen video processor was used for scaling and aspect ratio control.
Top-of-the-Line Audio Transforms Theater into Custom Concert Hall
Appealing to the audiophile in the homeowner, the back of the theater features a top-of-the-line VPI turntable, McIntosh phono preamp and custom-made stand.
Because the room is built like a recording studio, it is designed to play back all types of music and movies, from mono, to stereo and full surround. The turntable's placement was carefully chosen so as not to get feedback coming from the speakers.
"This 2-year project was completed in 2019 for a homeowner client that simply wanted the best," says Blumenthal. "Overall cost of the theater including the equipment was over $1 Million and I'd venture to say this studio-grade theater achieves truly the finest sound and picture quality available today, perhaps one of the finest in the US today."
If you enjoyed this article and want to receive more valuable industry content like this, click here to sign up for our digital newsletters!