Indian Home Has Dental Office Downstairs, 33-Seat Theater Upstairs
Sound Sense designs dream theater for owner's multi-use abode, with 13-speaker Phase Technology Atmos audio, Sony projection, 169-inch screen.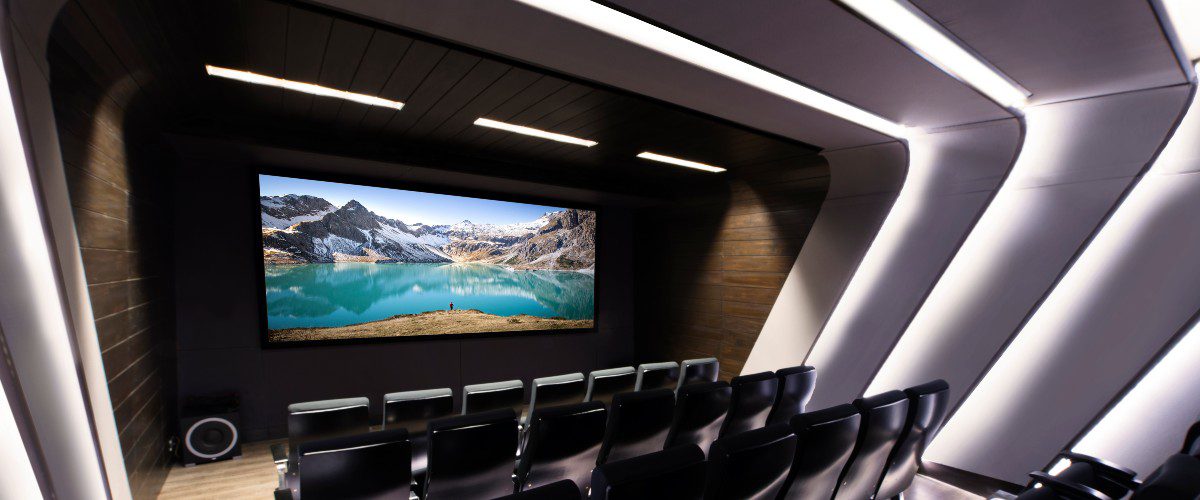 In densely populated areas of India, it is common to see multi-use buildings that house both a business and residence. Sound Sense, an award-winning integration firm in Surat, has one of India's most elite showrooms and is quite familiar with working in this type of structure, however.
The integrator's showroom displays living and office space possibilities to meet virtually any audio, video and control need. So they were prepared when a local dental surgeon reached out to Sound Sense after recently completing construction of a four-story home/business with his dental clinic on the ground floor and residence comprising the upper three floors.
He had a two-fold vision for the uppermost floor – to provide a retreat after the long hours of the work week and a get-together spot with family and friends on evenings, weekends and special occasions, explains Sound Sense founder and director Ankur Bhatt.
The customer envisioned a high-end theater for this room sized at just under 25 x 19 feet.
"Our client wanted a larger-than-life movie experience whose vibrancy was to remain isolated from the dental clinic below," says Bhatt, adding that the request for a "monster-sized" screen and a top-tier calibrated AV system well exceeded the limited budget that remained after the other construction expenses. "We were able to carefully select components that allowed us to fulfill his vision while staying within the allocated budget."
Sound Sense Employs Acoustically Transparent Screen, 9.2.4 Dolby Atmos System
The main challenge was to meet the large seating request for the limited space. After surveying the room size, screen size, speaker placement, seating needs and acoustics, Sound Sense designed five rows of seating for 33 people using six or seven seats per row in non-reclining chairs, Bhatt explains.
"The six-seat rows were designed to accommodate the pillars on each side of the room," he notes.
Sound Sense went about designing the AV to maximize the performance balanced with the budget, and leaned on the company's system engineering expertise.
The resulting installation incorporated a projection system that pairs a Milan acoustically transparent 2.35:1 screen that's 13 feet wide/169 diagonal inches, fed by a Sony VPL-VW45ES projector.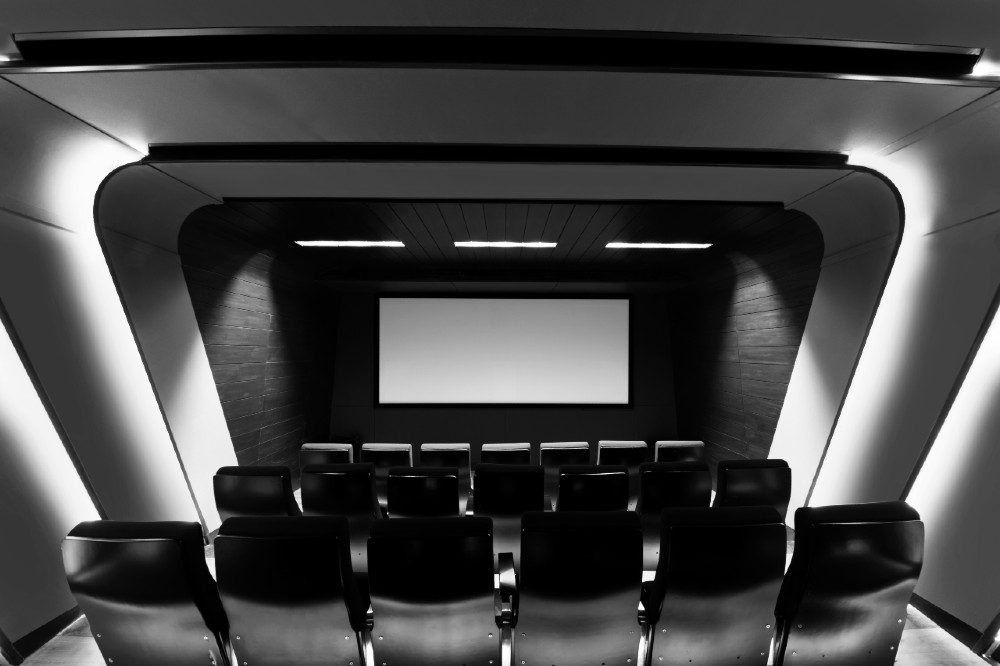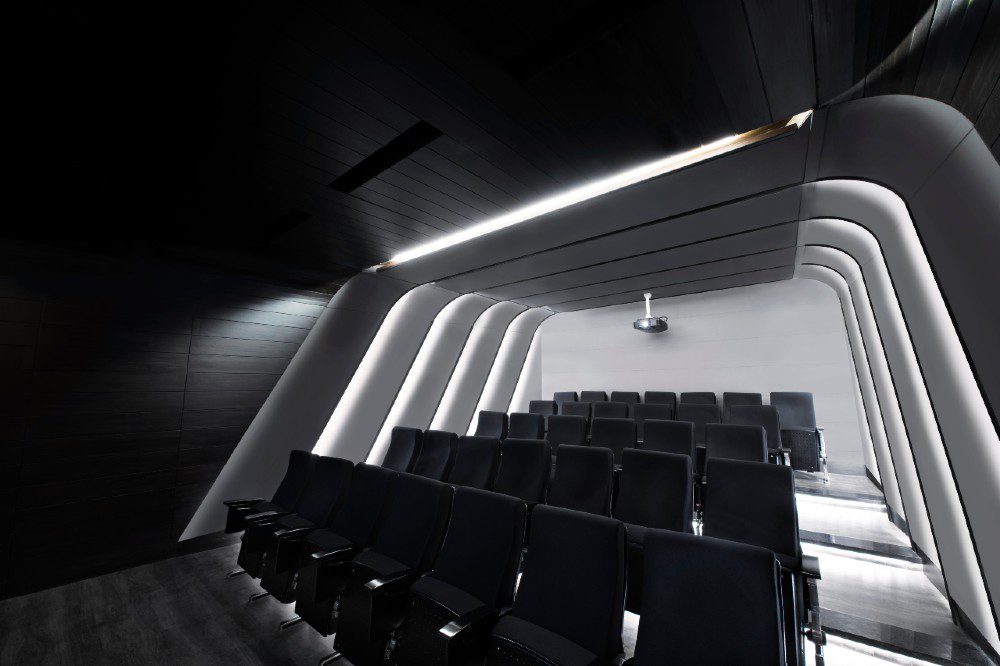 On the audio side, Sound Sense went with Phase Technology's CI Custom Install 3-way in-wall speakers for their high-quality sound and noise isolating properties, Bhatt says of the 9.2.4 Dolby Atmos configuration. The tweeter and midrange assembly of the Phase Tech CI models absorb the horizontal sound waves through Unicell Acoustic treatment to minimize interaction with the mounting wall, he says.
Driven by Pioneer and Lab Gruppen processing and amplification, the speaker system consists of CI 130 X left/center/right channels, four CI 70 X surrounds, two CI 70 X rear surround speakers, four CI 7.3 X Atmos models and a pair of Power FL -12 subwoofers.
Phase Technology CI Speakers, Acoustic Treatments Keep Sound in Check
"We used a discrete speaker setup with the surrounds placed in the center of rows one and two and rows three and four to achieve the correct phase alignment for these rows," Bhatt describes. "Diffuser panels were used in the back half of the room to add spaciousness to the sound and reduce the localization of the surround and rear speakers.
"For subwoofer placement, we performed a room analysis, and the seats were place in the optimized zone with moderated peaking and no nulling. We needed the boundary gain from the wall for the subwoofers and placed the two subs in the corners of the room to create a virtual sub in the center. This gave us the real estate we needed to place more seats," he adds.
To address noise-isolation issues, Sound Sense designed the acoustic treatments to rectify the reverberation time and solve problems related to the flutter echoes, Bhatt says. The integrator installed an intricate isolation system in the floor and added an acoustic sheet behind the Milan screen.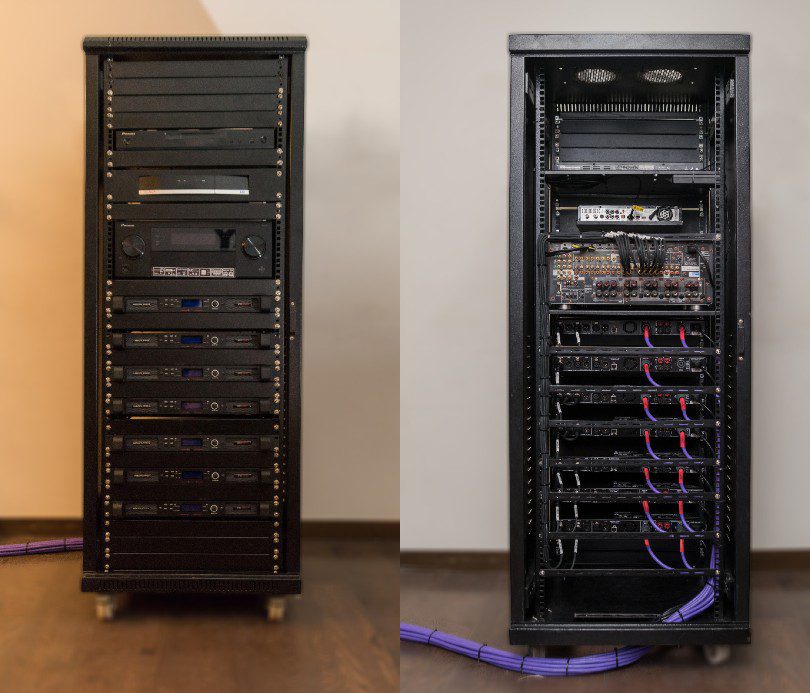 Meanwhile, the patented CI 130 employs a hybrid in-wall enclosure design that lowers the transmission of sound into an adjacent room while keeping the bass output at levels close to an infinite baffle design, Bhatt notes. So a speaker with the same size rear enclosure will have bass output that extends up to one octave lower than a comparable speaker, he says.
"We also installed a dedicated split air conditioning unit with internal thermostat controls in the equipment room to overcome the typical Indian heat whether the cinema room was in use or not," he says.
The customer can grab content from a Pioneer BDP-180 Blu-ray player and Tata Sky 4K set-top box. For ease of operation and control of ambiance, Sound Sense used Elan's gSC2 system controller and Rako lighting controls.