Custom homebuilders and integrators can create some amazing spaces once they collaborate and pool resources and knowledge. This is certainly the case for one lovely Indiana farmhouse. The large, modern take on a classic American-style house delivers a truly 21st-century living experience with centralized control of everything from motorized windows shades to lights to an outdoor TV area.
To showcase what's possible with good collaboration, Indianapolis-based builder Kent Shaffer Homes teamed up with the experts at The Premier Group to outfit a new farmhouse home with the latest home control and automation technologies.
"The goal is to exhibit how automation can vastly improve home living without impacting the home's aesthetics," says Jamie Carey, director of business development at The Premier Group. "As potential buyers walk through the home, they experience the automation features first-hand while understanding that functionality contributes to the home's beauty, rather than inhibits it."
The Premier Group integrated a large scale Control4 system that controls and automates the home's climate controls, security system, lighting, motorized window shades, distributed audio with invisible in-ceiling speakers, a wired and wireless Araknis home network, an indoor/outdoor entertainment area with a SunBrite outdoor TV mounted on a Strong TV mount, and a home cinema with a 155-inch projection screen and 4K projector.
Builders and Integrators Work Together Beautifully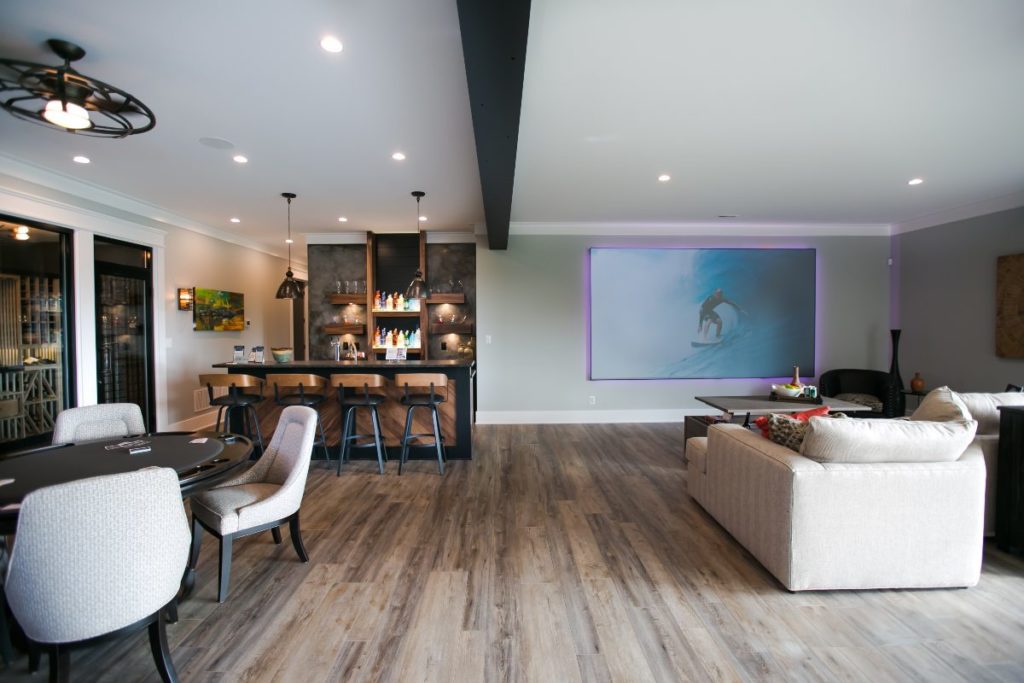 According to The Premier Group, the technology included in the home is an excellent demonstration of what a typical new home buyer might want or expect, but for Shaffer Homes, technology is a standard inclusion.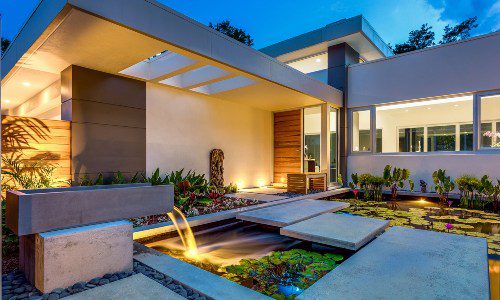 Landscape and architectural lighting create a magical and elegant ambiance for homeowners. The outdoor lighting industry has always been a phenomenal one and continues to grow in popularity. Now is the ideal time to learn more about this rapidly growing and highly profitable industry. Join our panel of esteemed lighting experts that will dive into why it's time for integrators to rethink their role in the outdoor lighting industry.
Register Now! 
"After nearly two decades of partnership with Kent Shaffer Homes, the high level of interest and admiration among potential buyers proves that the demand has finally caught up to our lofty ideals of what home technology can do," says Carey.
The two companies have shared success for more than 18 years, integrating new custom homes with the current day's latest technologies. Today, that means nearly every new home Kent Shaffer Homes builds has, at minimum, a base smart home and prewire package that provides a powerful, reliable home Wi-Fi network, alarm system, multiple security cameras, and a distributed audio system.
"We prewire every home. After a contract is signed, we often get the chance to meet the new homeowner and explain what other smart home features they can add or expand and the value they offer," adds Carey.
"We might end up with 20 surveillance cameras, 10 rooms of multi-zone audio, motorized window shades and automated house-wide lighting, which can all be added on to the existing standard automation system."
It's easiest to design an effective smart home infrastructure before construction begins, so it's never too early to discuss the possibilities with buyers. Carey explained that it may even be considered unfair or dishonest to neglect automation costs and the benefits, because the math can change drastically once designs are completed and once walls start going up.
"Most of the time, once buyers are shown that they can put smartphone-controlled motorized window shades on every window, plus have mobile control of lighting, climate, multi-room audio and video, security and more, they can't imagine not having it," Carey emphasized.
Setting the Scene
Among the home's highlights are the various 'scenes' that are pre-programmed to carry out a series of functions across multiple systems in a room.
For example, a simple 'Movie' button can be programmed for the home cinema area to turn on all the TV equipment with the correct settings and inputs, close the window shades and dim the lights. Many smart homes feature "Home" and "Away" scenes as well, which can automate the security system's arming and disarming, cycle exterior and interior lights to give the appearance of a lived-in home, close garage doors, and even change the climate settings to save energy when leaving and improve comfort when arriving home.
The Premier Group further simplifies the installation and use of their custom smart home systems by incorporating additional Control4 and SnapAV products including surveillance, audio, video and climate control equipment.
Carey says he particuarly appreciates how easy it is for customers to understand and learn how to control the Control4 system. "That's crucial, because no matter how great a system's functionality is, the homeowners can end up not using it if it's not intuitive. That's why it's important to select a trustworthy technology integrator as well as a powerful, easy-to-use system." 
If you enjoyed this article and want to receive more valuable industry content like this, click here to sign up for our digital newsletters!