Situated outside Calgary, Alberta, this Canadian home's media room is the ideal place to hang out with friends and family for a commercial cinema-quality experience.
"Walking down the main staircase into an open-plan media room, visitors are greeted by a visually stunning black-on-white acoustic panel feature that is as much functional as it is beautiful. No large projectors, speakers, or subwoofers intrude in this area, allowing it to serve as both a family gathering space and media room," says Jared Bell, field manager at Calgary-based integrator High Definition Technologies.
The client came to High Definition during a home renovation project wanting to turn a section of the basement into a multi-use media room. A requirement was to have as much of the technology hidden as possible and the new space had to fit in a narrow, linear area previously used as a home gym.
High-Performance Dolby Atmos Audio, CinemaScope Video
The 5.2.4 Dolby Atmos surround-sound design High Definition installed employs Paradigm's CI Elite in-wall and in-ceiling speakers to minimize the speakers' intrusion into the room, and completely conceals the front speakers behind a 148-inch Screen Innovations Zero Edge Pro Acoustically Transparent 2.40:1 screen.
Paired with two Paradigm Defiance X15 15-inch subwoofers and powered by Anthem's MRX1140, "this media space does not lack punch," Bell says.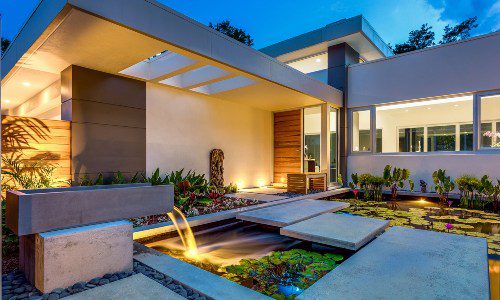 Landscape and architectural lighting create a magical and elegant ambiance for homeowners. The outdoor lighting industry has always been a phenomenal one and continues to grow in popularity. Now is the ideal time to learn more about this rapidly growing and highly profitable industry. Join our panel of esteemed lighting experts that will dive into why it's time for integrators to rethink their role in the outdoor lighting industry.
Register Now! 
Video is provided by JVC and Panamorph, with the DLA-RS3000 projector shining through Panamorph's DCR lens, giving viewers a full 4K HDR experience on the super-wide screen. High Def concealed the JVC DLA-RS3000 projector in a closet in a separate room behind the theater.
"Enclosing the projector in such a space required exceptional cooling, which was done in the form of AC Infinity in-line extraction fans and 6-inch supply fans," Bell adds.
High Definition Technologies Brings Front Wall Forward to Accommodate Speakers & Subs
To accommodate the subwoofers, and create much-needed storage space, High Definition brought the front wall forward 8 feet, allowing the two beefy Paradigm subs to nestle below and behind the big CinemaScope screen.
This created a much-needed storage space for the client, too. By using Paradigm's CI Elite series of in-wall and in-ceiling product, the remainder of the speakers were concealed.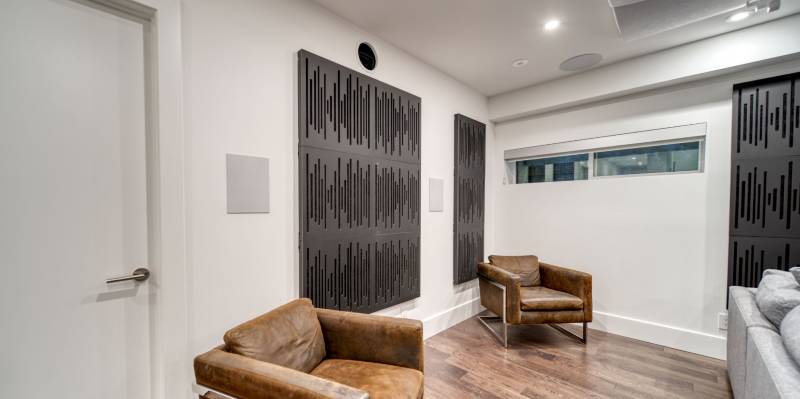 Precision in alignment and symmetry was a critical factor for this client, Bell says. The exactness with which all visual elements of the media room align was an extremely challenging feat given the project was a basement renovation and not a new build.
In addition to CAD-produced drawings detailing the position of each light fixture, acoustic panel, and speaker, a photorealistic 3D rendering was completed to provide the client an intimate feel for the final layout of the space.
Acoustical Treatment Rounds Out 'Hollywood' Quality Room
A major acoustic element of the space is the Vicoustic acoustical treatment package. This package served to eliminate excessive reverb and unwanted reflections, while also helping the listener to feel they are in a much larger space by using the DC3 multifuser product over the listening area.
Since such comprehensive acoustic treatment packages are generally reserved for dedicated home theater rooms, High Def worked closely with the customer, interior designer and 3D rendering firm to create a design that both enhanced the acoustics of the room while being visually stunning to look at.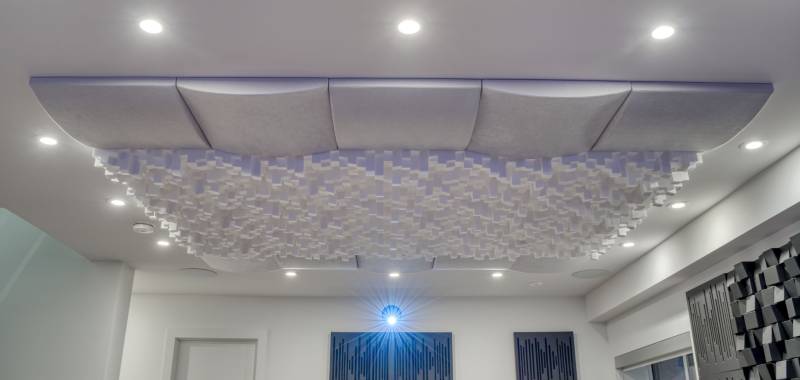 "The best of both worlds," Bell says of the impressive results, which he entered into CE Pro's Home of the Year Awards program in the lofty Best Home Theater Over $100K category. "This cutting-edge media room gives this family a comfortable space to relax in before settling down to watch the latest from Hollywood with true Hollywood picture and sound quality."
If you enjoyed this article and want to receive more valuable industry content like this, click here to sign up for our digital newsletters!