Wide-eyed and speechless but audibly oohing and aahing is typically how customers react when they first encounter the new Ovation retail store in Carmel, Ind. Jaws drop as they take in the size and scope of an open floorplan that oozes sophistication, excitement and whimsy — and, arguably, defies all expectations for what a CE store might look like.
The big store, owned by Bob Poynter in the suburbs of CEDIA Expo host city Indianapolis, utilizes a clear line of sight from front to back with an enclosed A/B switching room on one side, an ultra-high performance listening room on the other side, and an enclosed Atmos BTS theater room in the back. The rest of the open floor space is populated with multiple discreet seating areas showcasing standalone audio systems each set up against a low halfwall, a stunning video wall that can be seen from all angles within the store, and various home theater systems, all accessible on the main floor.
Mostly, what first makes people smile is the store exudes passion for music and movies. There's something fun to catch the eye in every part of the showroom including a delightful array of vintage music-themed pinball machines, retro jukeboxes, changeable Ketra lighting schemes, and memorabilia sprinkled throughout.
The result is an unexpectedly fun, audio-centric, upbeat showroom experience that also captures the essence of affluent midwestern lifestyle décor with so many seating areas and furniture groupings — a laid-back tone also conveyed in Ovation's new website. And the showroom is just one element of a complete overhaul of Ovation's brand that cohesively unites all aspects of the marketing — from the website to the vehicle wraps to the business cards — and has re-energized this venerable Indianapolis-area institution.
Multiple Ways to Wow Clients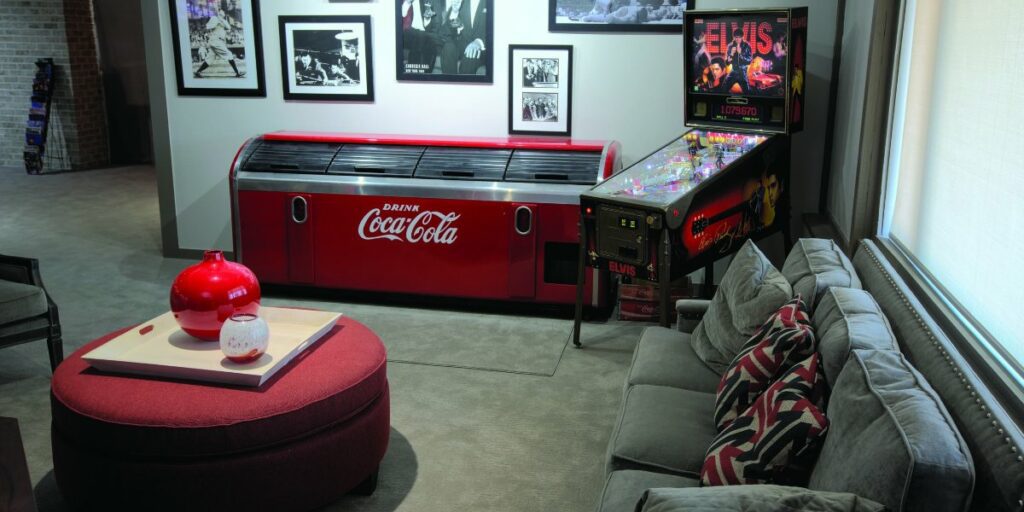 After being greeted, visitors are offered a bottle of classic Coke from the store's vintage Victor C45 Coke Cooler as they peruse the Streaming Audio Bar by the front door (it's also a fully functioning drinks bar with all the network streamers hooked up for demo), and maybe play some Beatlemania pinball.
From there the qualifying conversation begins and customers can wander around on their own or take a "guided tour," stopping here and there to relax into an armchair and take in a bit of jazz in one of the mid-floor listening areas. Or they might gravitate toward the 110-inch SI screen in the center-right section. Or play around with another pinball machine or the vintage jukebox. All the while, an Ovation team member continues easing them toward the ultimate "wow" listening experiences in the McIntosh/ Klipsch Heritage room and Klipsch Atmos 9.2.2 BTS theater where they can hear spine-tingling bass response and incredibly detailed music and movie sound quality customers rarely experience.
Only then does the drill-down to the actual selling process begin. And whether or not the customer actually buys something (which they invariably do), the Ovation showroom visit has been a totally exciting and memorable experience, one that's creating an ever-growing word-of-mouth buzz in greater Indianapolis and beyond.
Architects of Showroom Design
The unique and sprawling showroom design is the joint brainchild of still-relatively-new owner Poynter and his COO, Chris Cruzan.
Poynter had a long-time dream to create the most mind-blowing music listening and movie watching retail experience in the greater Indianapolis marketplace (if not the Midwest). He wanted a warm welcoming space where everyone could experience movies and music, without an appointment or intimidation factors, "at a level they never thought possible," he says.
Cruzan, a musician himself with years of AV/custom experience (working for many years as project manager for industry veteran Tom Doherty, now of HTSA), and having a deep understanding of 2-channel sound reproduction and lighting control, was able to curate and fulfill Poynter's vision.
In fact, Cruzan helped build out the space (doing much of it by himself) to look amazing — and sound even better. And these days, even though people rarely come in asking for performance stereo, he admits, once customers experience it, they love it and want it — and buy it.
AV, Lighting/Shading & Smart Home Deluxe Tour
Overall, and perhaps unsurprising given the audio company's Indianapolis offices less than 3 miles away, Klipsch is the big dog in the showroom. Mark Hittle, veteran Midwest territory manager for Klipsch, has been impressed with Ovation's audio success.
"Dating back 30 years, Klipsch has always enjoyed a very close working relationship with Ovation, and that has not changed since Bob Poynter bought the store," he says. "With all Heritage models on display and such a beautiful venue for test driving speakers and introducing customers to the experience of better audio, they really are the best of the best."
In fact, every system in the store is meticulously calibrated to sound great. Adds Hittle, "Bob has invested a lot of money to showcase Ovation's most important AV vendors and smart home technologies, all in the very best light. Nobody in Indy does it the way they do."
Of course, video is important too. With eight TVs from Samsung, LG and Sony prominently on display on the main TV wall, the dazzling display plays a huge role in why Ovation sells so many higher-end TVs.
"Customers can get comfortable on the sofa and compare HD, OLED, 4K, 8K, QLED and processor speeds, all from one spot. We specifically set up optimal seating distances to replicate typical home viewing scenarios," explains Cruzan. "Customers can really imagine the TV in their living rooms which greatly helps them choose the right screen size and technology for their taste and budget."
The space was also designed to highlight and de-mystify smart home technologies. All lighting, temperature, shade and control systems throughout the store and sound rooms are run by Control4 and Lutron, all controllable through an app. Lots of working shade samples are also on display (Lutron and SI) including options for openness, fabric choice and trim accessories.
Also, the entire store, inside and out, is lit with Ketra fixtures designed to show off the equipment and accentuate architectural details within the store. "I have seen them do very cool lighting demos and I am very impressed with how educated they are around the tech talk of lighting," notes Keith Selby, a long-time Indy rep and principal of Cardinal Sales.
Ovation 3.0 Takes Shape
All of this didn't happen overnight. It has been a five-year journey since Poynter purchased Ovation, and you could say it's been more than a 34-year trek for the Ovation brand to evolve into its current retail iteration.
How did it all come about? First, aside from being an astute businessman and experienced entrepreneur, Poynter has been a music lover his whole life — he's been known to fly across the country to see his favorite band in concert and catch the red eye home in time for work the next day.
During his long career in the automotive industry, Poynter spent years travelling the country and would routinely check out the most prominent specialty stereo stores in each major city, taking note of interesting store designs and merchandising concepts … and watching as store after store closed up shop or went under.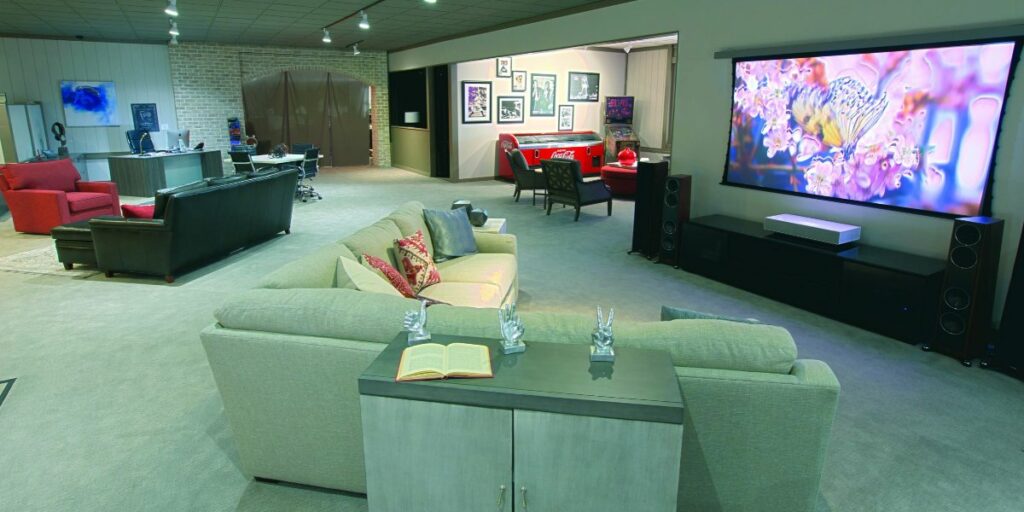 Having settled down years prior in his hometown south of Indy, in 2015 Poynter went to visit his old stereo-buying stomping ground at Ovation and was greatly pained to find this once-thriving AV store in a state of utter disrepair. Ovation has had a long and storied history in the custom industry. Ovation Audio+Video was founded by Gary McCormick, an AV specialty retailing pioneer, who bought the first Ovation store from Lexington, Ky.-based manufacturer Audio Authority in 1986, renamed it Ovation Audio- Video Experts, and immediately opened a second store in Indianapolis.
At its height, Ovation grew to nine stores doing more than $30 million in sales, with a well-deserved reputation for selling Indy's best selection of specialty stereo and video brands, delivering first-class customer service, showcasing the latest in-home entertainment tech and offering a modest range of custom services. Ovation was named to the Top Ten AV Retailers in the country 10 times in 20 years (the company proudly displays a tribute poster to McCormick in front).
After a prolonged illness, McCormick died in June 2012. Unprepared to successfully carry out operations, over the next few years the estate sold off stores and let go of key personnel until by 2015 they were down to only one location, with two legacy salespeople operating without a manager or stocked inventory from a cramped and rundown showroom that was less than one tenth the size of the original flagship Castleton/Indianapolis- area store.
This set Poynter in motion. He saw what he thought was a gaping hole in the Indy market for a specialty AV store with fully functioning sound rooms instead of by-appointment-only custom shops. Motivated by upbeat trends toward higher fidelity streaming platforms and the popularity of new TV technologies — plus his own passion for music and movies and his great chagrin to see an iconic brand dying on the vine — Poynter took the plunge and purchased what was left of Ovation in February 2016.
Steps to Reviving the Ovation Brand & Legacy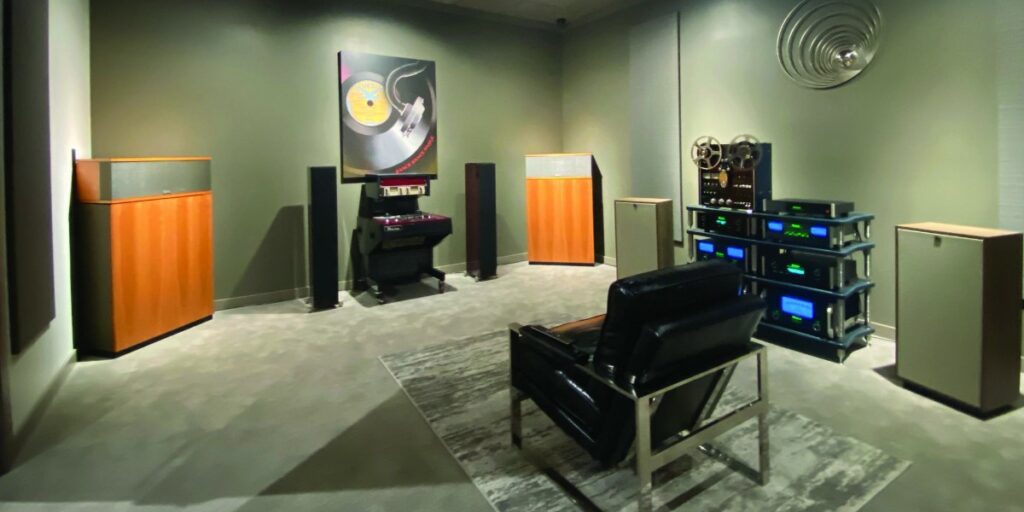 Out of the gate, Poynter hired the Deborah Smith Group to help him understand the ecology of the CE marketplace and the business end of running a hybrid AV retail/ custom company.
Poynter also renamed and rebranded CCI, his Columbus, Ind., IT company, to be Ovation Technology Group, with an all-new website and marketing materials. He hired Cruzan to be general manager, retained the two veteran Ovation salespeople at the time of the sale (Brad Edwards and Mike Sheets), and got to work with Cruzan renovating a small portion of the original Castleton flagship store. They began adding new brands and hiring installation technicians in a bid to relaunch Ovation as Indy's go-to stereo store for music and video lovers of all ages, and as a place to go for mid-level custom sales.
Opened in late 2016, the space was not large (3,500 square feet) but Poynter and Cruzan did an excellent job creating a warm classy space with a welcoming entrance lobby, interesting architectural details, several mostly small listening rooms and a powerful Klipsch Atmos theater. Though they had every Klipsch Heritage speaker on display, as well as designated rooms for Magnepan, Paradigm/ Anthem, in-walls, and GoldenEar systems, the size of the store was never ideal for optimal speaker placement or musical fidelity.
Spurred by Poynter's enthusiasm for rebuilding the Ovation legacy, Cruzan embodies the heart and soul of the company, fully understanding the value of Ovation's longstanding reputation for treating everyone with respect, delighting them with well-tuned music demos, educating them about the benefits and joys of owning high-performance AV gear, and guiding his team.
"It's always a pleasure watching Chris welcome everyone into the store and take the time to smile, listen and solve their problems," says Cardinal Sales' Selby. "With all his knowledge about high-performance audio and design and installation, he never talks over a customer's head as he steers them towards the best system for their musical tastes."
Location, Location … Co-Location
Ultimately there was no getting around the poor location and the difficulty and expense of luring customers to Castleton, an area that 30 years ago was a vibrant mecca of upscale stores and restaurants. The demographics have since shifted such that today the majority of Ovation's potential customers live farther north. Bottom line, the new store never gained sufficient traction to justify staying open in Castleton.
Though it was hard to abandon Ovation's original location since previous customers still showed up every week with repairs and some to make purchases, the decision was made to find a new location. Carmel, one of Indy's most affluent and growing suburbs, was the new destination of choice (average annual income is $150K).
Serendipitously, after a long day of visiting one-too-many unsuitable properties, Poynter and Cruzan pulled into a big empty parking lot to regroup when Poynter noticed that the lot belonged to a sprawling furniture store (more than 110,000 square feet) called John Kirk's Furniture Gallery, a 60-year-old family-run higher end retail establishment … right in the heart of Carmel.
They hatched the idea to lease space and co-locate Ovation inside of Kirk's — with an entrance from within the furniture store and a separate dedicated front entrance for Ovation, plus plenty of parking right outside.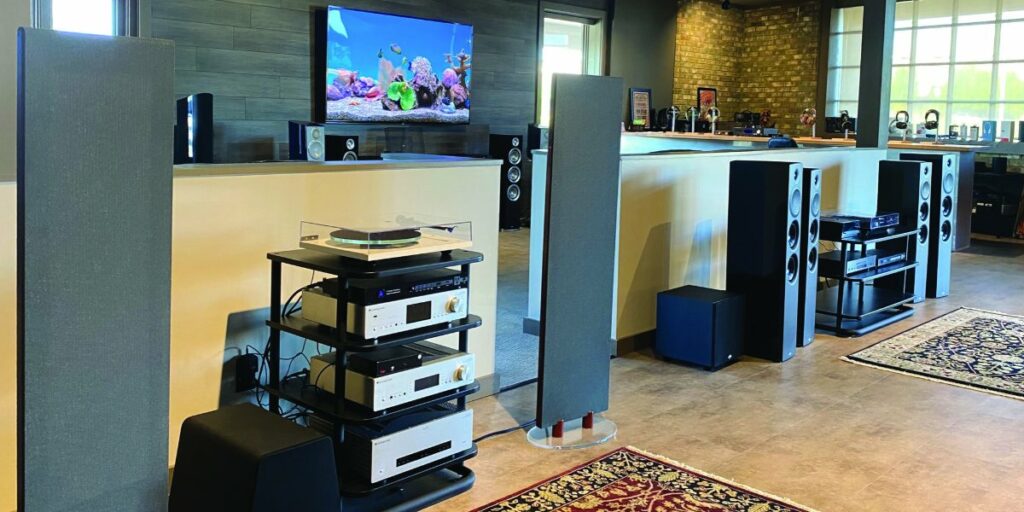 Since opening, the partnership and co-location inside Kirk's has paid off handsomely with a steady stream of well-heeled shoppers who are the exact demographic profile Ovation wants to serve. Every week a sizable number of furniture shoppers stumble upon the Ovation part of the store and are drawn like moths to the flame of a sensory-stimulating showroom floor, ready to complete their decorating and lifestyle plans with some smart tech or entertainment.
The relationship with a prominent furniture store has impacted more than just the customer demographic.
"Kirk's lead store decorator has also been very kind to us, helping to pick out accent paint colors (chosen to harmonize with the Klipsch Heritage product finishes) and helping to arrange the furniture in our various music system listening areas," Cruzan explains.
"In fact," adds Poynter, "Kirk's and Royal Gallery of Rugs, which is also co-located inside Kirk's, lend us all of the furniture and rugs in the showroom, which are also for sale, and swap them all out every 90 days. So the furniture and rugs stays nice, and our showroom gets a new look and instant refresh every three months."
Another great benefit of the co-location has been developing referral relationships with Kirk's in-house architects and decorators.
Taking Off & Looking Ahead
Clearly, this was the kind of space where Poynter could make his dreams come true. Cruzan set about building out the space and by the end of February 2020 they were finally ready to open the front part of the showroom when … COVID-19 lockdowns closed the store.
It couldn't re-open until June, and even then, only in a limited way. Says Poynter, "This was not good timing for the amount of investment to build out the store, but a PPP loan got us through the spring and by the end of the summer we were on our way."
Gradually, as COVID restrictions began to ease and customer demand increased, sales started to build. New marketing efforts from Deborah Smith Group included updating and toning down the logo, colors and look and feel, and designing an all-new midwestern lifestyle-themed website that debuted in late June (ovationav.com). Ovation started off with a postcard mailing to every high-income residence in Carmel.
Ovation continues to run TV ads every month and went big with a summer Olympics package. "The TV advertising has really paid off, getting us noticed by the right profile customers throughout Hamilton County," Poynter adds.
All of these things, plus the impact of Poynter's efforts to renovate the front building façade and erect a huge Ovation sign that is visible from multiple directions, have all contributed to a steady stream of floor traffic that begins late afternoon on Thursdays and peaks with more than 50 customers packing the store on most Saturdays.
"We're seeing young and old, new home buyers, basement remodelers and apartment dwellers, audiophiles and retired surgeons. We like to think we have something for everyone from $50 Klipsch headphones to $100,000 Klipsch/McIntosh systems," says Cruzan.
Now, when previous clients come into the new store for the first time, instead of feeling deflated by the small size of the store compared to years ago, they are amazed and elated, Cruzan and Poynter report.
"It's exciting to have so many people in the store, but if there's one thing we really need right now it's another excellent specialty retail salesperson (or two) who knows and loves high-performance audio, can talk music, likes to romance customers, gives a great demo — and can close sales," Poynter says. "We have endless potential here but need some more in-store sales help to cover the floor seven days a week."
Future plans include building out a comprehensive shade and lighting lab in the back of the store, completing a landscaped area to showcase outdoor lighting, speakers and TVs and beginning a series of live low-fi jazz, blues, chamber and other music events that will be recorded onto tape for audiophile clients who are into reel-to-reel sound reproduction.
"Our rear event space can seat 200 people, so we are quite excited about experimenting with this new live music venue," Cruzan says.
Adds Poynter, "I couldn't be more optimistic about Ovation's future potential, but what really warms my heart is how many industry people and previous Ovation clients tell me all the time: 'Gary McCormick would just love this store. He would be so proud!'"
Click here to inside the Ovation showroom!
---
About the Author: Deborah Smith Group specializes in brand development, marketing, web design, video and TV campaigns and strategic planning initiatives for any size company. Call 617-739-9877; DeborahSmithGroup.com