An expansive yard, multiple structures, and a directive for the mansion to be "a party house" are just some of the challenges that faced Soundwaves & Security Corp. on a recent technology project in Cape Cod, Mass.
The 115-year-old home has an 800-foot-long shoreline/beach, massive grass yard, pool house, guest house, tennis court and playhouse area.
"This is basically Cape Cod at its finest," says Michael Either, president and CEO of Soundwaves & Security Corp. out of Buzzard's Bay, Mass. "I have been doing the work here for about 10 years. We started with several inside projects, including a high-fidelity room."
Ethier started out as a high-voltage electrician and the business morphed into having an AV and security focus. He started focusing on outdoor projects about seven or eight years ago, first doing landscape lighting and eventually moving into outdoor audio.
"This particular property has a massive yard and I recall the owner saying to me, 'Mike… I want you to think "party house."' For a wide open space like this property, you need to have something that has more of a PA effect. The Ambisonic speakers were on par with me listening to gigantic speakers that you would find a band using. The difference is that these are beautiful. They are not big and gaudy," he says.
In all, the Cape Cod installation has seven exterior zones, 38 satellite speakers, and seven subwoofers, all from Ambisonic Systems. Due to the performance criteria of the Ambisonic speakers, Soundwaves & Security Corp.'s crew was able to place the speakers farther apart, as much as 16 to 20 feet, compared to other systems that would have required the speakers to be no more than 8 to 10 feet apart.
"It all came down to the client wanting natural, accurate volume levels without blowing somebody out of a particular area," says Ethier.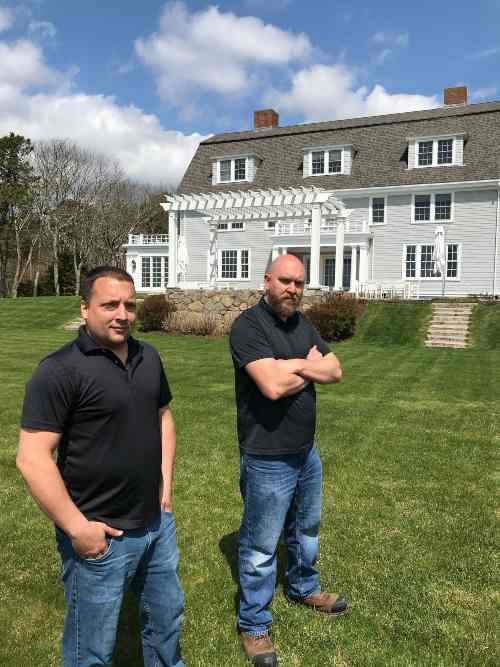 Among the challenges was the control of the mansion technology. The wire run to the beach alone was 600 feet.
Also, the homeowners were at the property during the project, which meant particular care needed to be taken with trenching. The entire estate is linked together with literally miles of cabling and several point-to-point Wi-Fi bridges and 37 or 38 individual Wi-Fi access points.
"I wanted to make sure that no matter where my clients may roam in the yard, they have the ability to control their systems," says Ethier.
post