D-Tools
System Integrator v16 Integrator Software Suite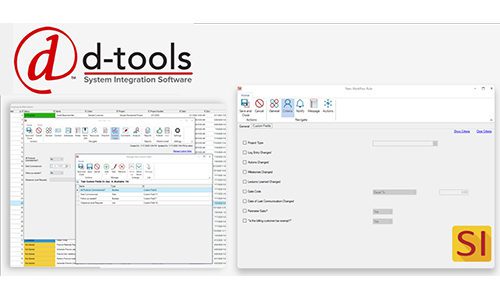 Concord, Calif.-based D-Tools has announced that its new System Integrator v16 business management software suite is now available.
D-Tools' newest software tool for professional installers is engineered to help dealers in the electronics industry, including the residential and commercial markets to more effectively run their businesses.
The West Coast company explains the System Integrator v16 software suite adds new project and service management options to the end-to-end business management solution.
D-Tools emphasizes that System Integrator V16 helps professional dealers increase their operational efficiencies with new updates across that board that result in improved workflow for and between the sales, project management and sales teams.
Some of the specific updates to the software tool includes service and scheduling options, increased access to tasks in mobile install that allow for more remote accessibility; catalog improvements, and increased project and purchasing options.
More news from D-Tools: N.J. Integrator ESS Manages Business with D-Tools Cloud
Product Info:
Product Name:
System Integrator v16 Software
Manufacturer:
D-Tools