Brilliant
Smart Apartment Platform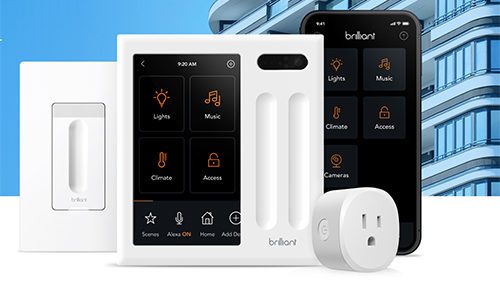 Brilliant, a manufacturer of smart home products that includes lighting products, has announced its new Smart Apartment platform to help property owners and residents enjoy the benefits of a modern smart home.
Brilliant states its new MDU platform enables property owners and managers to increase the appeal and value of their properties, and to maximize the utilities' money-saving efficiency.
The solution installs into new construction and retrofit environments and it is backed by Brilliant's new software tool that includes an easy-to-use dashboard. The dashboard allows property managers to remotely monitor and automate small apartment properties.
According to the company, the MDU platform incorporates voice control options, as well as motion detection to help residents control their lighting, climate systems, music, locks and intercoms.
Additionally, system options also include water and leak detection solutions using Honeywell's Home Water Leak detectors that can help protect properties from water damage.
More news from Brilliant: Brilliant Smart Dimmer and Smart Plug Offer Affordable Lighting Control
Product Info:
Product Name:
MDU Platform
Manufacturer:
Brilliant