Brilliant Smart Dimmer and Smart Plug Offer Affordable Lighting Control
The new Brilliant Smart Dimmer and Smart Plug provide homeowners with a greater choice of lighting control solutions.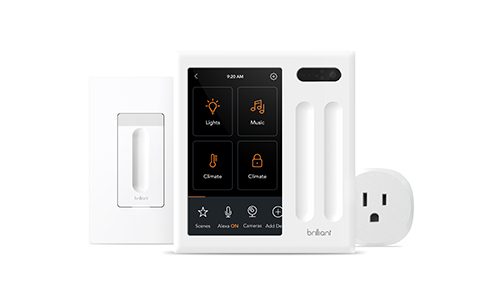 Expanding its product line, the newly introduced Brilliant Smart Dimmer and Smart Plug products offer homeowners a choice of affordable lighting control solutions.
Brilliant says that its new Smart Dimmer and Smart Plug provide users with Amazon Alexa and Google Home voice control options, as well as the ability to control the products using the company's companion app.
"Before Brilliant, an integrated whole-home and lighting system meant either depending tens of thousands of dollars on an inflexible home automation system or piecing together a jumble of disparate devices and apps," states Aaron Emigh, co-founder and CEO of Brilliant.
"With our new smart switch and plug-in combination with the Brilliant Control, we are realizing our mission to make it possible for every homeowner to experience the comfort, energy efficiency, safety and convenience of living in a true smart home."
Brilliant Smart Dimmer and Smart Plug the Result of Years of R&D
Explaining the amount of effort that was put into the launch of its new products, Brilliant says that it invested more than five years of research and development (R&D) into its product line.
Through its R&D efforts, the company points out it has integrated motion sensor capabilities into the Smart Dimmer Switch at a price point that breaks new ground in the smart home category.
The company also emphasizes the products offer homeowners modern industrial designs that complement a range of home interiors, and intuitive user interfaces to make daily use the products easy for homeowners.
Brilliant adds the Smart Dimmer and its complete home system offer a number of benefits that include:
The products install in a similar manner to traditional light switches
Its solutions provide control options via voice, touch, motion, scenes or via its app
Brilliant products are designed to make smart bulbs smarter by providing traditional control options to products such as the Philips Hue, LIFX and TP-link devices
Once installed, a Brilliant system provides unified control throughout a home