CE Pro Podcast #71: Crestron CEO Randy Klein on Why He's Ready to 'Graduate'
President & CEO Randy Klein talks about Crestron's health, why he won't use 'retirement', how company culture feeds into 'the customer experience' and more.
Listen to this podcast using the embedded player below.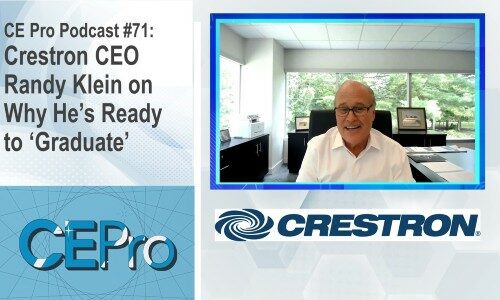 One of the most prominent and influential companies in the custom integration industry is Crestron, and Randy Klein, the man who has been leading the charges there since the passing of founder George Feldstein nearly seven years ago recently announced he will be stepping down as president & CEO soon.
Amid what is bound to be a very busy schedule between now and when Klein officially passes the torch to COO Daniel Feldstein in the fall, he took time to chat with me for the CE Pro Podcast.
Among the discussion points were why Klein felt now was the right time (is there ever?) to make the announcement; why the Rockleigh, N.J., company is in good shape business-wise and culture-wise; how the residential and commercial end-user markets are impacting product development; prioritizing the customer experience; and more.
For one thing, Klein, who overall has spent three decades at Crestron, won't call it a "retirement" quite yet or maybe ever. He's likely to stay in contact with company colleagues, and admittedly he is not one who will be spending all day on a golf course … at least not yet.
"Bottom line is I spent 31 years here, I've spent almost half a century in this business, it's the only thing I've ever known and done. I'm healthy and in a position physically and otherwise to that I can do it. … I've given 110% to this company and this industry, and I don't have any outside interests, any hobbies – I said maybe it's time to spend a little time on myself and my family," he explains. "And someday get good at golf."
Crestron in 'Better Shape Than It's Ever Been'
But all joking aside about what Klein will occupy his time with, his perspective is this is rather like a "graduation" from Crestron, as it's more about moving on after quite a lifetime of education in the integration industry.
From the company perspective, that makes sense as well because as others come and go, personnel find their own ways to graduate to different positions within the extensive company (or perhaps join the company after going through the internship program).
Crestron over the years has built out its portfolio to encompass award-winning residential, resimercial and enterprise solutions, providing its dealers with equally high levels of service from its various departments.
That's been evident as Crestron has navigated the waters of the pandemic, making pivots where necessary and looking to trends like WFH and bolstering Crestron Home. The company culture fostered throughout all feeds into creating the best experience for integrators and especially their customers, and the result is the company is in shape for Klein to let someone else steer the ship.
"More important than anything, is the company is healthy. The company is in better shape than it's ever been in the 31 years I've been here – and I've seen a lot in 31 years."
That's just the start of our conversation, so hear much more from Randy Klein, including some parting words of wisdom for the industry, by watching or listening to the CE Pro Podcast above.