Crestron Keeps Focused on Service in 2020
Thanks in part to its continued commitment to its dealers, Crestron has earned a total of 9 awards in this year's CE Pro Quest for Quality Awards including wins in categories like Best COVID-19 response and Best Dealer Website.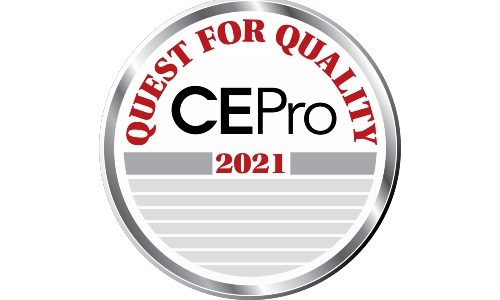 Much like many of its peers who won CE Pro Quest for Quality Awards this year, Crestron showed unwavering support for its dealers throughout 2020 as integrators around the world learned to alter their businesses because of the coronavirus COVID-19. As a result, the company took home an amazing 9 Quest for Quality Awards in categories like Best Technical Support and Best Dealer Protection Policies.
Here's a quick look at all of the awards Crestron won in the 2021 CE Pro Quest for Quality Awards for manufacturers:
2021 Quest for Quality Awards Won by Crestron
Best COVID-19 Response, SILVER:
With the pandemic, making sure our products are always available is a source of pride. We understood the difficult times our dealers were facing and worked with them in many ways to ensure their success. In addition, we launched home conferencing solutions to support 'Work from Home' needs. —John Clancy, VP, Residential, Crestron
Best Customer Service, GOLD:
It's all about products and people. People mean everything and being there for our dealers and customers is the most important thing. —John Clancy, VP, Residential, Crestron
Best Technical Support, PLATINUM:
Our tech support starts with the unparalleled quality of our products and how well we support them. —John Clancy, VP, Residential, Crestron
Best Sales/Marketing/Assistance, SILVER:
Helping our dealers to have all of the materials and assets needed to help sell our products is extremely important. We also launched our first ever virtual tradeshow called Crestron NEXT. —John Clancy, VP, Residential, Crestron
Best Warranty Support/Policies, SILVER:
We pride ourselves on the build quality of our products, and stand behind them to ensure our customers are satisfied. —John Clancy, VP, Residential, Crestron
Best Shipping Policies, PLATINUM:
Getting our technology and solutions in the hands of our dealers when they need them is a top priority. —John Clancy, VP, Residential, Crestron
Best Dealer Website, GOLD:
It's a tremendous resource for all things Crestron; from products to software to training and support. Everything is all in one place." —John Clancy, VP, Residential, Crestron
Best Training Programs, GOLD:
Ensuring our dealers are up-to-date and knowledgeable of our offerings ensures for expertly installed projects. —John Clancy, VP, Residential, Crestron
Best Dealer Protection Policies, PLATINUM:
Putting our dealers and their customers first is what separates Crestron from everyone else. —John Clancy, VP, Residential, Crestron