CE Pro Podcast #40: Why Energy Automation Can Spark Your Business
Troy Morgan of PanTech Design discusses the Adapt Energy solution, how integrators can pitch energy automation, why it can be vital for customers and more.
Listen to this podcast using the embedded player below.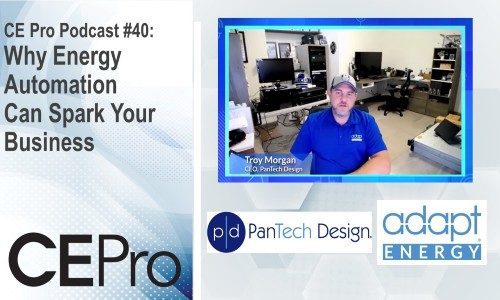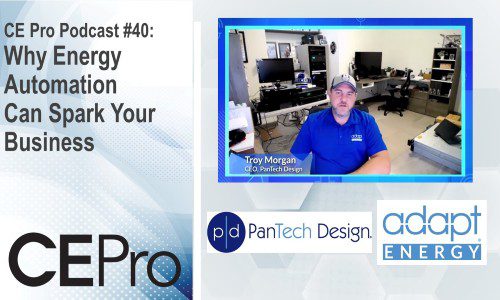 CE Pro has been tracking the "energy automation" category for a bit now, as it's one whose potential appears very promising for custom integrators.
Troy Morgan, president and CEO of PanTech Design in Texas, has realized this firsthand, beginning with outfitting his own home for energy automation and bringing that experience and expertise to fellow integrator partners and customers via PanTech's Adapt Energy platform.
In this week's episode of the CE Pro Podcast, Morgan outlines how he got involved in the category, how Adapt Energy works and what it can do, resources for integrators to educate customers, and much more. He mentions that his home is often used to demonstrate the capabilities – so note that this interview was recorded in 2020 so when he refers to having plenty of end users tour the place "last year" he's talking about 2019.
PanTech Design launched in 2005 with a primary focus on large-scale automation systems for residences, yachts and other applications using Crestron systems as a B2B solution for an integrator, Morgan explains.
That evolved over a decade into PanTech's creating a software product called Adapt, which he says cut 80% of programming and configuration time.
Adapt Energy Marks Latest Evolution of Automation Capabilities
More recently, as PanTech continues to live up to the billing and "adapt," the company developed Adapt Energy, a hardware and software energy automation solution that it not only sells to integrators but also to solar contractors and electrical contractors.
"So our target's a little bit wider than it used to be, with our industry being kind of small, we've expanded it to working directly with the solar and electrical contractors," notes Morgan.
Morgan says he's been a big proponent of energy monitoring and management that led to the development of Adapt Energy (which earned a CE Pro BEST Product Award last fall too). As a Crestron user, he's been monitoring his own home's energy using the Crestron Fusion system since 2012, he says.
While he appreciated the ability to see and delve into the home's energy usage, Morgan sought to do more and marry system capabilities of not just custom integration, but the electrical side of the equation.
"It wasn't until a few years ago I saw sort of an opportunity for two industries to collide, where you have this energy industry over here doing all this solar stuff and home batteries and the like, and then you have this whole other industry – home automation," he says. "And with what we know, and what I've been playing around with for a while, bringing those two together just made a lot of sense."
Monitoring energy is one thing, but it's a completely different thing to control it, Morgan says of the impetus. Savvy integrators can talk to customers about why they would want to control their energy.
"You have to look at the reasons … why would you want to shut off things? Why would you want to [do] what we call shape, shift and shed the load in a home," he remarks. "And that's the automation end of things."
He explains that for solar inverters and large batteries, etc., they have certain limits, and people don't realize that in scenarios where they tap into such things – living off-grid, or when the grid goes down, for instance – those reserves can be sucked dry pretty quickly.
PanTech Solution Prepares for Power Outages
PanTech works with Sonnen ecolinx batteries in conjunction with its hardware solution to control Schneider Electric relay control breakers, using all the wealth of system data provided by Sonnen's intelligent units.
The solution also integrates with a monitoring system called Curve that Morgan says delivers information it needs with the battery or solar systems in a home, for PanTech to then shut things on/off, automate, schedule events for different times of day and more. He notes that with some wild weather down in Texas, his Adapt Energy system ties into weather information and will trigger battery and integrated smart technologies to do certain activities when storms are in the area.
"It's all to prepare for the potential of a power outage," he says.
Understanding the resiliency of a home battery/energy automation connection is a big deal when power goes out, he stresses. Morgan shares a story about being jealous of all the solar panels around his area in Texas and thinking that when the power goes out, those houses would be fine, but the truth being they also must have a home battery and method to power the inverters. So awareness counts, and informing those customers about being proactive with their solar systems is useful.
"Are you planning on putting solar on your home, and if you are, are you planning to have a home battery," he says integrators should ask, "because in my opinion, installing solar without a home battery is not smart – certainly not as good as it can be."
Plus, it's not only for residential applications but commercial integrators can apply energy automation as well – the systems may be larger-scale, but for commercial facilities they are also more mission-critical because customers can't afford to have systems go down. With that in mind, Morgan notes the Adapt Energy panel will control up to 16 relay-control breakers for the company's initial offering, but is expandable up to control of 2,016 breakers for integrators doing light commercial/resimercial.
"If you're an integrator looking to expand your offering and get into a field that is super exciting, and really in my opinion the next big thing, this is it," Morgan enthuses, "and I'm here to help you."
Learn much more about energy automation by checking out the CE Pro Podcast above, and subscribe to CE Pro's YouTube channel to find all episodes.