CE Pro Podcast #54: Google, Shelly Target Smart Home, Wellness
Google expands 'Works with Google Assistant' program while Allterco Robotics targets entry level with Shelly line of Wi-Fi solutions.
Listen to this podcast using the embedded player below.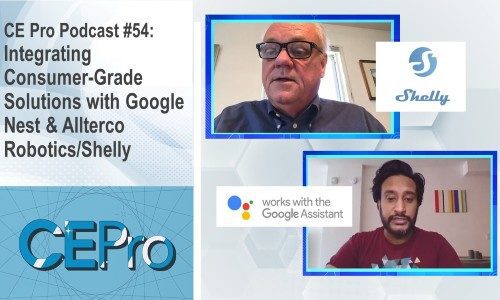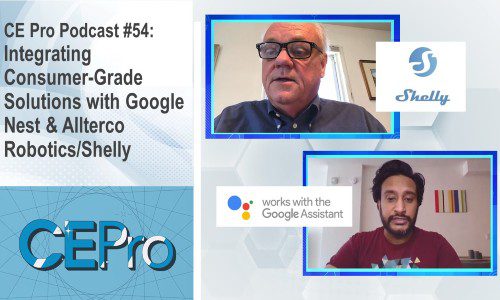 Long gone are the days in which integrators only installed niche brands of equipment that their clients had never heard of. Today, dealers also install an array of consumer-grade products that integrate closely with channel-specific equipment. Two brands that have consumer appeal and are catering to the custom electronics industry are Google Nest and Allterco Robotics' Shelly.
In this week's podcast, CE Pro spoke separately with both companies about how they see their products fitting in with integrators, both from a smart home perspective and a wellness perspective in the case of Google.
First, Tom Lenahan, national sales director for Allterco Robotics U.S., says Shelly brand of Wi-Fi relays, plug-in modules, switches, energy meter readers, and indoor air quality filters are well suited for integrators. The Bulgaria-based company has been in the European market for more than 5 years, but just recently entered the U.S.
"The smart home market is being driven by all the big security companies, Amazon, and all the big apps from Tuya. It is becoming more diverse than it was just a few years ago," says Lenahan. "It's easier to install and the Wi-Fi takes out the fact that you don't need a hub in your home."
Google Nest Expands 'Works with Google Assistant' Program
Meanwhile, mega-brand Google outlines the expansion of its "Works with Google Assistant" program for integrators, along with its affiliation with the new PureTech Alliance that aims to make Wellness a staple category in the custom electronics market. Recently, the company migrated away from its "Works with Nest" program to "Works with Google Assistant."
That change required manufacturers, such as Brilliant Smart Home, to start the integration process all over again, according to Adeel Tufail, national pro partner manager, industry partnerships at Google.
"Works with Google Assistant is available to all manufacturers and partners who would like to integrate with Google Assistant. We are an open platform," says Tufail.
For his part, Peter Dyroff of the PureTech Alliance sees Google Nest as a key component in wellness movement.
"We have seen the luxury homebuyer more and more want high quality air and water, and the control of that so they have the best environment to live in. It's like eating organic food… people want to do more to be healthy," says Dyroff.
For more of the CE Pro Podcast conversation with Allterco/Shelly's Lenahan and Google's Tufail, watch or listen to the video and audio files above. Find past episodes of the CE Pro Podcast by subscribing to the CE Pro YouTube channel or our Apple and Spotify podcast feeds.