CE Pro Podcast #34: Desert Valley AV's Growth Plans
CE Pro 100 integration company Desert Valley AV makes strategic acquisition in another state, plus adds electrical and lighting design divisions.
Listen to this podcast using the embedded player below.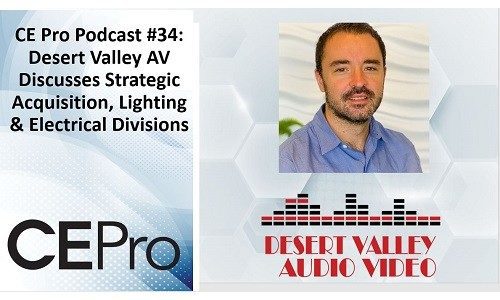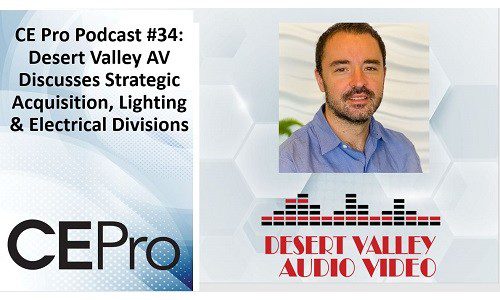 In these turbulent times, probably the last thing many integrators are thinking about is purchasing another custom installation company, but that is exactly what Justin Worley of CE Pro 100 company Desert Valley Audio Video did. And to make it even more complex, Desert Valley is based in Scottsdale, Arizona, and the company Worley acquired — Audio Concepts – is a 40-year-old custom installation company in Long Beach, California.
Worley spoke with CE Pro about the buyout, along with Desert Valley AV's successful moves into establishing an electrical division and getting into lighting design and fixtures. Worley says the acquisition, which occurred in March of 2019, was strategic.
"After being in Arizona for the past 10 years, we had just got to a point where I was ready for a new challenge. I feel like there's kind of a sweet spot within our industry where you don't really want to get too big because your margins can start to go down once you get a little too large. So, we're all looking for different ways to grow. Sometimes going into different types of services, and in this instance it was more just crossing the state line and going out to California. So, we picked up Audio Concepts," says Worley.
Audio Concepts has been in business since 1975 and primarily focused on being a hi-fi audio shop, but in the past few years had migrated more to custom integration. The acquisition was done as a stock purchase, and Worley says there were a few bumps in the road.
For example, because Audio Concepts was such a long-standing company, its articles of incorporation didn't even exist on its website. Indeed, the handwritten documents had to be found in a desk drawer somewhere.
"There are a lot of things you don't really think about when you're buying a company that's been around this long," he comments.
One of the lessons that Desert Valley AV learned from the Audio Concepts' business model was to embrace DIY products more.
"It's OK to sell some Sonos here and there; it's OK to sell some Ring or Nest because it does lead to bigger projects. I was pretty anti-Sonos, Ring and Nest… against even having it in our showroom for display at Desert Valley AV, and now I've kind of fully embraced it. I see where it has a place and where it has the opportunity to help other parts of your business grow," he notes.
Worley also reviewed Desert Valley AV's move into having a full electrical license and also how the company has embraced lighting design.
The big picture story from this podcast interview for every integration company is that even though we are in the middle of a pandemic, it's important to keep your eye on the long-term outlook for your business.
Listen to the full CE Pro Podcast above, and get caught up on previous episodes by subscribing to the CE Pro YouTube channel.