CE Pro Podcast #32: Getting Up to Speed on HDMI 2.1 System Installs
HDMI Forum president David Glen talks about Ultra High Speed cable certification; enhanced gaming and video features; PlayStation 5 & Xbox Series X releases; and more.
Listen to this podcast using the embedded player below, or use the link to download (right-click to save) or to listen using your system's media player. On mobile devices simply click the Download this Audio File link below and your devices player will automatically play the file.
Listen to this podcast right now.
Format: mp3 • Length: 20:55 • Filesize: 20187012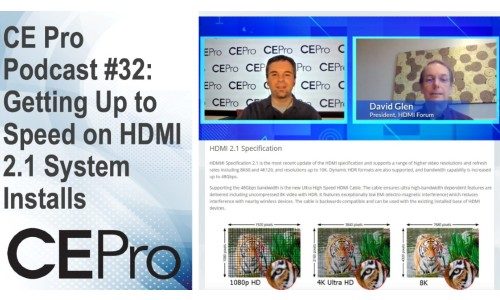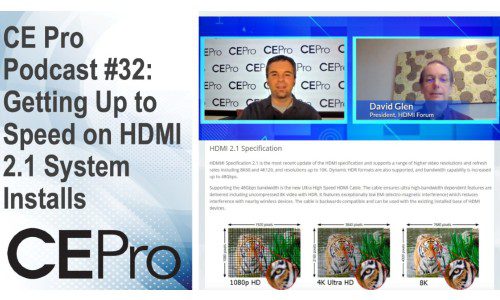 HDMI … it's been a popular but sometimes puzzling topic for custom integrators for quite some time now. The interface became even more robust with the recent advancements created by the HDMI 2.1 spec, and this week we're seeing the PlayStation 5 and Xbox Series X released as the first source devices that require the 2.1 cabling infrastructure.
In this week's podcast we talk to HDMI Forum president David Glen about how integrators can ensure success installing HDMI 2.1, including knowing how to find the properly tested and certified cables.
As a refresher, Glen walks through some of the enhanced features that came with the move from 2.0 to 2.1 spec release, including those that gamers can appreciate on their video systems.
HDMI 2.1 Enhanced Gaming Features Include ALLM & VRR
Auto low latency mode (ALLM), for example, allows the source device like a game console to tell the display to automatically switch it to game mode.
"So the user doesn't have to go in necessarily to their TV's menu anymore and select game mode when they want to play a game and then go back and turn it off when they want to watch streaming video," Glen explains. "Now the game console or other source device can automatically switch back and forth."
VRR, or variable refresh rate, is also there for gaming, he adds. "That's a technology – some games can't always render at the full refresh rate of the HDMI interface; variable rate allows you to get motion judder reduction, much smoother looking for gaming quality."
We talk about the progress of products coming out that support the 2.1 spec and what's on the horizon. As Glen notes, it began with displays that supported features such as VRR and auto low latency – which work at any speed HDMI and have been shipping for a while – and moved on to eARC (enhanced audio return channel) in TVs and AVRs shipping already.
Testing & Certification Program, Ongoing Compliance Checks
The market is starting to see more sources and sinks (displays) rolling out with a focus on bringing the 2.1 spec's 48G capabilities. But how can custom integrators be confident in an HDMI 2.1 product's capabilities matching the claims made by the product manufacturer?
"Anyone looking at products needs to be sure to look at the branding of things like eARC and ALLM and VRR – these should be featured on product branding and specifications," says Glen. "And in terms of bandwidths, I think the way to look for FRL [fixed rate link] and how fast it goes is to look for 4K@120 or 8K@60 branding on the HDMI interface spec."
Earlier this year, HDMI Forum announced a mandatory cable testing and certification program in which cables must go through Authorized Testing Centers' evaluation to be labeled Ultra High Speed.
"We wanted to make sure all the new cables that got to market that claimed to be Ultra High Speed, or UHS, were really Ultra High Speed and could really get to 48Gbps," Glen stresses.
"We've been aware that there's been some confusion in the past with cable quality – there was a previous program around premium to ensure you got up to 18Gbps – that was an optional program. So it was great to look for, but you did see some cables that could get to 18 that weren't premium certified. With UHS, we've made it a mandatory thing now, so every cable designed at every cable length has to go to an HDMI Forum Authorized Test Center."
It's not just a certification, but an ongoing compliance program, Glen notes. HDMI Forum will be collecting (purchasing) random samples worldwide that bear the certification labels and conducting further testing to ensure quality is being maintained in the marketplace.
The group recently announced that certification labels are available, and Glen talks about what integrators can do to know they are buying the proper products.
"Anyone looking to install an HDMI system with the 2.1 capabilities should definitely look for the UHS label, which is a special label with a QR code and hologram, and also an app for phones. You can scan the label and it will bring up a report, give detail about the certified label, what length it should be," Glen says, "so you can be sure you're picking up a product that's what it claims to be."
Check out the full conversation in the video and audio files above, and subscribe to CE Pro's YouTube channel to find all of our podcast episodes.